As the protests triggered by a steep rise in gas prices [1] in Iran wind down, concerning reports emerge about the scope and violence of the state's response to the unrest. The protests began on November 15, 2019, quickly spreading across the country, and Iranian authorities' response to unarmed protesters has been swift and disproportionate. Authorities shut off Iranians' access to the World Wide Web, caused injuries and deaths as early as November 15, and quashed the demonstrations within a few days. The exact number of casualties is unknown, but so far, at least 143 deaths have been confirmed,[2] and many more have been injured. Iran has acknowledged the death of five members of Iran's security forces. According to one parliamentarian, at least 7,000 have been arrested, and repeated threats of harsh punishment from high-ranking officials do not bode well for others who participated in the protests.[4] Iran must be held accountable. Without a strong international response, the death toll will rise, including with a new wave of politically-motivated summary executions.
Abdorrahman Boroumand Center for Human Rights in Iran (ABC) is extremely concerned about the safety of detainees, which, according to ABC sources, include children[5] and injured protesters. Many detainees are being held without access to legal counsel in known and unknown prisons and detention centers. At least one detainee's death[6] has already been reported, and the media in Iran has reported multiple cases of incriminating confessions, which authorities claim to have extracted from protesters.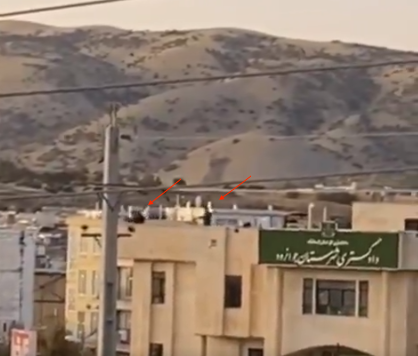 The exact course of events remains unclear and the lack of access to the Internet has seriously restricted access to and reporting from independent sources. Based on available reports and video footage, non-violent protesters gathered in public places, blocked some roads and created traffic jams while chanting anti-government slogans on November 15 and 16. In videos sent from Iran on November 15, protesters are calling fellow citizens to turn off their cars (Ahvaz) or chanting "we are just tired," (Gachsaran) "gas is pricier, the poor are poorer," (Behbahan) "oil money is missing, it has been spent on Palestine," "what a mistake we made with the revolution,"(Yazd) "Reza Shah, may your soul rest in peace,""death to the dictator," (Mashad) "we will get our rights, we will not accept indignity," (Behbahan), "how long should the money of Iranians go to Gaza and Lebanon's pockets," "we are people, not hooligans. Gas should be cheaper"(Rasht). Videos sent out on November 16 show bigger gatherings of peaceful protesters in Bushehr, Karaj, Poldokhtar, Esfahan, Tabriz, Sanandaj, Kermanshah, Eslamshahr, Tehran, Yazd, Ilam, Arak, Rasht, Shiraz, Semnan, Behbahan, sari, Orumieh, Darab, Neyshabur, Gorgan, Qazvin, among other cities. By the evening of November 16, before Iran cut off citizens' access to the world web, banks were reportedly set on fire in some areas and sounds of shooting was also heard in some videos.[7]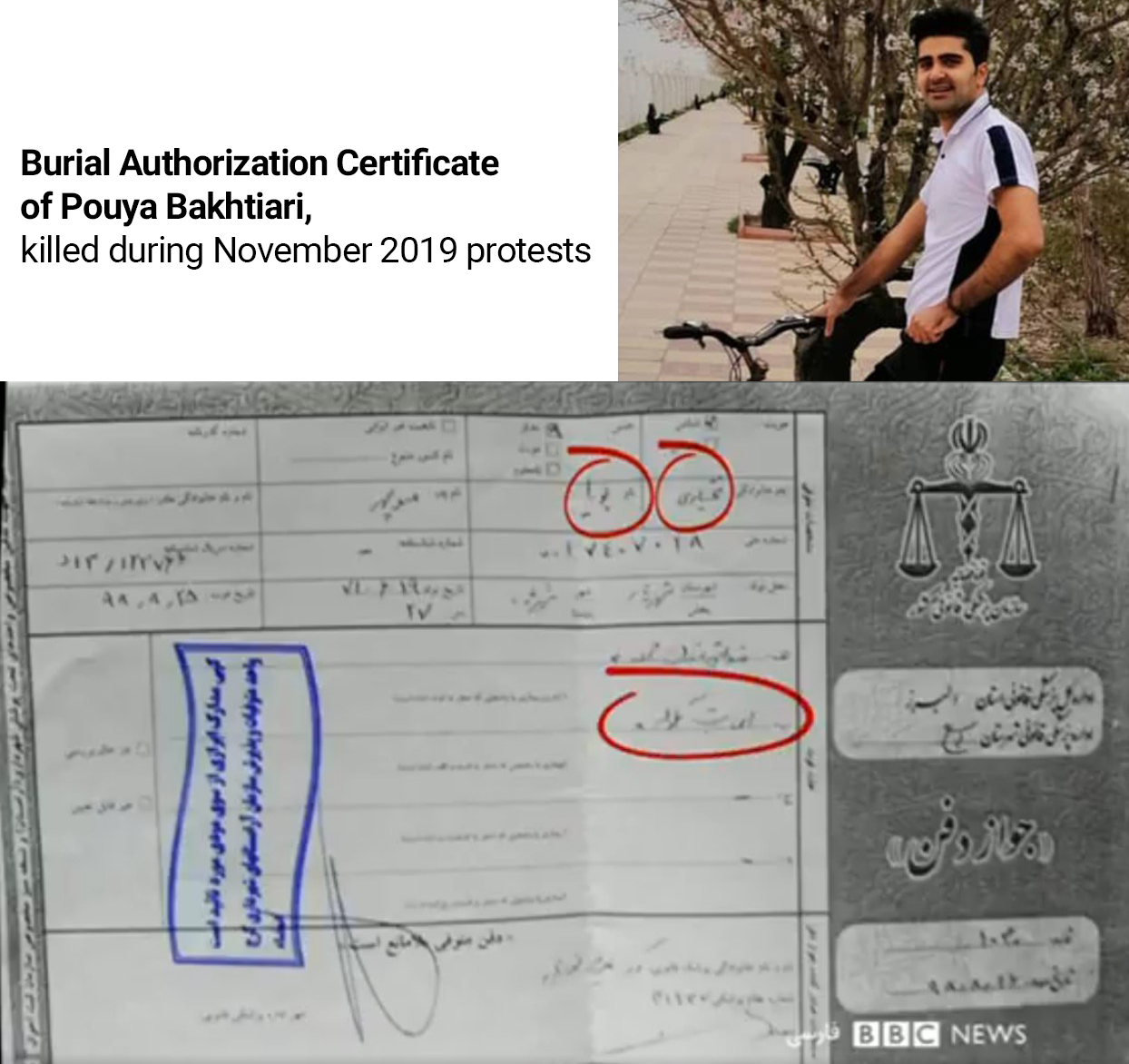 The first casualty among protesters was reported from Sirjan where some protesters reportedly attempted to enter an oil storage facility on the evening of November 15, 2019. The following day, deadly shootings by security forces were reported in several cities. In videos that have circulated on social media since then, security forces can be seen using firearms in circumstances that do not appear to be life threatening. Videos have also circulated of protesters gathered in front of police stations and a Basij militia base. In some cases protesters are seen in standoffs with the security forces or chasing them away with stones. Plainclothes militias can also be seen beating and arresting protesters. Banks and other public structures in several provinces were burned by angry protesters while security forces were shown breaking cars' windshields.[8] By cutting off access to the Internet on the second day of the protests, Iranian authorities were able to isolate the protesters and monopolize the narrative about the demonstrations that spread to more than 120 cities and roads and localities outside urban areas.
Strikingly uniform and threatening statements by Iranian officials since the outset of the protests were not meant to restrain the use of deadly force by security forces.
In a Saturday, November 16 televised interview, the Minister of the Interior indicated that security forces had acted with restraint on Friday [November 15] and warned that no restraint would be shown in the face of protesters' "illegal acts." He mentioned the existence of cameras that will allow authorities to identify offenders and "take the necessary measures."[9]
On the same day, Attorney General Mohammad Ja'far Montazeri was quoted saying that the disturbances were "rooted outside the country" and that "tendencies hostile to [our] system of government" were "using social media to try to provoke people."[10]
On November 17, Ayatollah Khamenei, the Supreme Leader of the Islamic Republic, referred to protesters as "evildoers" (or "hooligans") and asserted that the Pahlavi family and the Mojahedin Khalq Organization were encouraging the protests.[11]
As reports of hundreds of injured and killed protesters surfaced from Iran, menacing statements accusing protesters of acting on behalf of outside forces from the country's highest authorities continued, sanctioning the disproportionate use of force against protesters.
In a November 18 speech to the Supreme Judiciary Council, Judiciary Chief Ebraham Raisi differentiated "the people" from "evildoers," attributing certain protest activity to "those who are outside the country" bent on "stoking protests" against the "strong" Islamic system. He stressed that officials, citizens, and security forces should strive together to make sure "absolutely no damage" is incurred to "people's livelihoods, lives, and dwellings" and warned that "tough punishments" await those who sought to "create insecurity in society."[12]
Meanwhile, and in line with official statements, Iranian media reported on detainees' "confessions" acknowledging links with, and support from, opposition forces outside the country. On November 18, for example, Islamic Republic News Agency reported on the arrest of 150 protests' leaders, quoting from a Revolutionary Guards public relations officer who stressed that the individuals had confessed to being hired by persons trained inside and outside the country.[13] Iran's intelligence apparatus has a four-decade long record of extracting false, self-incriminating confessions from detainees, including those arrested during protests.[14] As the number of detainees, including those who are suffering from injuries (some of whom have been taken into custody from the streets and even from hospitals, according to some reports,[15] and interrogated in this state) increases, the fate of many protesters remains unknown. ABC is extremely concerned about protesters who are detained without access to their families or attorneys, and who are at risk of being tortured into confessing to crimes that are punishable by death. More recent statements from authorities seem to confirm that these concerns are both founded and urgent:
On November 19, the newspaper Kayhan, considered close to Iran's intelligence apparatus, published an article titled "Death by Hanging Awaits Evildoers for Hire (Exclusive)". It purports to quote the confession of an arrested "leader of the recent disorder" and noted that "Some reports narrate that judicial authorities believe capital punishment by way of hanging to be certain for the leaders of the recent disturbance."[16]
On November 22, Fars News quoted Judiciary Chief Ebrahim Ra'isi speaking on the occasion of the anniversary of the establishment of the University Student Basij:
Those who misused the space of the concern and demands of the people and created riots and insecurity and rattled the hearts of women and children and encroached on the property of people and damaged public property and that of the people, should know – and their bosses should, too – that harsh punishments await them…[17]
On November 24, judiciary head for Fars Province Seyyed Kazem Mousavi declared that indictments would be ordered for the "prime culprits" in the disturbances within the next two days, saying,
The prosecution of evildoers and agents of chaos and thugs involved in the riots in the province will commence soon. By designating a special branch, veteran investigative judges will investigate the cases at the Prosecutor's Office. In a memo issued to the Prosecutor's Offices of judicial facilities of Fars, it has been emphasized that they should specify what is to be done with those arrested over the recent events and issue an indictment for the culprits within two days so that, with a trial in a competent court, justice can be served for them.[18]
On November 25, the head of Public and Revolutionary Courts for Tehran heralded a speedy judicial response to the protests:
Law enforcement and security forces have carried out necessary actions and those individuals who had a significant role in the recent riots have been identified, and cases assembled… The cases have entered the review stage with necessary speed and care, a special branch will be formed in the courts, and with speed and care judicial decision-making will take place.[19]

Damage to public property does not justify the arbitrary killing of protesters. The 1990 United Nations' Basic Principles on the Use of Force and Firearms by Law Enforcement Officials clearly states that "intentional lethal use of firearms may only be made when strictly unavoidable in order to protect life." Even in circumstances where law enforcement personnel intend to disperse violent assemblies, they "may use firearms only when less dangerous means are not practicable and only to the minimum extent necessary" and only "in self-defence or defence of others against the imminent threat of death or serious injury, to prevent the perpetration of a particularly serious crime involving grave threat to life, to arrest a person presenting such a danger …"[20]
The Islamic Republic's lack of tolerance for dissent and peaceful assembly is embedded in the country's constitution and laws. Additionally, successive administrations have violently stifled both protests and persecuted protesters since 1979.[21] Human rights groups are not able to operate freely in the country and human rights defenders who try to monitor the violations of citizens' rights are imprisoned or forced into exile.[22]. The fact that the prosecution of the November 2019 protesters is being overseen by a Chief Justice, Ebrahim Raisi, accused of committing crimes against humanity for presiding over the killing of thousands of unrepentant political prisoners should also raise alarm.[23]
Iran has ratified the International Covenant on Civil and Political Rights. Yet, Iran blatantly violates its international obligations by refusing to develop a mechanism for citizens to organize protests legally,[24] using firearms against peaceful protesters, hiding the bodies of killed protesters or threatening their families into silence in return for the bodies,[25] shutting off the Internet (mobile phones access remains blocked) and arresting citizen journalists attempting to report on the protests,[26] denying medical access to injured arrestees, interrogating protesters in the absence of legal counsel, and concealing the whereabouts of detainees.The urgency of the situation on the ground cannot be overstated, and responses from the International community to the events of the past week have not been strong enough to make a sizable impact.[27] World leaders, particularly those who engage with Iran on human rights, should express outrage and hold Iran to account. The international community's silence will reinforce the culture of impunity that rules in Iran and encourage the persecution and arbitrary killing of citizens who have no other venue for their grievances but the street.
---
References:
[1] Following a government announcement of a price increase of 50% for subsidized gas and 200% for unsubsidized gas
[2] As of November 23, Human Rights Activists in Iran had identified 99 killed out of 134 suspected killed or whose whereabouts were unknown (https://www.hra-news.org/periodical/a-69/). In a November 25 statement, Amnesty International, citing "credible reports," asserted that the death toll had risen to 143 (https://www.amnesty.org/en/latest/news/2019/11/iran-world-must-strongly-condemn-use-of-lethal-force-against-protesters-as-death-toll-rises-to-143/).
[3] Fars reports on the death of a police officer at a police station in Kermanshah Elahieh neighborhood (https://www.farsnews.com/kermanshah/news/13980826000497/); Mashreq News reported the death of two revolutionary Guards and two members of Basij militia in Mahshahr and Malard, and Baharestan: (https://www.mashreghnews.ir/news/1012477; https://www.mashreghnews.ir/news/1011327)
[4] Parliamentary National Security Commission Spokesman, Hossein Nagavi Hosseini, November 26, 2019. (http://www.etemadnewspaper.ir/fa/main/detail/137501)
[5] Eye witness report to ABC on the presence of more than 20 teenagers arrested during the protests in Shahid Fahmideh children prosecution office in Tehran on Tuesday, November 18, 2019.
[6] IranWire has reported that the body of Hamid Sheikhi, arrested on November 17 in Mahshahr, Khuzestan Province was turned over to his family on November 23 (https://iranwire.com/fa/news/khuzestan/34363).
[7] See videos sent from various locations in Iran on November 15 and 16, 2019 on Vahid Online Telegram Channel. https://t.me/VahidOnline; HRANA News Agency: videos of Esfahan and Ahvaz (dates unknown) https://twitter.com/i/status/1198529941077450752; https://twitter.com/i/status/1198569511710076928
[8] A November 16 report from BBC Persian, citing a local governor's office official in Sirjan, mentions the shooting death of one person and the wounding of several others by gunfire. The official states that law enforcement had "resorted to shooting," although he denied they were authorized to fire directly on protesters (https://www.bbc.com/persian/iran-50444699). A November 17 Fars News report mentions the death of one and wounding of seven "agents of disturbance" who attempted to enter a Basij base in Tehran Province (http://fna.ir/dd7u0o). A death certificate for Pouya Bakhtiari, one killed protester, was circulated by BBC Persian (https://twitter.com/bbcpersian/status/1199764724063203328). See e.g. a video distributed by Manoto on November 26: (https://twitter.com/ManotoNews/status/1199328911613743104); a video distributed by Iran International on November 26 depicting security forces firing in open streets of Behban, Khuzestan (https://twitter.com/IranIntl/status/1199310047756595200); and a video published by Amnesty International on November 22 depicting gunmen firing from the roof of a government building (https://twitter.com/amnesty/status/1197848350986571777); protests videos from Vahid Online Telegram Channel (dates of the shooting unknown: https://t.me/VahidOnline/34538; https://t.me/VahidOnline/34807. A collection of such videos is compiled at the ABC library: https://www.iranrights.org/library/document/3653/. See also BBC report: https://www.bbc.com/news/world-middle-east-50562584
[9] Mosalas Online, November 17 (https://www.mosalasonline.com/fa/tiny/news-52867)
[10] Fars News, November 16 (https://www.farsnews.com/news/13980825000772)
[11] Farda News, November 17 (https://www.fardanews.com/fa/news/961921)
[12] Video of Ra'isi's address at Shargh Daily's Telegram channel (https://t.me/SharghDaily/24178)
[13] (https://www.irna.ir/news/83560114). On November 20, BBC Persian reported in a Telegram post that Fars News Service had claimed that some of the leaders of the "disturbances" in Karaj had dual nationalities and had received "specialist training in sabotage" (https://t.me/bbcpersian/52643).
[14] See e.g. the case of Mohammad Salas Babajani, a member of the persecuted Darvish Gonabadi minority sentenced to death in a hasty trial in 2018 for a deadly vehicle collision which took place during a crackdown on protesting Darvishes on the basis of confessions he reported had been coerced while he was seriously wounded (https://www.iranrights.org/memorial/story/-8267/mohammadreza-salas-babajani). Human Rights Watch has documented the extraction and broadcast by state television of forced confessions from labor activists Esmail Bakhshi and Sepideh Qolian, detained and faced with prosecution for their role in protests of Haft Tappeh Sugar Cane Company workers in 2018 (https://www.hrw.org/news/2019/01/24/iran-prominent-labor-activist-rearrested). In a non-protest-related case, Ramin Hossein Panahi was executed on security charges in September 2018 partly on the basis of confessions he maintained were extracted while he was seriously wounded during arrest (https://www.iranrights.org/memorial/story/-8286/ramin-hossein-panahi).
[15] https://www.amnesty.org/en/latest/news/2019/11/iran-more-than-100-protesters-believed-to-be-killed-as-top-officials-give-green-light-to-crush-protests/
[16] Kayhan Newspaper, November 19 (http://kayhan.ir/fa/news/175087)
[17] Fars News, November 22 (https://www.farsnews.com/amp/13980901000243)
[18] ISNA, November 24 (https://www.isna.ir/news/98090301889/)
[19] ISNA, November 25 (https://www.isna.ir/news/98090402601)
[20] https://www.iranrights.org/library/document/165/basic-principles-on-the-use-of-force-and-firearms-by-law-enforcement-officials
[21] Examples of those killed in crackdowns on protest activity or executed for their role in such activity include: Gholam Hossein Purshirzad, sentenced to death in ten days for involvement with spring 1992 protests in Mashhad against a government slum clearance project (https://www.iranrights.org/memorial/story/-4767/gholam-hossein-purshirzad); Ezzatollah Ebrahimnejad, killed during crackdowns on widespread student protests at the University of Tehran in July 1999 (https://www.iranrights.org/memorial/story/-5108/ezzatollah-ebrahimnejad); Mohammad Shariati, killed in a crackdown on protests in Kurdistan occasioned by mass outrage over images of a young Kurdish man who had died in custody in 2005 (https://www.iranrights.org/memorial/story/-5368/mohammad-shariati); Razi Abaiat, an 18-year-old killed in a crackdown on protests in Khuzestan against reports of state demographic engineering against the Arab minority in 2005 (https://www.iranrights.org/memorial/story/-7155/razi-abaiat); and Mostafa Karim Beigi, killed by security forces in the crackdown on widespread street protests against the officially announced the results of a presidential election (https://www.iranrights.org/memorial/story/-7007/mostafa-karim-beigi).
For a chronology of the history of state repression of protest activity and lawyers at the forefront of defending the right to assembly and other fundamental rights, see ABC's timeline: "The Cost of Defending the Rule of Law: Four Decades of Persecution of Lawyers in Iran" (https://www.iranrights.org/projects/timeline).
[22] For a chronology of the history of state repression of protest activity and lawyers at the forefront of defending the right to assembly and other fundamental rights, see ABC's timeline: "The Cost of Defending the Rule of Law: Four Decades of Persecution of Lawyers in Iran" (https://www.iranrights.org/projects/timeline).
[23] https://www.huffpost.com/entry/iran-dont-let-ahmadinejads-candidacy-distract-you_b_58f28864e4b04cae050dc7db
[24] According to the Islamic Republic's Law on Political Parties, only licensed political parties, which do not include parties opposed to the Islamic Republic laws and constitution, (for more on limitations to political organizing in Iran, see ABC's report, "Neither Free Nor Fair, Elections in the Islamic Republic of Iran" (https://www.iranrights.org/library/document/604/neither-free-nor-fair-elections-in-the-islamic-republic-of-iran) can petition to organize protests by requesting authorization in advance (which may or not be granted). Subject matter, speeches, and speakers must all be known and approved prior to the gatherings. The person in whose name the permit is issued must take on responsibility to control all slogans, declarations, leaflets, and signs. Furthermore, agents of the Information Ministry have the right to monitor and videotape the gatherings. Principle 27 of the Constitution, which deals with freedom of assembly, also stipulates that a demonstrations "are allowed provided they do not violate the fundamental principles of Islam."
[25] Abdorrahman Boroumand Center interview with a victim relative, November 26, 2019; https://www.amnesty.org/en/latest/news/2019/11/iran-world-must-strongly-condemn-use-of-lethal-force-against-protesters-as-death-toll-rises-to-143/; https://www.telegraph.co.uk/news/2019/11/23/iranian-masks-spiraling-protest-death-toll-stealing-bodies-morgues/
[26] https://www.ohchr.org/EN/NewsEvents/Pages/DisplayNews.aspx?NewsID=25338&LangID=E; https://news.un.org/en/story/2019/11/1051981
[27] https://www.ohchr.org/EN/NewsEvents/Pages/DisplayNews.aspx?NewsID=25338&LangID=E; https://news.un.org/en/story/2019/11/1051981