Too Young to Die
What makes them fellow citizens in Omid is the fact that one day each of them was unfairly and arbitrarily deprived of his or her life, an individual destiny was shattered, a family was ruined, and an indescribable suffering was inflicted.
For over forty years, the Islamic Republic of Iran's Judiciary has treated boys and girls in their teens as adults and executed them for crimes they allegedly committed before the age of 18, It has done so, regardless of whether they could live up to the moral and psychological components of criminal responsibility. As a result thousands of individuals below the age of 18 have been prosecuted as adults and at a minimum seven hundred executed. This page is dedicated to their memory.
The stories you read here come from Omid ("hope" in Persian), a silent, virtual city where victims of persecution have found a common life in memory. Omid's citizens come from various social backgrounds, nationalities, and religions; they hold diverse opinions and ideologies. Despite differences, they are all united in Omid by their natural rights and common humanity.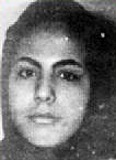 A 16-year-old girl who had been arrested three times in the course of one year, on charges of "Non-Muhsan Zina", and was sentenced to 100 lashes each time, was sentenced to be hanged in public after her fourth arrest.
Read More

An acquaintance explained that at the age of 14, Mr. Ja'farian's negligence had led to the death of a friend. There was no malice in his act.
Read More
Executing Children is a Crime
The execution of children is forbidden under international law. The United Nations' Convention on Civil and Political Rights, as well as the Convention on the Rights of the Child --both of which Iran has ratified-- expressly prohibit the application of capital punishment of anybody under 18 years old.
(a) No child shall be subjected to torture or other cruel, inhuman or degrading treatment or punishment. Neither capital punishment nor life imprisonment without possibility of release shall be imposed for offences committed by persons below eighteen years of age;
(b) No child shall be deprived of his or her liberty unlawfully or arbitrarily. The arrest, detention or imprisonment of a child shall be in conformity with the law and shall be used only as a measure of last resort and for the shortest appropriate period of time;
(c) Every child deprived of liberty shall be treated with humanity and respect for the inherent dignity of the human person, and in a manner which takes into account the needs of persons of his or her age…;
(d) Every child deprived of his or her liberty shall have the right to prompt access to legal and other appropriate assistance...
Convention on the Rights of the Child, Article 37
Omid's stories and the testimonies of young men and women who lived their childhood on death row bear witness to years-long torments and suffering of thousands of teenagers tried and sentenced as adults. They appeal to our humanity and our common sense.
"When first I went to jail I was 16 year old. I was still living with my childish dreams. I still cannot believe that I am grown up and my childhood and youth has ended. I cannot believe that I have to die in few days."
— Letter from prison
Mohammad Fadaei
Sent four times to the gallows
Was pardoned in 2016
After 13 years in prison
We can make a difference by simply reading and sharing their stories to make sure that victims are not invisible. We can tell Iranian officials that children, regardless of where they live, are not adults and thus should not be sentenced to death; that by reforming the law, they will not only put an end to the ordeal of hundreds of families and adhere to their international legal commitments but they will also uphold minimum standards of decency.
Letter from Mohammad: a Juvenile Offender on Death Row
Now, once more, I am waiting for execution. I am no longer afraid of death. I have lived with it for several years. I am have suffered from such nightmares for years and before me my dreams were executed.
I am 21 year old now. There is no single day in which I do not say to my mom that this might be my last call to her, and every day she cries. There are other people like me whose life has stopped at the age of 16. Also, there are many people out there who have not tasted the sweetness of their life for whatever reason and have to wait thinking that every night could be their last night. Today I am writing this letter to you and I still cannot believe that I have been separated from my school and my friends forever. I still cannot believe that I am grown up and my childhood and youth has ended. I cannot believe that I have to die in few days.
Read Mohammad's story here