Pro-Democracy Opposition Since 1979
Statement of More Than 1,200 Women's Movement and Equal Rights Activists on the Anniversary of June 12, 2005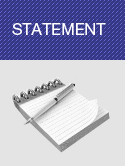 ٍGozaar
June 12, 2008
Statement
On the date of June 12, 2005, from the collective heart of that entity which has gradually come to be known as "the collective of like-minded activists of the women's movement," and which has, in the course of two years, welcomed into its fold many groups of women working toward a common purpose, there arose a large gathering in front of the University of Tehran. On that day, Iranian women from various schools of thought came together to voice their protest at the discrimination in the country's laws, especially the most important law of all, the Constitution. This gathering, to which individuals and different groups of women in various cities of the country also joined in, has gone down as the turning point in the contemporary history of the women's movement.
At the following year's commemoration of June 12, a similar gathering formed at Tehran's Haft Tir Square comprised of several groups and women's activists—including the noticeable presence of members of the student movement and labor unions—during which anger was expressed over discrimination in current laws. However, this gathering was put down with much violence; seventy individuals were arrested, and afterward, court cases were drawn up against some of the participants.
However, out of this gathering emerged the campaign for the collection of one million signatures aimed at changing the discriminatory laws, a campaign which over time, gathered momentum and spread across Iran and even outside the country.
Alongside this development, we also witnessed other campaigns such as the campaign for the removal of stoning from the law, women's right to enter stadiums, protest against using sexist quotas restricting admission to universities, and the formation of the women's charter and women's movement toward "peace" and equality. All of these acts of protest, as well as legal and equality-seeking demands and requests, caused the women's movement to earn a name for itself throughout all walks of society.
Mounting Pressure on Women's Rights Activists
Over the past few years, the reaction of those seeking to maintain the status quo has intensified at a rate commensurate with the progress of diffusion and expansion of activists' efforts toward equality across different strata of women in Iranian society. Counter measures taken since June 12, 2005, have intensified so much that there have been around 156 arrests and imprisonments among women's movement activists. They have put up bail totaling approximately 1.6 billion tomans (approx. USD 1,180,000) and have been handed, altogether, 30 years of imprisonment (20 years of deferred imprisonment and nine and a half years of definitive imprisonment).
In the last few months alone, deferred and full taziri [based on Shari'a law] imprisonment sentences and lashes were given to some women's movement activists, such as Rezvan Moqaddam, Minu Mortazi, Parvin Ardalan, Zaynab Peyghambarzadeh, Nasrin Afzali, Nahid Jafari, and Amir Yaqubali. Also, in the past three months, over a hundred female students have been called to disciplinary committees and have received notification of suspension. On the other hand, voices of various women's groups are censored to the extent that most of the existing women's websites are subject to heavy filtering.
Extensive Invasion of Individual Women's Rights and Various Forms of Segregation
Today, hundreds of thousands of women and girls across the country are exposed to violence and assault under the pretext of the "Program for Social Security Improvement." According to reports, over the past two months, 1,098 women, who had not properly observed veiling [hejab], were arrested as part of the implementation of this Program for Social Security Improvement (Fars News Service).
This is only one example of widespread arrests of women under the pretext of the "Program for Social Security Improvement" and, undoubtedly, it does not expose all the violence inflicted on the country's women by this scheme. Only one example of the tragic results of this program received relatively extensive coverage in the media because it had led to the death of one woman, Dr. Zahra Baniyaqub. Reputation, financial, and human casualties of this security program go far beyond this.
Invasion of privacy, that is, the increase in cases of security forces breaking into private companies and homes under the pretext of indecent-behavior issues and "social security," is taking place at an alarming rate. It is so serious, in fact, that eight female students in Shiraz have been expelled from university due to neglect of proper hejab. Alongside these illegal pressures on female students, sexist segregation of spaces in universities and textbooks, sexist quota restrictions in the educational system, and other similar pressures are wielded as intensively as possible. This is taking place while wide-ranging political, social, and economic problems affecting women's lives in different ethnic groups and religious minorities are being exerted with greater intensity and violence.
The number of death sentences that are being carried out is increasing dramatically, especially the execution of children under the age of 18, which violates every sort of decent human thinking and human rights standards. This ruthless treatment by the Iranian Judiciary goes on unchecked, claiming its victims from among children who stand before the gallows instead of sitting at their desks in school receiving the education every human being deserves. The latest case is the approval of the death sentence of Behnud Shojai`i and Sa`id Jazi.
Rising Economic Pressures on Women
A survey of the past year has shown that the economic condition of Iran has become unbearably difficult and the official (25.3 percent) and unofficial rate of inflation has increased so much that some of the country's apprehensive authorities have even taken to airing their criticisms aloud at times.
Investment opportunities in all areas, except for oil and natural gas, have decreased at a dramatic rate. Extensive imports have also strangled production and this has had a negative influence on the rate of employment. In such an unfavorable economic climate in which new job opportunities are few, women, who are more vulnerable, suffer the most; the fragile economic conditions along with the insecure social situation take a heavier toll on women.
Oil revenue in the past year amounted to 70 billion dollars and it is projected that this year it will reach over 100 billion dollars. Unfortunately, due to mismanagement, this plentiful revenue not only fails to help the poorer classes, especially women who run households, it has actually increased their burden. According to official reports, households run by women are now the poorest in Iran.
According to estimates, women's rate of income last year was about 4,000 dollars, while men's rate of income in that same one-year period was about 11,000 dollars (Sarmaye Newspaper).
Let Us Stand United
There can be no doubt that demands for equality made by Iranian women, such as the purging of the criminal and civil codes of inhumane and unjust laws—a demand that has achieved a broad consensus among the women's movement activists since June 12, 2005. Unfortunately, these urgent and legitimate demands have not been met with an appropriate response. Consequently, it appears that in order to make the voices of women reach the ears of those who need to hear them, there must be greater solidarity and resolve among all the men and women in Iranian society.
Therefore, right before the anniversary of June 12, the day of solidarity of Iranian women, we would like to address our countrymen and women and tell them that with regard to the intensity of economic and social pressures on Iranian women and extensive invasion of private and public spheres of women, solidarity among the women's movement activists alone is not sufficient for making their voice of sorrow resonate. This is all the more important at this time when other kinds of pressure are being felt through all kinds of new laws, such as legalization of punishing heresy, legalization of opposition to any kind of freedom of speech, and other such laws making illegal any expression of opinion against the government.
Today, as June 12 approaches, we call out to our sisters reminding them that it is no longer the time to remain silent on-lookers; today the women's movement needs all able hands. Each one of us constantly witnesses inequality and injustice. To stave it off, we pay exorbitant costs in our daily lives; but these individual costs have not been able to modify even a single clause in the Constitution because these individual protests have failed to unite with collective protests. For example, if our individual comings and goings to and from family courts have slightly changed some of our lives (by circumventing the law), the same scenario will be repeated for our daughters because no law has actually been changed.
Collective protests made over several years by some groups of women have at least been able to make equal the dieh (blood money paid by killer to victims' closest relative) in accidents for men and women, to make the terms of the marriage contract generally applicable and comprehensive, to bring the bill of equal inheritance for wives and husbands into the Majles, to prevent the execution of many children under the age of 18, to halt some stoning sentences, and to prevent the execution of some women. These examples are not a remarkable achievement, but if we can make an effort to establish the links between women on a more extensive scale and to transform the individual and "inside-the-self" thinking of women to collective and "for-the-self" action, we will certainly have remarkable achievements awaiting us down the road.
Today, right before June 12, we are not addressing the country's authorities; authorities who have large-scale concerns like "global management." They do not care about the anguished life of the country's women. Instead of amending and reforming laws and regulations for themselves and their families' benefit, they are forever promulgating and encouraging polygamy through bills like the "anti-family bill." No, today we are addressing all our countrywomen and sisters and we tell them that if we want to avoid more debasement and humiliation, if we do not want our children to be reproached and punished for a stray lock of hair or a piece of clothing or a small party, if we want to enjoy equal and humane civil rights, then there is no way other than leaving our shell of individual resistance and thinking about organizing collective protests.
Women of Iran!
In conditions that women are increasingly eliminated from the public sphere, no matter how many walls we build around us, eventually we will come to share the harmful results of hardships that present laws (and laws to be passed) bring about. This is why, on this hard and tortuous road, we reach out, with a thousand hopes and wishes, our helping hands toward all the women in the country and say, "Walk along with me, dear, this pain we share will never be healed in isolation."
[ Names of the undersigned are available in the Persian version]