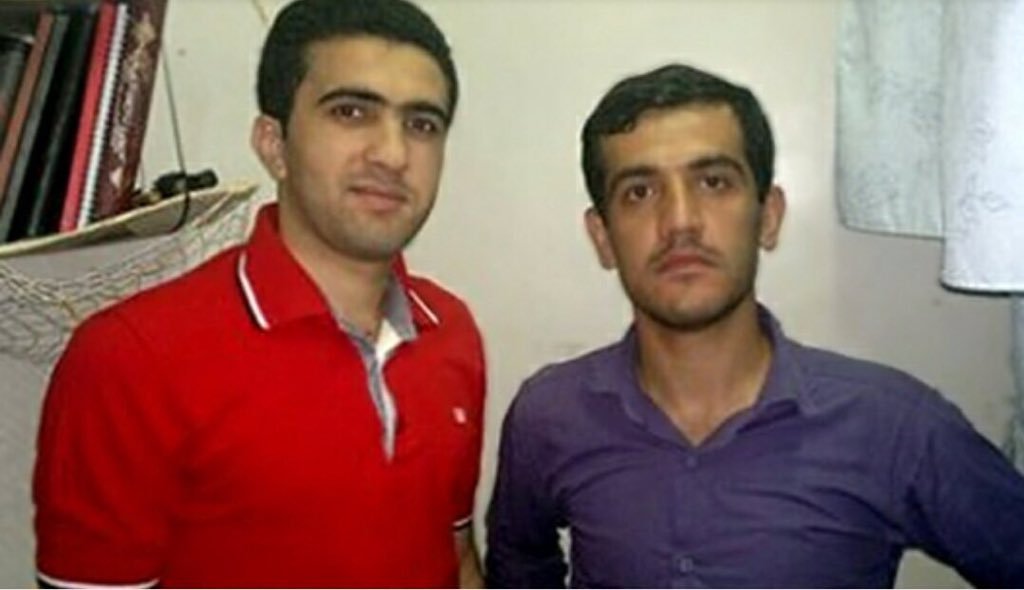 Kurdish political prisoners Loghman and Zaniar Moradi, cousins given death sentences on the basis of forced confessions and legal proceedings lacking due process safeguards, have been transferred from their wards at Raja'i Shahr Prison without official explanation and their families given in-person visitations. The transfer and visitations occur at a time when Kurdish militants are engaged in armed clashes with Revolutionary Guards forces in border-adjacent areas where Kurdish opposition is based. Abdorrahman Boroumand Center is gravely concerned that the two may be at imminent risk of execution.
Today, September 7, 2018, United Nations human rights experts have issued an appeal to Iranian authorities to halt the pairs' executions, citing "serious concerns that they did not receive a fair trial and were tortured during pre-trial detention."
Prison officials called family members of the Moradis on Thursday, September 6, telling them to report to Raja'i Shahr on the morning of Friday, September 7 for an in-person visitation. Prison officials customarily allow final visitations before implementing capital sentences. Should this prove to be such a final visitation, Loghman and Zaniar - who are reportedly being held in solitary confinement cells - could be executed in the coming days.
UN Special Rapporteur on the Situation of Human Rights in Iran, Javaid Rehman, and Agnes Callamard, Special Rapporteur on extrajudicial, summary or arbitrary executions, report:
Zanyar and Loghman Moradi were arrested in August 2009 for the alleged murder of the son of an Imam in Marivan, Kurdistan province. Reports received indicate that they were detained at Sanandaj Intelligence Detention Centre for a period of nine months after their arrest. During this time, no formal charges were brought against them, and they were unable to challenge the legality of their detention. They were subjected to torture and other ill-treatment including severe beatings and being tied up in restricted stress positions. They were also threatened with rape in order to compel them to confess to the murder. They were subsequently transferred to a number of other locations and thereafter to Raja'i Shahr prison in Karaj in December 2010 where they have since remained on death row.
In December 2010, Branch 15 of the revolutionary court in Tehran sentenced them to death by public hanging on charges related to moharebeh ("enmity against God") and involvement in the murder. The trial apparently lasted only 20 minutes and they were denied access to a lawyer during the pre-trial and trial proceedings. During the trial, they both denied the charges in court and explained that they had confessed to the crimes only due to torture following their initial arrest. The Supreme Court subsequently upheld their convictions, and no investigation was undertaken into the claims of torture.
Loghman and Zaniar have received a finalized capital sentence for the charge of "waging war against God." Owing to lack of transparency in the Iranian justice system - the Revolutionary Courts in particular - the evidence upon which the sentence is based remains unclear.
In the past few days, the Kurdish armed group East Kurdistan Defenders' announced that it had assaulted an automobile carrying ten Revolutionary Guards Information Division agents on September 1, killing at least five of them and leaving several more severely wounded. There is serious concern that the Moradis could be executed in reprisal for the attack. Such reprisal executions have recent precedent in the Iranian judicial system: on October 26, 2013, officials at Zahedan Prison in Sistan and Baluchistan hanged 16 imprisoned Baluchs following the attack of the Jeysh ol-Adl group on a border station, including Hamed Vekalat and Mehrollah Rigi Mahernia.
The threat of execution comes months after Eghbal Moradi, father of Zaniar and uncle of Loghman, was found shot dead in suspicious circumstances in Iraqi Kurdistan on July 17, 2018. Eghbal Moradi was a great advocate for his imprisoned son and nephew, stressed the unfair nature of the trial, and affirmed the allegations of forced confessions, torture, and other failures of due process in their cases. In a 2012 video called for the international human rights community to help put an end to the execution of all political prisoners in Iran.
Abdorrahman Boroumand Center urges the government of Iran to either release Loghman and Zaniar Moradi or grant them a fair public trial in accordance with Iran's international obligations and human rights norms.