One recurring expression in Iran-related news in 2015 is "race." The P5+1 and Iranian officials race from one deadline to another in pursuit of a nuclear agreement. Throughout this process, Iranian officials have argued that Iran deserves the respect of other nations and an equal place at the negotiating table, and many observers agree with them. However, while the world hangs on the twists and turns of the negotiations, understandably considering the issues at stake, another race goes on in the shadows. This macabre race has no clear deadlines and few spectators, but it is no less relevant. Over the last several months, the number of Iranian prisoners executed has skyrocketed as Iran empties its prisons into graves in blatant disregard for the rule of law. For this invisible and appalling race, which has taken 688 lives so far in 2015[1], 132 in June alone, Iran deserves no respect.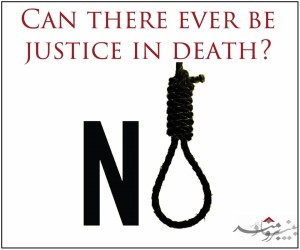 Iran is an important actor in an unstable region. Experts, academics, and journalists write and talk endlessly about what the parties to the negotiations want and why they want it. Many also point to the dignity and respect Irandeserves, and for which Iranians justifiably yearn. Analysis on the positive and negative impacts of lifting sanctions, Iran's potential for business and tourism, and its reliability and transparency or lack thereof, have all drawn the attention that they merit. This is not the case however, for the human beings who are hung every day, in violation of minimum standards of due process of law, or for the families who are asked to pay for the rope that killed their loved ones, in violation of the minimum standards of human decency.
The lack of attention from both the mainstream media and Iran experts to these executions and to what goes on in Iranian courts makes it easier for Iranian officials to claim they do not violate their obligations when it comes to human rights and demand that the world respect the way they treat the people they rule.
Iran's judiciary fails to report most of the executions it carries out and is accountable to neither the Iranian citizens it is supposed to protect nor the international community. Its Chief Justice boasts to the international community about the eradication (or mass killing) of drug-offenders, which he sees as a "service to humanity". His brother, who heads the Human Rights Council (a body that shows no interest whatsoever in human rights violations in Iran) claims to collaborate with the UN and submit to peer review, even though almost none of the recommendations of those peers, which Iran accepted four years ago, have been implemented[2]. At the same time, Iranians who try to bring visibility to the lack of due process, including torture, coerced confessions, and the denial of the right to defense, are persecuted[3] and authorities bar access to United Nations monitors.
Based on the available information, which only allows estimates, 489 of the 688 executions reported in 2015 are related to drug offenses, 8 are believed to be politically motivated, and 35 took place in public. Due to the steady increase in the rate of drug addiction in Iran and the fact that possession of 30 grams of heroin carries a mandatory death penalty, prisons are filled with addicts, petty drug dealers, and poor people who carried drugs just to earn a living[4]. According to a statement last year by a Judiciary Crime Prevention official, 70% of prisoners in Iran are incarcerated for crimes related directly or indirectly to drugs.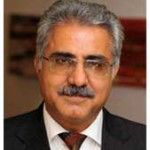 This week, an official of the judiciary referring to international treaties protecting the rights of minorities boasted about Iran as one of the few countries in the world protecting its minorities and granting them equal rights. In fact, discrimination against religious minorities is embedded in Iran's laws and minorities are disproportionately affected by executions[5]. Sunni religious activists are executed for promoting their religions. Shi'a Muslims who adhere to one of the recognized religions or reject the official interpretation of Islam are sentenced to death as apostates[6] and sometimes executed, as was Mohsen Amir Aslani. The Baha'is are imprisoned and even killed in suspicious circumstances, as was Ataollah Rezvani.
With more than 90 crimes carrying the death penalty, Iran's prison population has multiplied 22 fold since the 1979 revolution, while the population has doubled.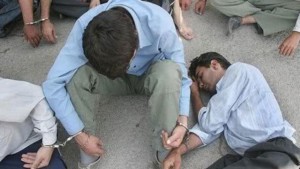 Thousands of death row prisoners, alleged drug-offenders for the most part, await the processing of their cases and an unknown number join them every year.
This has led to the severe overcrowding of prisons, some of which host four times more prisoners than they have the capacity to hold. The Judiciary has apparently decided to alleviate this situation by speeding up the implementation of sentences, including death sentences, without regard for a proper adjudication process. Official statements collected by the Abdorrahman Boroumand Foundation over several years indicate that the speedy processing of prisoners' cases across the country follows a Judiciary decree dating back to 2007 or 2008 (1386) which requires the Judiciary to "Di-sedimentize" unprocessed and old files and shorten the adjudication process. [7]
On 23 October 2012, for example, the Head of Qazvin Revolutionary Courts, Hojatoleslam Ali Zamani, stated that: "In the first six months of the year (March-October 2012) 3,202 drug cases were reviewed and closed in the Province. The average duration of the prosecution: two months". On the same day, the Deputy Revolutionary Prosecutor of Qazvin noted that in just a year and a half, (2011-2012) the number of drug related executions in Qazvin has been higher than the 1990s and 2000s combined.[8]
In a statement on 23 November 2013, the Deputy Chief of the Judiciary for Organization and Methods Improvement expressed satisfaction with the plan of speeding implementation of criminal sentences, stating: "Nearly one million cases across the country had just been sitting there at the Sentence Implementation [Section]."[9] He did not specify how many of these were death row cases.
Very little is known about the identity and background of most of the execution victims. The highest number of drug-related arrests and executions however take place in provinces such as Tehran, Alborz, and Khorasan Razavi, which have the highest number of marginalized people living in extreme poverty in surrounding slums.[10] Therefore, without an effective effort to end poverty and massive unemployment, (which Iranian experts see as the root causes of addiction and drug offenses) and unless the law, at a minimum, limits the use of death penalty,[11]thousands of new prisoners will be added to death row every year. How then can this accelerated implementation of death sentences help the overcrowding of prisons and how do Iran's leaders expect to be respected with a record of three decades of successive, bloody, and failed drug and crime eradication plans?
The gruesome death race in Iranian prisons is taking lives for crimes that would not merit the death penalty in any respectable society, and, considering the deeply flawed detention and interrogation practices of the Iranian judiciary system, it is also undoubtedly taking the lives of those innocent of any crime at all.
These prosecutions and executions expose an opaque judicial system that does not value life, encourages revenge in lieu of justice, and discriminates and punishes the weak and the poor. They also draw attention to a leadership that sees violence and physical elimination of problematic individuals as a means to solve a systemic drug problem, deal with instability, and hide citizens' discontent. Rather than attributing the resources necessary to seriously address the underlying causes of these troubling problems, the state simply eliminates the symptoms. How can Iranian leaders expect international respect while displaying such disregard for their international obligations to respect inalienable human rights and trying to hide their crimes behind bogus religious and cultural justifications?
Ignoring the gravity of the ongoing massacre in Iranian prisons makes little sense for those who believe in the rule of law and are hoping to see more accountability from the Iranian government. It makes even less sense for those who hope for a more prosperous Iran respected and treated as an equal by the international community. History has shown that sweeping the truth under the rug like inconvenient and embarrassing dirt will not eliminate it. But it will embolden human rights violators by reassuring them that their crimes will be ignored and encourage them to repeat their abuses. It is not pragmatic to look the other way. The problem must be addressed and addressing it begins with acknowledging it.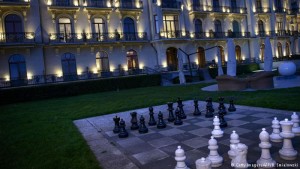 To be truly respected, Iranian leaders have to do more than give proud and impassioned speeches or try to convince Western diplomats of their respectability in the hallways and at the dinner tables in luxurious hotels in Europe. They must work hard for real and fundamental changes to establish the rule of law and end impunity. If the international community believes in the values entrenched in the United Nations Charter and other international treaties, if they hope for long-term cooperation with Iran and stability in the region, they should hold the Islamic Republic's leaders accountable for ignoring their human rights obligations and call on them to cooperate with United Nations experts and revise their laws and practices.And they should increase the political cost of this latest death race and bring it to an end.
Abdorrahman Boroumand Foundation
Washington DC
July 1, 2015
---
[1] By the end of June in previous years, there were 464 reported executions in 2014, 213in 2013, 260 in 2012, and 269 in 2011.
[2] http://impactiran.org/iran-upr-countdown/
[3] This is aggravated recently by the article 48 of the new code of criminal procedure, which requires detainees charged with security or organized crimes to choose Judiciary-approved attorneys rather than ones of their own choosing.
[4] Over the years individuals have been executed on charges ranging from "intending to sell 50 grams of hashish" or carrying less than 60 grams of heroin to "carrying 950.28 kg of opium and 110.4 kg of heroin and complicity in armed operations and robbery".
[5] Non-Muslims are banned from most government posts and can have one representative in the parliament. They cannot inherit from Muslims. The Penal Code discriminates against religious minorities in provisions related to the implementation of punishments, retribution and compensation.
http://www.hrw.org/sites/default/files/reports/iran0812webwcover_0.pdf
[6] "Despite the fact that Iranian courts have found many individuals guilty of apostasy, there is no provision in the IPC criminalizing the act. There are, however, several legal provisions that give judges the discretion to find defendants guilty of apostasy." http://www.iranhrdc.org/english/publications/reports/1000000512-apostasy-in-the-Islamic-Republic-of-Iran.html#ftn61
[7] Iranian Students News Agency – Tabriz, January 13, 2009
[9]http://www.shoraes.ir/Default.aspx?tabid=115&articleType=ArticleView&articleId=206579
[10] http://www.mehrnews.com/news/2494326/
[11] A possibility that officials have
mentioned
, knowing that killing drug offenders has no religious justification