Guilty Verdict for Hamid Nouri:
A Triumph of Due Process and Truth-Telling
"For thirty-two years after we came out, we kept saying 'they killed our friends,' but they didn't want to know; they kept asking other questions. It is finally over. We did it! Now everyone knows they killed our friends."

-Prison massacre survivor, Stockholm, July 14th, 2022
In the early afternoon of July 14th, 2022, the District Court of Stockholm sentenced Iranian national Hamid Nouri, to two life sentences for murder and war crimes committed in the summer of 1988 in Iran. At the time, Nouri was an aid to the assistant prosecutor in Gohardasht Prison in Karaj. He was tried under universal jurisdiction in Sweden, in an unprecedented effort to hold Iranian officials accountable for the massacre of thousands of political prisoners across Iran. For the forgotten victims of a massacre kept secret for too long, survivors, the human rights community, and Iranians in general, this day of international solidarity marks the triumph of justice, the opportunity to begin healing for some, and the revival of hope for justice for others. Hence the strong reactions of the Islamic Republic of Iran's authorities, whose
current president
, Ebrahim Raisi, was an assistant prosecutor participating in what prisoners came to call the Death Committee, a panel of judicial and intelligence officials who sent to the gallows four to five thousand prisoners, most of whom had already been sentenced to prison terms.
"Today is a victory of truth and justice over oblivion and deceit. It is a great day for those who for over three decades, carried the burden of the truth of this horrific and unprecedented massacre alone. It is also a great day for civil society members who document past crimes - both in the hope that someday there will be justice and to ensure that victims are not forgotten," said Abdorrahman Boroumand Center for Human Rights in Iran (ABC) Executive Director Roya Boroumand.
On November 9, 2019, Swedish authorities
arrested
Hamid Nouri for his suspected role in the massacre in Gohardasht (today Rajaishahr) Prison. He was charged with "war crimes" and "murder," for which prosecutors
asked
for life in prison. During the 93 sessions of his trial, from August 10, 2021 to April 28, 2022, the District Court of Stockholm heard from 60 witnesses including survivors of the massacre who had been held at Gohardasht Prison, and victims' relatives, as well as 12 experts.
"Even in the eyes of many Iranians themselves, this court showed the criminal nature of the killings, and the narrative that the Islamic Republic always presented has been shattered in our minds... This is a great victory for the movement to seek justice..."

-Banu Saberi, wife of Abbas Monshi Roudsari, killed in the 1988 massacre
The '88 Killings: From Oblivion to Prosecution
The 1988
massacre
of political prisoners is one of the darkest episodes in the Islamic Republic's history. From July 29, when prison doors across Iran were closed to the world, through November 1988, 4,000 to 5,000 political prisoners were brought, without explanation, before Death Committees in prisons across the country, including in Gohardasht. Pursuant to a secret fatwa issued by Supreme Leader Ayatollah Khomeini, panel members - who in Tehran were judge Hossein Nayeri, assistant prosecutor Ebrahim Raisi, and intelligence representative Mostafa Pour Mohammadi, later promoted to the highest levels of the country's
leadership
- conducted nothing short of religious inquisition. They questioned adherence to the Islamic Republic's official creed and sent unrepentant prisoners and unbelievers to the gallows.
Though the Fatwa was issued following an armed offensive by the Mujahedin-e Khalq (MEK) organization at the end of the Iran-Iraq war on July 26-30, 1988 and Iranian officials have framed the killings as a response to the attack, those put to death were incarcerated and were serving prison sentences at the time. Some, moreover, were members of leftist groups who had no affiliation with the MEK or any other armed group.
Months later, prisoners' families were informed about the demise of their loved ones. They were not told about the location of the mass graves where their bodies had been secretly and hastily buried and they were banned from mourning them. The objective of the Islamic Republic authorities was to ensure, including through
bulldozing
some mass graves years later, that the Iranian public and the international community never learned that thousands of political dissidents existed, let alone that they had been massacred.
Following the prison massacre, at the highest levels of diplomacy, Islamic Republic officials sought to distort and obscure the nature of the killings. Even as mainstream media like the New York Times and the Financial Times, and human rights organizations like Amnesty International raised concerns about reports emerging from Iran of a massive wave of executions (see Geoffrey Robertson and ABC's
report
, pg. 2), the country's UN delegation - including
Jafar Mahallati
, now a professor at Oberlin College - vehemently denied the allegations, claiming they were unfounded propaganda, including to Human Rights Commission's Special Representative for Iran, Reynaldo Pohl. The international community chose to look the other way, reinforcing the culture of impunity among the Islamic Republic's leadership.
For decades, as survivors struggled to emerge from the shock and trauma of the event and truth-tell about a cold and cruel slaughter unprecedented in scale and nature, state policy was silence and denial. Things began to change by the 2010s, when civil society efforts began to draw attention to victims' accounts and historical documentation. A landmark 2011
report
by Abdorrahman Boroumand Center for Human Rights in Iran qualified the massacre as a crime against humanity and a war crime. ABC's report - cited 27 times in the original complaint against Nouri -
was authored by the renowned human rights barrister Geoffrey Robertson, with the assistance of human rights lawyer, Jennifer Robinson. The publication was followed by a
seminar
at Oxford University, during which international lawyers, stunned by the silence around such an unprecedented crime against humanity, brainstormed regarding the paths open for victims and survivors to seek justice.
These efforts combined with the work of other human rights groups and civil society actors [1] sparked long overdue acknowledgments and calls for accountability by international human rights experts. Special Rapporteur for Human Rights in Iran, Asma Jahangir, raised the '88 killings in her August 2017 report, noting the desecration of victims' graves and persecution of those seeking justice inside Iran. Just months before Nouri's arrest on November 9, 2019, the Working Group on Enforced Disappearances, along with six United Nations human rights rapporteurs, called on the Islamic Republic to end impunity for the 1988 prison massacre. They also noted that the facts reported to them are in breach of international norms and standards to which Iran has committed, including "the right to remedy, the right to life, the right to be free from torture, and other inhuman and degrading treatment, and the right to a fair trial" enshrined in the International Covenant on Civil and Political Rights, which Iran ratified in 1975.

Iran's reaction to these statements and the international community's efforts to engage on this issue was denial. In a statement published on July 15, 2022, the Iran Special Rapporteur noted:

"Together with my predecessors and colleagues in Special Procedures, I have repeatedly called for accountability for the summary executions and enforced disappearances of 1988 and sought to engage with authorities in this regard… However, the events continue to be denied by Iranian authorities. I hope this verdict is a first step towards full truth, justice and compensation for victims, their families and civil society organisations that persist in their demands for justice".

This momentum for accountability for the 1988 massacre, unthinkable to many even a decade ago, should not end with Nouri's conviction. For survivors and victims' loved ones who resisted the wall of silence by telling their stories and commemorating those lost year after year, even in the face of state brutality, intimidations and arrests, the significance of this moment cannot be overstated. In the words of a survivor interviewed by ABC in 2009, who had mentioned Abbasi (Nouri) at the time and testified at trial:
"The arrest and trial for the events of summer 1988 has been established as legal evidence in an international court, and has taken the justice-seeking movement forward a fundamental step… This was not considered the trial of an individual agent active in the massacre, but the trial of the entire regime, especially its judicial system…"
Hossein Maleki, July 13, 2022, Stockholm, Sweden
Official Reactions
The prosecution of Hamid Nouri by an independent court on the basis of international law and universal jurisdiction and the 398-page judgment, offer a paradigmatic contrast to the Islamic Republic of Iran's judiciary's summary trials characterized by failures of due process and judiciary officials' open contempt of international human rights norms. It is little wonder, then, that the trial has provoked fierce, coordinated reaction from some of the highest levels of the Iranian state.
The week leading up to the verdict saw a flurry of official statements. Foreign Minister Hossein Amir Abdollahian
urged
Sweden to release Nouri, asserting that "longstanding relations between the two countries should not be affected by baseless propaganda and actions of a terrorist group." Kazem Gharibabadi, head of the judiciary's Human Rights Council,
declared
that "The Islamic Republic of Iran will do its utmost to free [Nouri]," an effort he
called
"an inherent duty of the regime." Gharibabadi also wrote a
letter
to the UN High Commissioner for Human Rights petitioning for Nouri's release, alleging Sweden had failed in its commitments to due process guarantees under international law - the very guarantees Iran's judiciary systematically violates on a daily basis. The National Security Commission of the Majles, also
took up
Nouri's case with its Spokesman Abolfazl Amoui calling for the prosecution of the case's plaintiffs, claiming they were affiliated with "certain groups" with a "history of terrorist acts" like the MEK.
On May 4, following the ultimate session of Nouri's trial, an "informed source" quoted by Iranian media
declared
that Ahamdreza Djalali, a dual Iran-Swedish national and academic sentenced to death on espionage charges in a trial widely condemned as spurious and arbitrary by human rights groups, would soon face execution.
"Iran is absolutely certain that Nouri's sentence was politically motivated and it has no legal validity."

-Islamic Republic Foreign Ministry Spokesman Nasser Kanani, following the sentencing of Hamid Nouri
Officials who themselves have been accused of involvement in the 1988 killings, too, have been put on the defensive. Hossein Nayeri, a religious judge and member of the "execution panels" which determined prisoners' fate, defended his and others' actions in
comments
to the Islamic Revolution Documentation Center, saying "We couldn't manage the country through pleasantries." "If it hadn't been for [Khomeini's] resolution, we might not have had this security… The regime might not have even survived" he added.
When asked why the panels had condemned to death even those who were serving prison sentences, Nayeri claimed they were executed for "another matter , other than what they had been tried for" and that " a new plot was underway." The prisoners "had their own coherence" in incarceration - "not just [existing] organizational relations," but "new ones they had created in prison," and "received information from the outside." "The prison atmosphere was in their hands" said Nayeri, while accusing prisoners of "childishly resentful" acts like breaking lamps and cutting wires. Notably, none of the acts imputed by Nayeri carry the death penalty in Iranian law.
"I urge other States to take on similar investigation and prosecution of serious human rights violations in Iran using principles of universal jurisdiction. There is a serious accountability gap for past and present gross violations of human rights law, and national courts in other States play a fundamental role in filling that gap,"

Special Rapporteur on Human Rights in Iran, Javaid Rehman, July 15, 2022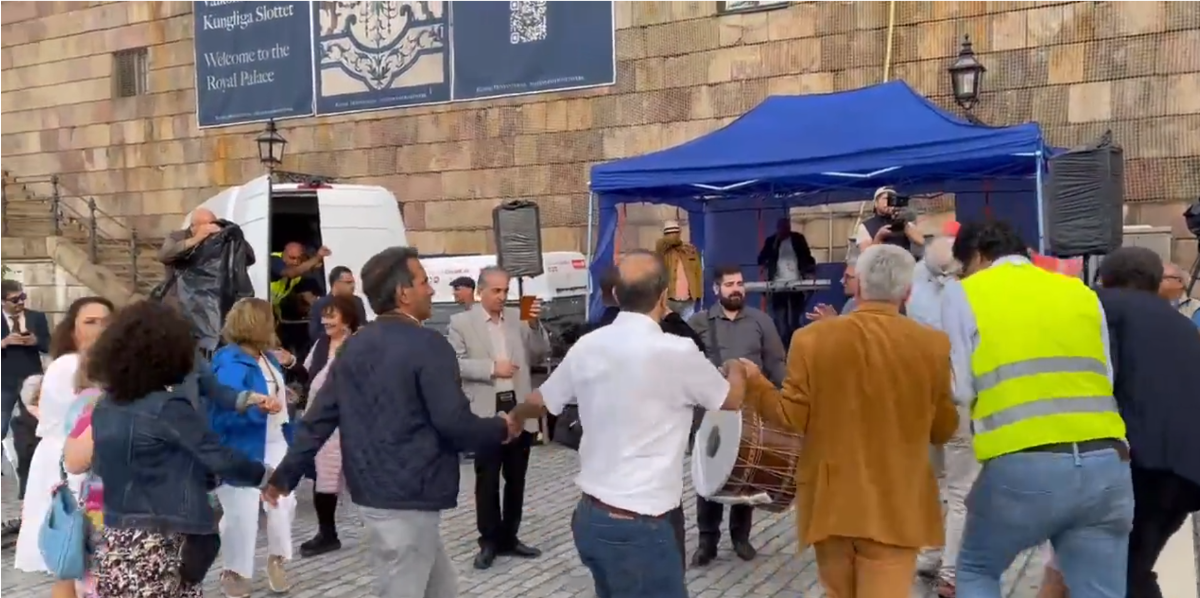 Celebrations before the Swedish parliament following the announcement of the verdict. From Twitter of
@FSeifikaran
A Step Toward Justice
ABC is grateful to those who worked tirelessly to keep the memory of their friends alive and informed the public including through witness statements, memoirs, books, films, seminars, and press coverage. It is also grateful to those who made this crime's documentation possible, as well as to those who contributed to Nouri's arrest and successful prosecution, including Swedish judicial officials. "The legal outcome of the case itself is but one aspect of a decades-long quest for accountability. It is also a warning for the Islamic Republic authorities who once imagined their crimes would remain buried beneath mass graves: those days are now over, and they know it. Most importantly, with this public acknowledgement of the crimes committed and harm done, the dead may finally stop haunting survivors and hopefully, they can start their healing process," said Boroumand.
Notes:
[1] Such as a report by the Iran Human Rights Documentation Center in 2009; the popular Iran Tribunal, which examined the massacre among other crimes of the 1980s in 2012-2013; and a December 2018 report by Amnesty International.