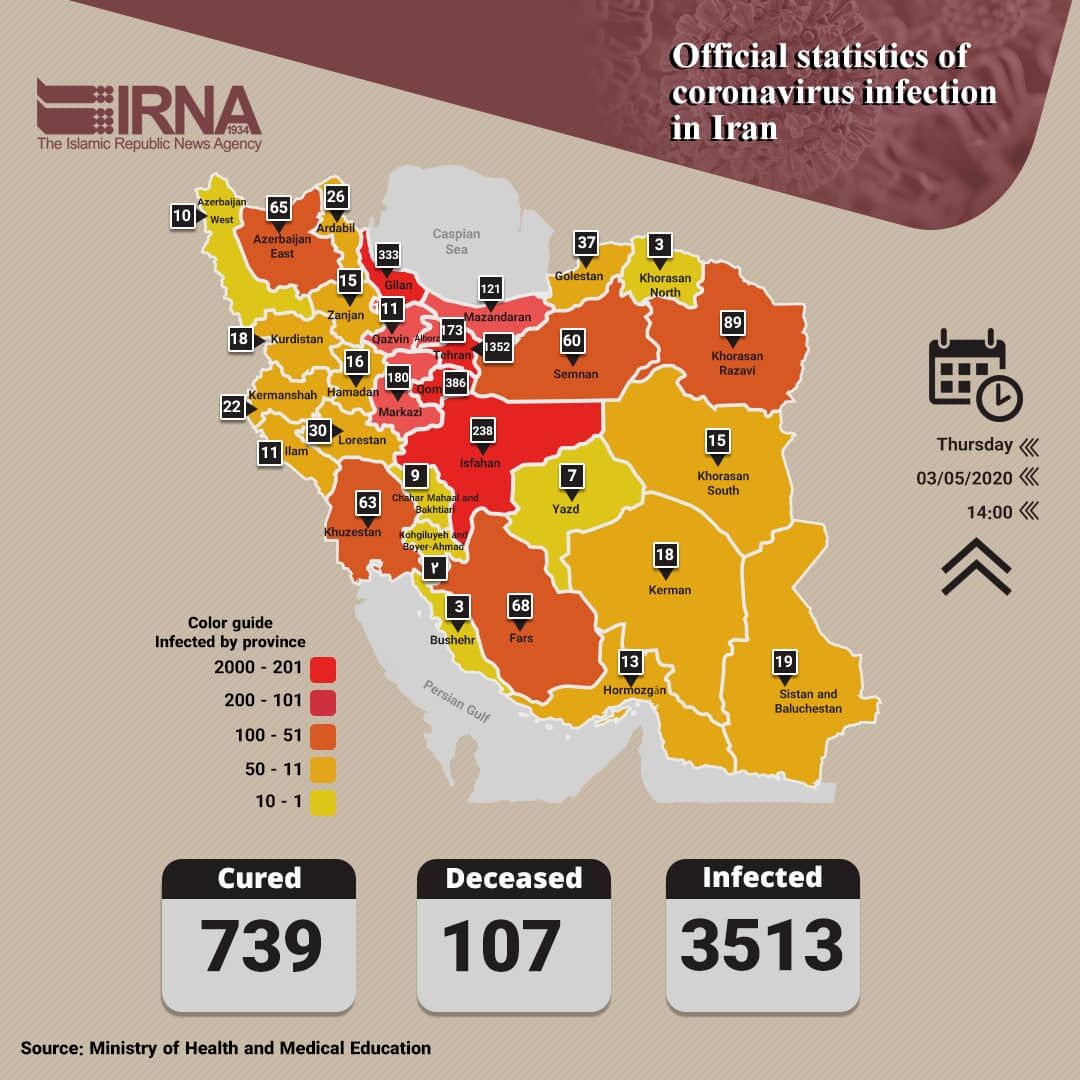 As reports of COVID-19 infection across Iran multiply in a context of state secrecy, prisoners held in precarious conditions in prisons, detention centers, and camps across the country face grave danger. On February 27, Abdorrahman Boroumand Center for Human Rights in Iran (ABC) expressed concern about prison overcrowding and the absence of measures to protect prisoners' health (see newsletter ). Steps since taken by the judicial and prison system to head off the spread of the virus are welcome, though their scale and effectiveness remain hard to evaluate given a systematic lack of transparency. ABC is concerned by reports of outbreaks in several prisons, which may portend a serious health crisis for prisoners and staff.

Inconsistencies between even official numbers raise concern that the true scale of the crisis remains unknown. As of March 5, official figures from Iran's Ministry of Health indicate 3,513 cases of COVID-19 and 108 deaths have occurred across the country [1]. Numbers compiled from Iran's medical universities late on March 4, however, indicate at least 126 persons have died not including Tehran and Gilan provinces, which are believed to be especially hard-hit [2]. Shifting and contradictory statements from officials, meanwhile, raise concern that state responses are not prioritizing public health interests. Maynou Mohraz, a member of the Ministry of Health's National Infectious Disease Committee, argued in a February 24 televised interview that Qom (a religious center and early outbreak site) should be quarantined, only to claim just days later that a quarantine is not advisable because it would damage the local economy and cause losses of billions [3].

Officials have taken steps to alleviate overcrowding. On February 27, Iran's judiciary chief issued a circular authorizing leave through April 3, 2020 for certain prisoners, including those sentenced to incarceration who are otherwise eligible for leave and those in prison for failure to pay restitution, blood money, and other financial penalties. Certain categories are not eligible for the leave, e.g. those convicted of armed robbery; those convicted of robbery with sentences of over five years or those convicted of multiple counts of robbery; those convicted of espionage; those convicted of actions against national security with sentences longer than five years; and those with death sentences [4]. On February 29, another circular outlined other measures to combat the virus' spread, including holding off on bail orders resulting in detention and the extension of all releases on bail for prisoners whose sentences have been finalized, except for "essential" cases, through April 19 [5]. The term "essential" is not defined. Judiciary spokesman Gholamhossein Esmai'li announced in a March 4 press conference that 54,000 prisoners had been granted leave and the number of new entries into prisons had decreased by 35% [6].


Judicial officials' claims of thousands of persons having been released are impossible to verify given longstanding lack of transparency and a lack of access to data and prisons. ABC remains seriously concerned for the welfare of inmates and unsanitary conditions in prisons which endanger their health.

It remains to be seen what detentions and arrests are deemed "essential" by the judiciary. For instance, law enforcement in Qom Province sent 280 newly-arrested drug users to prisons and camps in the first three days of March as the novel coronavirus rages there [7].*

Individuals whose release would not pose a threat to society should be granted leave. ABC sources indicate that many prisoners who are eligible for release continue to be held. Kurdish political prisoner Marvan Karkuki, who has just a month of his 7.5 year sentence left to serve, is being kept in Raja'i Shahr Prison [8]. A group of 20 prisoners arrested in connection with November 2019 protests, three of whom have received death sentences, have reportedly been transferred to a unit of Greater Tehran Penitentiary after one individual among them tested positive for the novel coronavirus [9]. A mother of an individual imprisoned at Qezelhesar in Karaj on drug-related charges has told ABC her son has been asked to post a bail of 100 million tomans (c. 6,400 USD) for every year remaining in his sentence to be granted leave, a sum beyond the family's means [10].

As the World Health Organization Eastern Mediterranean Regional Office has noted, despite some positive trends in Iran's response to the crisis, "more work is needed specially in data collection [and] analysis" [11]. Faced with such a crisis, Iranian officials must heed the calls of medical experts and ensure transparency about measures taken to protect prisoners' health and seriously address overcrowding and lack of sanitation.
---
Notes:

[1] IRNA, March 4, 2020 (https://www.irna.ir/photo/83693429/)
[2] IRNA, March 4, 2020 (https://www.irna.ir/news/83702253)
[3] Video available on "Physicians News Channel" Telegram channel, posted February 28, 2020 (https://t.me/irmed/15173)
[4] Other prisoners not eligible include those convicted of kidnapping, where the victim has not pardoned them; those convicted of acid attacks; those convicted of smuggling, buying, or selling more than two firearms; those convicted of hodud crimes, and those convicted of defrauding a large number of people. Eligible prisoners except for those convicted of financial crimes may be granted leave even where they are unable to post bail, provided that there is "certainty" they will return. (https://www.iranrights.org/library/document/3712)
[5] https://www.iranrights.org/library/document/3713
[6] ISNA, March 3, 2020 (https://www.isna.ir/news/98121310173/)
[7] ISNA, March 4, 2020 (https://www.isna.ir/news/96041407477)
[8] ABC interview with source with knowledge of Karkuki's case, March 4, 2020
[9] HRANA, March 2, 2020 (https://www.hra-news.org/?p=234000)
[10] ABC interview, March 3, 2020
[11] Twitter account of the World Health Organization Eastern Mediterranean Regional Office, March 5, 2020 (https://twitter.com/WHOEMRO/status/1235665316077875200)
*Correction: The arrests of alleged drug users in Qom here cited were conducted in July 2017, not March 2020, and the publication date of the ISNA piece referenced was July 17, 2017. ABC regrets the error. Mass arrests for drug offenses have nonetheless continued through the COVID-19 crisis, including the arrest in Hormozgan Province of more than 400 people in early March 2020 (Mehr News, March 7, 2020: https://www.mehrnews.com/news/4872302/)