Amnesty International
Iran: Ensure free presidential election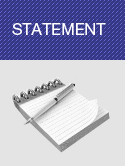 May 15, 2009
Statement
AI Index:MDE 13/046/2009
Amnesty International has today called on the Iranian authorities to ensure that the forthcoming presidential election to be held on 12 June 2009 are free of discrimination – particularly against women - and that candidates and voters are guaranteed effective exercise of their rights to freedom of expression and assembly during the election campaign. The organization's appeal was made in a letter addressed to Ayatollah Jannati, the Chair of the Council of Guardians1, following the recent closure of registration of candidates for the presidential election.
The Council of Guardians screens all candidates for election to "ensure their suitability for the Presidency". Article 115 of the Constitution stipulates that candidates must be from amongst "religious and political personalities" [Persian: rejal] and possess: "Iranian origin; Iranian nationality; administrative capacity and resourcefulness; a good past record; trustworthiness and piety; convinced belief in the fundamental principles of the Islamic Republic of Iran and the official religion of the country." In previous elections, the majority of candidates registered were disqualified under these criteria, including all women. The exclusion of women appears to have been on an interpretation of the word rejal as meaning "men".
Amnesty International expressed concern that such requirements appear to contradict other articles of the Constitution which provide for equality of all citizens before the law; require respect for the rights of women and prohibit the investigation of a person's beliefs. In addition, they contradict Articles 2, 3, 18, 19 and 26 of the International Covenant on Civil and Political Rights (ICCPR) to which Iran is a state party and which prohibit discrimination on any grounds, and require the state to respect and protect freedoms of belief and opinion. The screening requirements also contravene Article 25 of the ICCPR, which states that all citizens have the right to vote and to be elected to public office, without discrimination.
Amnesty International urged the Council of Guardians to ensure that no one is excluded from standing as a candidate solely on the grounds of their race, colour, sex, language, religion, social origin or political or other opinion, and in particular to ensure that none of the 42 women who registered to stand are barred from standing solely on account of their gender. The organization said it was encouraged in this regard by a statement made on 11 April 2009 by Dr Abbas Ali Kadkhodaei, the Spokesman of the Council of Guardians, that there is "no legal restraint" to the candidacy of women.
Amnesty International is also concerned at ongoing repression of dissent in Iran, which has worsened in recent months, and fears that Iranians who wish to express their opinions or exercise their right to assembly during the election campaign may face restrictions including harassment, arbitrary arrest and unfair trial.
Amnesty International has received reports suggesting increased waves of arbitrary arrests and harassment targeting in particular members of Iran's religious and ethnic minority communities, students, trade unionists and women's rights activists. Many, of those arrested are at risk of torture or other ill treatment. Other individuals arrested before this period have been sentenced to death. In addition, several newspapers have been closed down, and access to internet sites has been restricted, including some relating to human rights or which are operated by international broadcasters. In December 2008, the Office of the Tehran Public Prosecutor announced the formation of a "special office to review Internet- and SMS-related crimes and violations", stating that the office would review election campaign violations and "offensive remarks"made by SMS. These measures may in part be intended to stifle debate, prevent the organization of peaceful demonstrations, and to silence critics of the authorities in advance of the election.
All individuals and groups should be allowed to peacefully exercise their rights to freedom of expression, association and assembly, including in ways which dissent from state policies and practices, in the run-up to the presidential election. Any one currently detained for the peaceful exercise of their rights to freedom of expression, association and assembly should be released immediately and unconditionally. Other detainees should be released unless promptly brought to trial on recognizably criminal charges. All detainees should be protected from torture or other ill-treatment.
Recent cases of concern to Amnesty International include:
The arrest on 19 April 2009 by officers of the Revolutionary Court in Tehran of Mehdi Mo'tamedi Mehr, a member of the Committee to Defend Free, Healthy and Fair Elections and a member of the Freedom Movement, a banned political party. Prior to his arrest he had been telephoned by a Ministry of Intelligence official and told that publication of a statement entitled "Civil Society Institution as Election Observers: An Assurance toward Free, Healthy and Fair Elections" by the Committee would be an act against national security. The statement was published anyway, and he was arrested. He has been accused of "acting against state security". On 29 April, security forces prevented other members of the committee from holding a meeting in the "Raad" Legal Institute which belongs to Mohammad Ali Dadkhah, a prominent lawyer and member of the High Oversight Council of the Centre for Human Rights Defenders (CHRD). The CHRD was forcibly closed in December 2008 and has not been allowed to reopen.
At least three Amir Kabir University students who remain detained without trial in Section 209 of Evin Prison in Tehran following their arrests in February 2009. Other students arrested with them who have since been released have said that they were tortured in detention. On 28 April 2009, a Revolutionary Court judge said that eight students, including the three still detained, had been accused of cooperating with the People's Mojahedin Organization of Iran, an opposition group based in exile. He said that they had intended to "carry out some activities in the university" during the forthcoming election..
Ayatollah Sayed Hossein Kazemeyni Boroujerdi, who advocates the removal of religion from the political basis of the state, is serving an 11-year prison sentence imposed on 13 August 2007 after his initial death sentence for "enmity against God" was commuted. On 5 May 2009 he was allegedly beaten while held in solitary confinement in Yazd prison, where he is held in internal exile, after he sent an open letter to UN Secretary General Ban Ki-Moon, requesting that international observers be sent to Iran in order to assist the Iranian people in an open referendum on the system of government in Iran. Since then he has not been allowed to contact family members, who have said that prison officials told them he was being punished for his statement concerning the referendum.
Over 100 people arrested in Tehran and Sanandaj in the run-up to, during, and after peaceful gatherings planned to celebrate May Day 2009. Although some have been released, dozens are believed to remain in detention, including Ja'far Azimzadeh, Shahpour Ehsani, and Bahram (Issa) Abedini, and six members of the One Million Signatures campaign Nikzad Zanganeh, Amir Yaghoubali, Kaveh Mozafari, his wife Jelveh Javaheri, Pouria Poushtareh and Taha Valizadeh.
Sajad Khaksari, a reporter for the weekly Qalam-e Moalem (Teacher's Pen) and the son of Mohamad Khaksari and Soraya Darabi, both leaders of the Iran Teachers Trade Association (ITTA), was arrested on 26 April 2009 in front of the Ministry of Education. He was covering protests by teachers demanding that the government implement a pay-parity bill, passed in 2007, which would bring teachers' wages in line with other government workers.
Two women's right defenders, who are both members of the One Million Signatures Campaign (also known as the Campaign for Equality) which is collecting signatures to a petition demanding equal rights for women, have been detained since 7 May 2009. The two, who have been active in defending women's rights in Qom for many years, had recently investigated an "honour killing" in Qom, which had attracted the attention of the authorities. Fatemeh Masjedi was arrested in Karaj, along with Gholam Reza Salami, a researcher into the women's movement, after her house in Qom was searched by Ministry of Intelligence officials, who confiscated some of her personal possessions. Maryam Bidgoli was arrested in Qom later the same day. Their lawyer, Shadi Sadr, believes their arrests were illegal as they were not shown any arrest warrant or told why they were arrested.
Narges Mohammadi, Deputy Chair of the CHRD and Head of the Implementation Task Force of the National Peace Council (NPC), and Soraya Azizpanah, also a member of the NPC, the Executive Director of the Centre to Clean Mine Fields and the editor of Rasan magazine, were banned on 10 May 2009 from travelling to a conference in Guatemala organized by the Nobel Women's Initiative, entitled "Women Redefining Democracy for Peace, Justice and Equality".
Background
The United Nations Human Rights Committee, responsible for overseeing the implementation of the ICCPR, specified in its General Comment No 25 of 12 July 1996 that ensuring respect of rights to vote and to stand for public office, as recognised in Article 25 of the ICCPR, requires that such rights should be guaranteed to all citizens without discrimination on the grounds of race, colour, sex, language, religion, political or other opinion, national or social origin, property, birth or other status.2 States are required to adopt legislative and other measures necessary to ensure that citizens have an effective opportunity to enjoy these rights, without discrimination, and to remove any impediments or restrictions that limit the enjoyment of such rights. Any conditions which apply to the exercise of the rights protected by article 25 should be based on objective and reasonable criteria. Therefore, persons who are eligible to stand for election should not be excluded by unreasonable or discriminatory requirements. Requiring that citizens must belong to prescribed religious denominations officially recognized by the State, or political opinion or affiliation does not comply with the requirements of article 25 of the ICCPR
Amnesty International has been campaigning for many years for an end to a variety of human rights violations in Iran. Impunity, arbitrary arrest, torture and other ill-treatment, as well as the use of the death penalty remain prevalent. Some sectors of society – including ethnic minorities – continue to face widespread discrimination, while the situation for other groups – notably some religious minorities – has significantly worsened since the Islamic Revolution in 1979. Those seen as dissenting from stated or unstated official policies face severe restrictions on their rights to freedom of belief, expression, association and assembly. Women continue to face discrimination - both in law and practice. Impunity for human rights abuses is widespread.
For further information please see:
Iran: Human Rights in the spotlight on the 30th Anniversary of the Islamic Revolution, AI index: MDE 13/010/2009
Iran:Worsening Repression of Dissent as Election Approaches, AI Index: MDE 13/012/2009
Public Document
****************************************
For more information please call Amnesty International's press office in London, UK, on +44 20 7413 5566 or email: [email protected]
International Secretariat, Amnesty International, 1 Easton St., London WC1X 0DW, UK www.amnesty.org
1 Council of Guardians is a body which interprets the Constitution, supervises elections, and vets legislation for conformity to Islamic Law and the Constitution.
2 Human Rights Committee: General Comment No. 25: The right to participate in public affairs, voting rights and the right of equal access to public service (Art. 25), 12 July 1996, CCPR/C/21/Rev.1/Add.7.