Defenders Under Threat
Farshid Yadollahi, A Defender Under Threat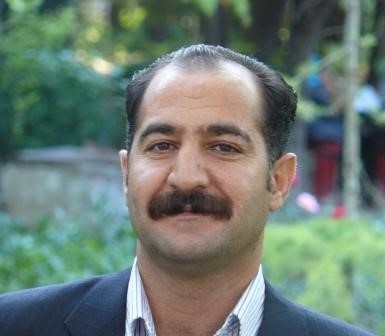 Abdorrahman Boroumand Center
January 14, 2020
Report
Name: Farshid
Surname: Yadollahi
Profession: Attorney at Law
Place of Work: Fars Province
In November 2011, Farshid Yadollahi was prosecuted for a second time and sentenced by Kish Island General Criminal Court, Branch 102, to six months' imprisonment on the charge of "disseminating falsehoods and libelous materials". The charges against him related to a case he had taken on in the city of Kish in 2008. In December 2008, the authorities in Kish closed down a Darvish Lodge. The next day, a number of Darvishes gathered outside the Hosseinieh in order to perform their religious ceremony. In the ensuing clashes with security forces, a number of Darvishes were arrested. Following the arrest, Farshid Yadollahi and another attorney travelled to Kish in order to take on the cases of the detainees. The authorities, however, did not allow him to take on the case on the pretext of its confidentiality. Subsequently, Farshid Yadollahi, in an interview with Radio Farda, spoke out against the violation of his clients' rights and the authorities' unlawful conduct. Intelligence officials lodged a complaint against him, arguing that Farshid Yadollahi did not have a representation agreement and had disrupted the proceedings by "making up lies" when speaking with "anti-revolutionary media."
Farshid Yadollahi along with several other directors of Majzooban-e Noor, a website that publishes news and material about Gonabadi darvishes and the violations of their rights, was arrested for a third time in September 2011. Information Ministry agents in the city of Shiraz first took him to theI nformation Ministry's Security Detention Center in Shiraz. He was subsequently transferred to Tehran's Evin Prison Ward 209 where he spent 70 days in solitary confinement under intense interrogation. Tehran Revolutionary Court Branch 15, presided over by Judge Salavati, sentenced him to a total of seven years and six months in prison and to a five-year ban from membership in groups, sects, and media activities, on charges of "membership in enemy groups", "disseminating lies and libelous materials", and "insulting the Leader of the Revolution". On February 18, 2014, Farshid Yadollahi's lawyers published an open letter in which they called the adjudication of his and the other defendants' cases unjust, citing the following instances, among others, as contrary to the law: "The attorneys were not summoned to attend investigation and trial sessions", "the attorneys were not allowed to read the content of the case file and have access to documents", "the attorneys were not allowed to meet with the defendants", and in some cases, "the attorneys were not allowed to enter the Revolutionary Court building". Farshid Yadollahi was released in March 2015, following the suspension of two years and six months of his sentence.
‌‌‌‌Background: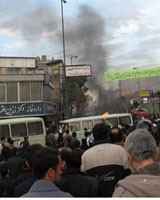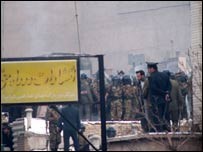 Shari'at Hosseinieh in Qom Destroyed
"The Qom Governor's Deputy of Security and Political Affairs stated, 'Following the destruction of Shari'at Hosseinieh according to the order of the Municipality's Article 100 Commission and the arrest of 1200 darvishes, Qom is in complete peace and security at present.' Referring to the clashes between the Gonabadi darvishes and the people and police forces, Ahmad Hajizadeh noted: 'These individuals throughout the public calls [for gatherings] they had made, had turned a property-related issue into a security one.' He further added, 'We had negotiated with these individuals repeatedly in order to compel them to resolve the property dispute - there were two claimants [in the case] - through the judiciary and submit to the judiciary's orders." ILNA, February 15, 2006
52 Gonabadi Darvishes in Qom Sentenced to One Year in Prison, Monetary Fines, and Flogging
"Farshid Yadollahi, the darvishes' lawyer, announced on Thursday that 52 of his clients have been convicted of insubordination of the police an disturbing order. Yadollahi himself has been banned from practicing law for five years. In February 2006, the Gonabadi darvishes' Hosseinieh in the city of Qom was raided by the police and security forces of the Islamic Republic. Around one thousand individuals were arrested in this incident."
Radio Farda, May 4, 2006
A number of Gonabadi darvishes were arrested by security forces in the city of Kish on Thursday night amid a renewed round of persecution of this group … Farshid Yadollahi, the lawyer of darvishes, in an interview with Radio Farda stated that his clients had been arrested by security and police forces without a judicial order after a group prayer and a meeting that was held in one of their houses. [He] .. added that the reasons for their arrests are not clear yet but based on the cases opened against them in a court in Kish, the charges related to them being darvishes and holding religious ceremonies. He stated that they have even been forced to sign pledges that they would not form or attend Sufi gatherings. He expressed astonishment at the conduct of the court referring to the measures taken [against his clients] as breaching the Constitution, the Universal Declaration of Human Rights, and the Law on Citizens' Rights… He pointed to individuals who, as a result of their rigid and retrogressive thinking, are hostile to Sufism and want everyone to think alike, as the reason behind the recent persecution of Gonabadi darvishes.
Radio Farda, January 17, 2009
"I, along with my colleague Mr. Eslami, went to the Court in Kish today and requested the judge overseeing the case to have in-person meetings with our clients but unfortunately, the judge completely disregarded our request because the case is [considered] classified and despite our follow-ups, refused to announce the charges and the reasons behind the arrests…. I have a question for the authorities of the Islamic Republic: on what basis and why do you arrest darvishes, close their Hosseinieh, and raid their homes? What political act or measures against the Islamic Republic have the darvishes taken? Other than having a religious belief, what risk do darvishes pose to the regime?... Unfortunately, every year with the start of Moharram, they start interrogating and imprisoning darvishes. This year, Gonabadi darvishes have been threatened and arrested across the country… This is despite the fact that, according to our Islamic beliefs, fighting, inflicting injuries, and destroying Seyyed al-Shohada's Hosseinieh is haram [religiously forbidden]."
Farshid Yadollahi, Interview with Radio Farda, December 31, 2008