Defenders Under Threat
Giti Purfazel, A Defender Under Threat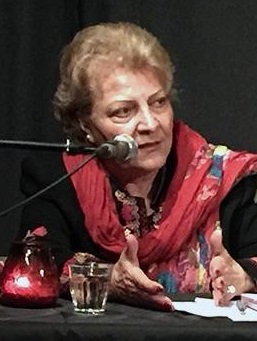 Abdorrahman Boroumand Center
January 13, 2020
Name: Giti
Surname: Purfazel
Profession: Attorney at law
Place of Work: Tehran
Ms. Giti Purfazel is a writer, lawyer, a member of the Central Bar Association and one of Iran's most active figures in human rights. She has spoken at many conferences, and published books and articles. She obtained her law license in 1974-75 from the Tehran Bar Association. Following the 1979 Revolution, she became one of the critical voices against the passage of discriminatory laws against women. As a result of her activities her license to practice law, as well as that of 51 other attorneys, was revoked in 1983 by order of the then-Shari'a Judge, Mohammad Gilani. She was banned from the practice of law until 1997, when she was able to obtain her law license once again. She then continued her activities, and accepted the cases of individuals charged with politically motivated offences, such as Nasrin Sotoudeh, Heshmatollah Tabarzadi, Seraj Mirdamadi, and several Baha'i individuals. One of her most high-profile cases was that of Sattar Beheshti, a young blogger who was arrested by Iran's Cyber Police in 2012 and died in custody. She lodged a complaint on behalf of his next of kin against the agents who had killed Sattar Beheshti. During her years of practice, Ms. Purfazel was persecuted and threatened on numerous occasions by security agents. She was constantly summoned to the Ministry of Intelligence, told not to give interviews to the media, and to refrain from representing political activists. Giti Purfazel went into voluntary retirement in 2013 due to pressure from, and obstacles to her work, created by the Islamic Republic authorities, including the security forces.
Background:
"I had just returned from France and was faced with the Islamic Republic. Because I had studied the issue of women in Shi'a jurisprudence and in other schools of Islam, I realized what was taking place from the start of the revolution. I knew what sort of deprivations Islamic Law would bring for women. I believe that these laws are not only anti-women but are also against human rights, and are absolutely discriminatory…. the country was retrogressing… the first step they took after the revolution was the revocation of the Family Protection Law and this meant that men could marry up to four women….. when the lawyers' Congress was convened, I expressed my opinions, I was the only woman who spoke in that congress and spoke out about all the sexist laws with reason and evidence. Of course some who had revolutionary fervor opposed me, but a number of judges and lawyers agreed with me…. My law licence was revoked for 14 years - from 1983 to 1997. Mr. Mohammadi Gilani wrote at the time that 52 lawyers, including me, were not qualified to be lawyers. They jailed 18 members of the Bar's Board of Directors and revoked the licences of those of us who had a big mouth. I was not part of any political group and was not politically active but I was engaged in cultural activities and, as a lawyer, could not ignore the policies that were forming in my country."
Giti Pourfazel, Interview with Iran Wire, March 8, 2017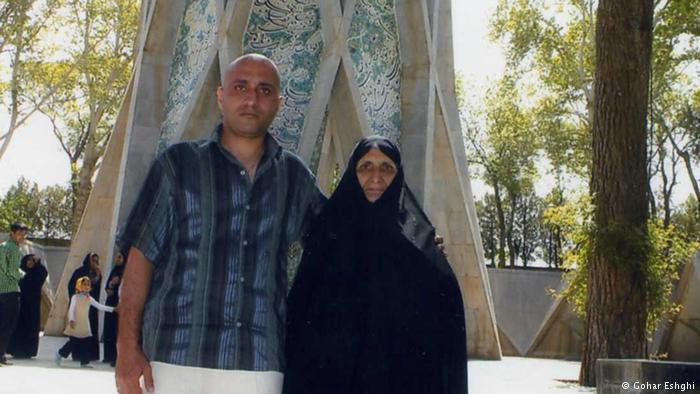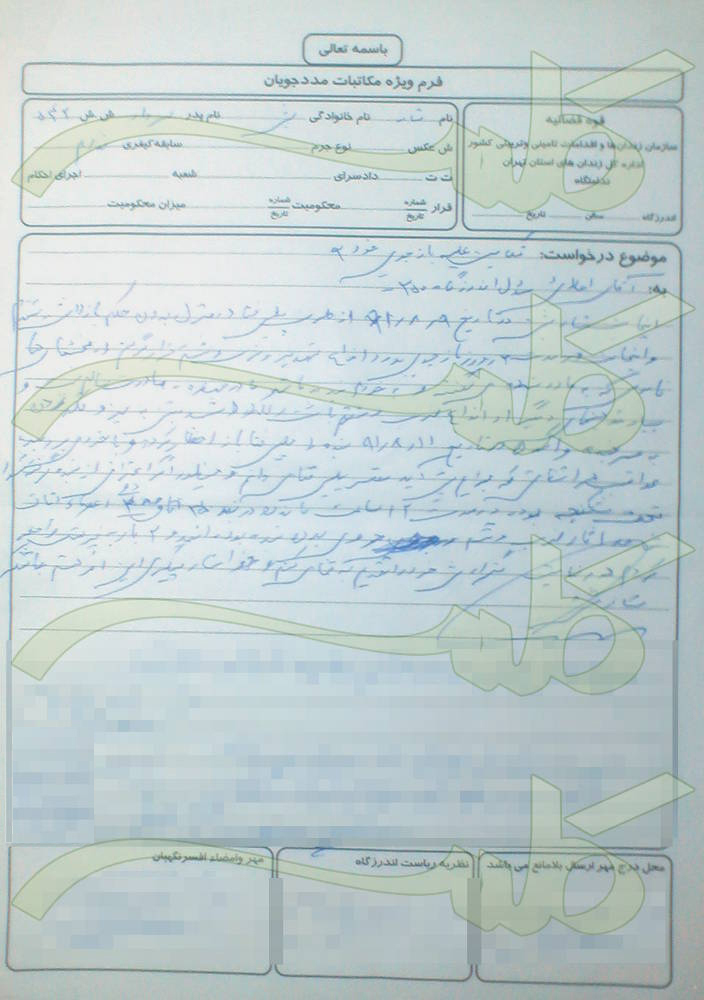 The Iranian authorities must investigate the circumstances that led to the death of a blogger in detention in the capital, Tehran, Amnesty International urged, amid reports he was tortured in custody. Sattar Beheshti, 35, was arrested by men believed to be from Iran's Cyber Police, on 30 October at his home in Robat Karim, southwest of Tehran. On Tuesday 6 November his family members were told to collect his body from Tehran's Kahrizak detention facility, and he was buried the following day. The exact time and cause of his death are still unknown, but a complaint he apparently lodged with prison authorities before his death stated that he had been beaten, lending credence to reports that he died as a result of torture in detention last week… Beheshti, who was not particularly well-known among Iranian bloggers, maintained a site called My Life for My Iran, on which he criticized the Iranian government.The day before his arrest, he had complained about receiving a threat because of his blog posts…
Amnesty International, November 8, 2012
"The Investigative Judge does not forward the case to the court, because he is buying time, thinking that the case will lose its significance, or that with the passage of time, its sensitivity may lessen; but he is making the biggest mistake… From the beginning when I was following up on this case, the Courthouse, they told me, 'He died under pressure and stress.' I said, 'Yes, but at what time and in what location was he under pressure?' He was in the hands of his interrogator and he was under pressure, and . . . yes, he did have a cardiac arrest, but what individuals caused these circumstances?... Sattar had four interrogators, one of whom was the main culprit in Sattar's death. He came to the investigation session and we saw him. They are not sending him to court, because he is an intelligence officer, lest he be convicted. Even though our Constitution expresses that all individuals who have Iranian citizenship are equal before the law, we see that in practice people are not equal. Depending on conditions, rank, and their affiliations, the law may not be carried out for some. This is the truth. I am sorry. I say what I believe. I may end up in Evin myself, or they may allow me to express myself and forge ahead. Why shouldn't the case of a young man who lost his life under interrogations be sent to court?"
Giti Pourfazel, Interview with International Campaign for Human Rights in Iran, June 27, 2013
Giti Pourfazel [the lawyer for fifteen Baha'is]… told the Campaign[,] "Lawyers are not given the evidence and documents in security-related cases, and these documents are not kept inside the case files, either. There is only one report from the Intelligence Ministry, based upon which the judge makes his decision. I did ask them to show me the evidence on which my clients' convictions were based, but I was told that 'the documents are confidential and they cannot be shown to you… Based on what was said in court and during the interrogations, records of which were available in the case file, the reasons for their charges were, for example, their trips to Dubai and India and contacting fellow Baha'is there. But mere contact with fellow believers and carrying out religious affairs cannot be used as evidence for a crime… Also, [their case files indicated] that they performed their religious duties inside their own homes in groups. But none of these are considered concrete and sound bases for proving the charges of 'propaganda against the state,' and 'collusion and assembly,' and they are not considered [admissible] legal documents."
Giti Pourfazel, Interview with International Campaign for Human Rights in Iran, July 18, 2014
"Most of the cases I took on were political ones… These individuals were being persecuted for their political beliefs. I would give interviews and talk about these cases, and that's how I got into all kinds of trouble that continue to this day. It got to a point where I couldn't continue on that path any longer. I was really under a lot of pressure… When I was investigating the Sattar Beheshti case… I told the Beheshti family that they would not get the outcome they were seeking… The court sentenced the interrogator to three years in prison for 'involuntary manslaughter' even though the medical examiner's report explicitly stated that Sattar's death occurred as a result of blood clots resulting from severe blows to his body… That's deliberate murder. They had beaten and tortured the young man so much that he lost his life. Well, how can I not be upset? I am a mother myself. I have children of my own. How can I not sympathize with Sattar's mother?...
"I kept getting phone calls from them and I was summoned many times and asked to sign documents pledging that I would never give interviews to foreign channels," she said. "But I told them there's no law against it. I protested, and said: 'Why won't the domestic media interview me?'... One time a reporter from one of the state-controlled television channels called me for an interview and I told her that I say what I believe is true and not the things they want me to say and she hung up on me… The Intelligence Ministry wanted me not to give interviews, not to talk—to shut up."
Giti Pourfazel, Interview with International Campaign for Human Rights in Iran, July 14, 2016