Defenders Under Threat
Mohammad Najafi, A Defender Under Threat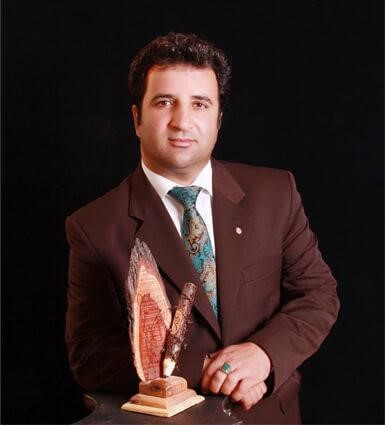 Abdorrahman Boroumand Center
January 13, 2020
Report
Name: Mohammad
Surname: Najafi
Profession: Attorney at law
Place of Work: Markazi Province
Mohammad Najafi is a lawyer and member of the Markazi Province Bar Association who has taken on a number of human rights cases. He has also published essays on his personal weblog and given media interviews in which he was critical of Iran's political and human rights situation. As a result, he has been subjected to persecution by authorities. Najafi was first arrested in 2009 by security forces in Shazand and detained on charges of "propaganda against the regime," "insulting the president," and "possession of satellite TV equipment." He was subsequently sentenced to three months in prison, a monetary penalty, and a six-month prohibition from practicing law. He was arrested once again in 2012 for his weblog publications and political activities, but was later acquitted. The Central Bar Association's Disciplinary Tribunal tried him for the latter charge, which included his participation in a sit-in before the Central Bar Association building in Tehran, organized in support of fellow human rights lawyer Nasrin Sotudeh. He was cleared of these charges as well. On May 10, 2016 he was summoned to the Shazand Prosecutor's Office and charged with "slander with intent to disturb the public mind" for a speech he had given at the Shazand Nobonyad Mosque in which he criticized national policy and the government's neglect of peoples' rights. He was arrested once again on October 10, 2016, whereupon he was charged with "disturbing the public mind" and taken to Arak prison. Seven days later, he was released on bail. On March 4, 2017, he was summoned to the Shazand Judiciary and charged with "propaganda against the regime" for postings on his Facebook and Telegram channel "Posht-e Koohi" before being released on bail once more. He was arrested again on January 15, 2018 for investigating the murder of Vahid Heydari, a young man who died in Arak police custody after being arrested for his participation in riots that erupted across Iran between December 2017 and January 2018. Following Heydari's untimely death, police, security, and judicial officials announced that he had been a drug user who committed suicide in jail. Following up on these claims, Najafi travelled to Heydari's native village and concluded from his research and interviews there that Heydari had never used drugs and did not die of suicide. The results of this investigation were published on Najafi's personal Instagram page. Contrary to claims that Najafi was being arrested for his research, an announcement from the local Prosecutor's Office claimed that they were arresting him for organizing the 2017-2018 Arak protests. According to Najafi's lawyers, investigating authorities have attempted to coerce individuals who were arrested amid the protests into testifying against Najafi, but have been unable to obtain any evidence that he organized the demonstrations. Najafi was released on April 17, 2018 upon posting a bail of one billion tumans. On July 26, 2018, Branch 102 of Criminal Court Two in Arak convicted Najafi of "disturbing public order through sensationalism, controversy, and disorderly conduct such as sloganeering" and "slander with intent to disturb the public mind" (in relation to the Heydari investigations), sentencing him to three years in prison and 74 lashes. This sentence was upheld in appeals court. Collectively, Najafi had already been sentenced by multiple courts to 20 years' imprisonment, flogging, and monetary penalties on numerous national security charges.
On October 28, 2018, security forces arrested Najafi at his home without any prior summons and transferred him to Arak Prison. Najafi's lawyers announced that the arrest coincided with his request for appeal to the Supreme Court. They also warned about the lethal and irreversible consequences of a flogging sentence on someone in Najafi's condition, as he suffers from diabetes. In November 2018, Branch 102 of Criminal Court Two in Arak issued Najafi a verdict on one of his previous cases. The verdict convicted him of "disseminating lies in cyberspace through computers and telecommunication services with intent to disturb the public mind" and sentenced him to one year in prison. In the same month, he was sentenced by Arak Revolutionary Court Branch One to one year of imprisonment for "propagandizing for opposition groups and organizations," two years' imprisonment for "insulting the Supreme Leader with 'down with the dictator' slogans," and ten years' imprisonment for "cooperation with hostile governments through media interviews" including those conducted with Radio Farda and BBC Persian. In January 2019, in yet another case, Najafi was convicted of "disturbing the public mind" by Branch 102 of Criminal Court Two in Arak and sentenced to two years' imprisonment and a 40-million rial monetary penalty; this charge stemmed from a critical open letter Najafi had written to Ali Khamenei in September of 2018.
Najafi was released in late March 2019, and his first three-year sentence was pardoned by authorities. He was arrested again shortly thereafter to serve a ten-year prison sentence on separate charges.
Background: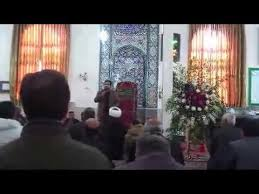 "Maybe for those sitting on this menbar (preacher's chair in a mosque) the problems of Iran and Iranians do not matter. Therefore I have decided - on behalf of those who are supposed to address the problems of the Iranian people - to say a few words about the suffering of this land, and specifically our city… Election season is still upon us, and as such they consider us to be - to some degree - human, because our votes are valuable to them. I have one question [for authorities]. So far, who has sought to understand why this city has such a rampant drug problem, so many unemployed people, and so much poverty? Does it matter to any of them at all?... Ask them: is Iran a priority for you, or are Iraq, Syria, and Lebanon the priority? Ask them: are the people your priority, or is it the vali-e faqih [Supreme Leader]? Our time is an era of masters and slaves: all for one, that one being the ultimate master; the treasure is for one, while all others suffer… You have kept us hungry to buy our votes with rice and oil. Is this Islamic justice?... In a state where the highest authority must be the most responsive, he does not respond to anyone at all… I know that some people here belong to intelligence agencies. I speak before them with full knowledge [of the consequences]... People, you must know that you are the rightful power, you must make your needs known, you must demand…"
Mohammad Najafi's speech in Nobonyad Mosque in Shazand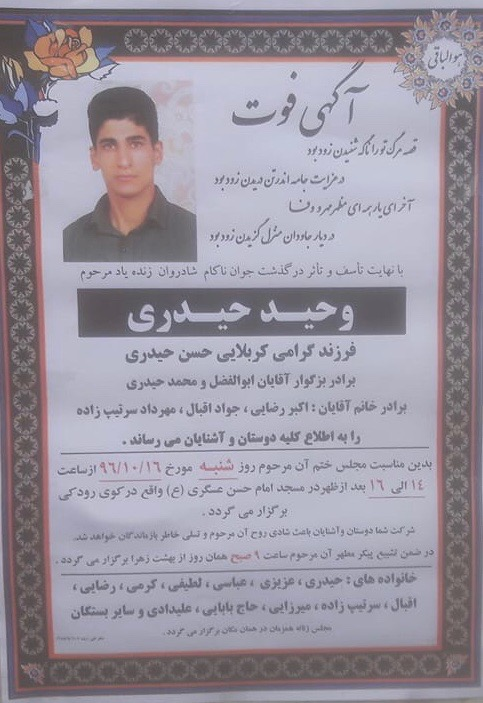 "Mohammad Najafi, an attorney in the city of Arak, told the Campaign that the family of Mr. Heydari have been under severe security pressure and were forced to bury him in a location authorized by authorities… Najafi reported on the beatings of detainees in Arak, stating that 'on the first day of the protests in Arak, which was December 30, there were no clashes, but on the second day tensions and clashes were visible. Heydari was arrested on this day. We witnessed cases of beatings in detention centers during this period, and I have had people coming to me saying that they themselves were subjected to beatings in detention centers… I believe that this young man did not commit suicide. I have spoken to his father and [his family] are very concerned. I said that I would accept [Heydari's] case pro bono and follow up on it. This young man was a protester. They arrested him, subjected him to beatings, killed him, and now they are sullying his reputation. The family are very concerned… the atmosphere is tense and the family are under pressure from security forces."
Mohammad Najafi, Interview with International Campaign for Human Rights in Iran, January 9, 2018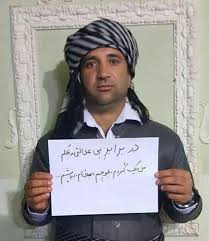 "I am currently under investigation by seven different judicial bodies. The charges are all bogus… it would be rather irrational for me to expect that the justice system adhere to the law in political- and security- related cases. If we want to be more accurate, we should specify that this lawlessness started in the 80s when Mr. Khomeini himself sentenced thousands to death with a decree just a few lines long. I think it would be presumptuous of me to ask that the law be applied to our cases… [In regards to the conditions of detention centers] I can, briefly, tell Mr. Rouhani that the Charter [of Citizens' Rights] is lying in its grave. The one thing which was markedly absent [from the detention centers] was citizens' rights. The interrogations were conducted in frigid rooms, wedged into corners with blindfolds, en masse, at night, under pressure and threats. Although they treated me slightly better, the treatment of my clients illustrates that citizens' rights were a mere fantasy spun during election season to attract votes… When there is no media on the ground conveying the voices of the people, [there is no choice], just as there is no choice now, but to [talk with foreign-based media] to project our voices. There are also international law standards of information accessibility, where access to information is recognized as a right; we cannot obstruct the flow of information… One of the key issues on which I was pressured in my case was my criticism of the Supreme Leader and [investigation into the death of] Mr. Vahid Heydari… The interrogator explicitly told me twice, 'so he was killed. He asked for it, because he was involved in the riots.' I drew attention to what he told me, twice: that 'we have killed him, how else should a rioter be treated?' This is what they expressed."
Mohammad Najafi, Interview with Radio Farda, August 1, 2018