Defenders Under Threat
Mostafa Daneshju:‌ A Defender Under Threat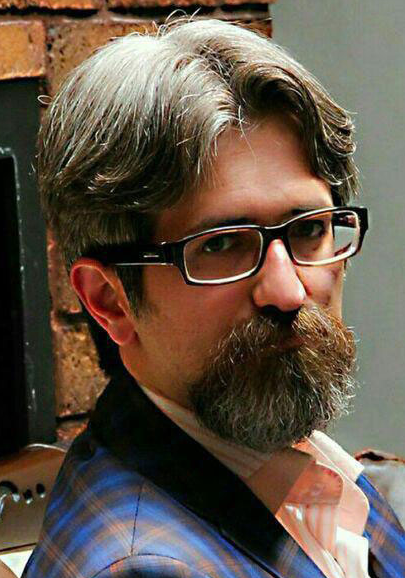 Abdorrahman Boroumand Center
January 10, 2020
Report
Name: Mostafa
Surname: Daneshju
Profession: Attorney at law
Place of work: Karaj, Tehran
Mostafa Daneshju, an attorney and Nematollahi Darvish, has been consistently active in the field of darvish rights, having represented several darvish clients throughout his career. Some of his darvish clients included a number of those arrested in a 2005 incident in Qom, in which local security forces provoked widespread skirmishes by destroying a dervish place of worship. Dozens were injured and hundreds were arrested in the clashes that ensued. As representative to a number of the injured darvishes, Daneshju lodged a complaint against security organs including the Qom Province Security Council. This was one of multiple public statements from Daneshju that would eventually bring him under pressure from security officials.
Between March and April of 2006, Mostafa Daneshju had penned a letter to high-ranking government officials in which he criticized Dorud-based agents from the Ministry of Intelligence who had physically assaulted one of his clients. That same year, Denashju requested that the Neka prosecutor investigate an incident whereby one of his client's homes in the city had been subjected to arbitrary search and seizure. As a result of his work, the Ministry of Intelligence offices of Dorud and Neka accused Daneshju of "slander," "disseminating lies," and "disturbing public opinion." In November of 2006, the Judiciary Branch Legal Advisors Center - prompted by a report received from the Qom Province Political and Security Deputy [Governor] - suspended Daneshju's license to practice law, and in 2007 revoked it altogether.
Daneshju was arrested in October of 2007. Three years later he was sentenced to 35 lashes on charges of "insulting and slandering" and to a seven-month prison sentence on the charge of "disseminating lies." On May 18, 2011, he was arrested at his workplace in Tehran to begin serving his prison term. During Daneshju's prison term, authorities set a new case in motion against him, which contained charges of "disseminating lies and libelous materials," "propaganda against the regime," and "membership in enemy groups." It was tried in Tehran Revolutionary Court Branch 15, presided over by Judge Salavati, and culminated in a sentence of three years and six months in prison.
On February 18, 2014, Daneshju's lawyers published an open letter in which they decried his conviction and that of his co-defendants as unjust, citing instances of unlawful conduct on the part of judicial officials, including: "attorneys not being summoned to investigation and trial sessions," "attorneys being denied access to case files," "the refusal of attorney-client meetings," and in some cases, "the barring of attorneys' entrance into the Revolutionary Court building."
Daneshju experienced multiple problems while incarcerated, and prison authorities denied him access to medical care for his pulmonary and cardiac diseases. He was released in May of 2015. In July of 2018, Daneshju was arrested again. Armed officers reportedly raided his mother's home, broke down her door, and arrested him in the presence of his family members. In a phone conversation with HRANA reporters, Daneshju cited the Golestan-e Haftom incident as the reason behind this arrest. In December 2018, Revolutionary Court Branch 28 sentenced him to five years in prison for "assembly and conspiracy [to commit crimes against national security]," two years in prison for "disturbing public opinion," and to one year in prison for "propaganda against the regime." His case was forwarded to Branch 36 of Tehran Appeals Court on March 3, 2019. He was temporarily released on bail three days later.
Background:
"My brothers and sisters in faith… appointed me as their lawyer with regards to their complaints about the destruction and arson of the Shariat Hosseinieh [place of worship] and the beatings of a large number of darvishes. I, per legal protocol, lodged a complaint against Qom's Security Council and… submitted the compliant to all high-ranking security bodies. After opening the case and following up on it several times, pressures on me increased until my license to practice law was suspended in November 2006 and revoked altogether by the Legal Advisors Center in September of 2007. It appears the reason behind the Legal Advisors Center's opposition to me, and the pressure they are exerting on me, is solely my beliefs and the fact that I am a darvish…. Unfortunately we can attest that as long as the Legal Advisors Center represents [those in] power, all is well, and yet when they see fit... a lawyer exercising power of attorney to defend the defenseless against those in power stands to see their license revoked under pressure from security bodies. In addition to the revocation of my license, I am now under judicial investigation by the Office of the Prosecutor on charges of slander -- stemming from a complaint from the Intelligence Department of Dorud -- and on a charge of disseminating lies, stemming from a complaint from the Ministry of Intelligence. While the regime touts unity and friendship among Muslims, an attorney's law license is targeted simply because he is a Shi'a."
Mostafa Daneshju, published on the Majzooban-e Noor website, September 28, 2007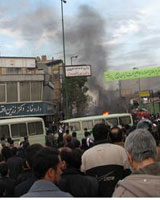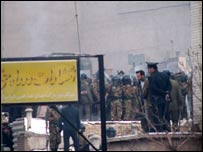 Shari'at Hosseinieh in Qom Destroyed
"The Deputy Governor of Security and Political Affairs in Qom stated, 'following the destruction of Shari'at Hosseinieh per orders from Municipality Commission Article 100, as well as the arrest of 1200 darvishes, security and order have been restored in Qom.' Referring to clashes among the Gonabadi Darvishes, police forces, and Qom residents, Ahmad Hajizadeh noted: 'with their call to assembly, these individuals turned a property issue into a political and security issue.' He added, 'We had negotiated repeatedly with these individuals in order to compel them to resolve the property dispute - which involved two claimants - through the judiciary, and to heed judicial orders."
ILNA, February 15, 2006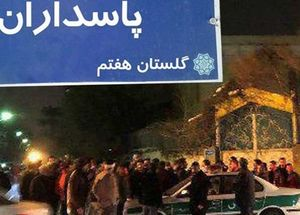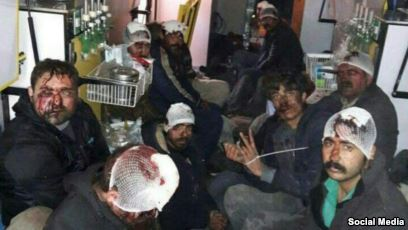 "Several hundred Gonabadi Darvishes, both men and women, gathered outside the residence of their spiritual leader Noor Ali Tabandeh in an area of Tehran known as Golestan Haftom on the night of February 19 to protest against authorities' intensified persecution of their community, and to inhibit Tabandeh's possible arrest. Those present at the protest reported that police and plainclothes Basiji forces used forceful methods to disperse the crowd and noted their use of batons, electric cables, sharp objects, tear gas, water cannons, and live ammunition. Over 300 of the darvishes were arrested, including at least 60 women. Witnesses reported seeing security forces raiding a nearby five-story apartment building where a number of protestors had taken refuge, releasing tear gas into the staircases of the building, and forming a "tunnel" of batons to strike protesters repeatedly on their backs, heads, and faces as they were violently dragged down the stairs and into police vans. Pictures and videos from the incident show protesters with lacerations and other wounds to their faces and bodies, as well as bandaged heads and other body parts."
Amnesty International, March 20, 2018