Defenders Under Threat
Nasrin Sotudeh, A Defender Under Threat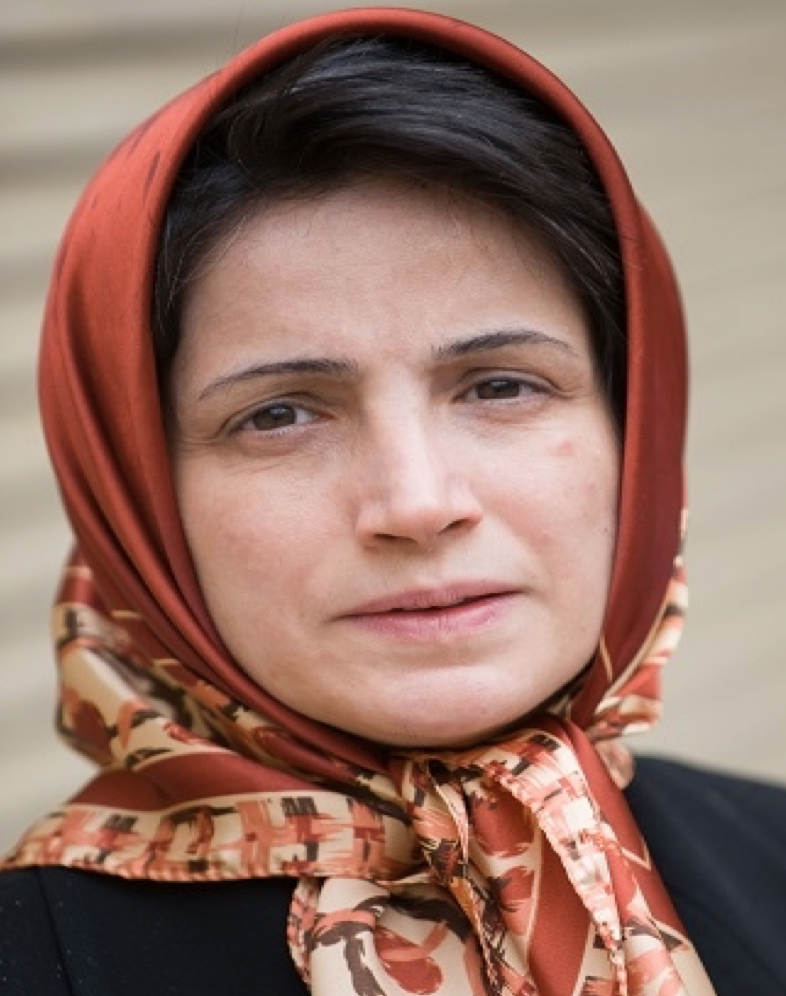 Abdorrahman Boroumand Center
May 8, 2019
Report
Name: Nasrin
Surname: Sotoudeh
Profession: Attorney at Law
Place of Work: Tehran
In 2009, after the widespread protests that followed the presidential election, she represented some of those arrested including Arash Rahmanipour, a young man who was executed on January 28, 2010 on the charge of "waging war on God through membership in the terrorist mini-group Royal Association of Iran". Nasrin Sotoudeh's representation of the those arrested in relation to the protests and criticism of the authorities prompted the security forces to raid her house and office, search them, and confiscate some of her personal belongings, documents, and her clients' case files. She was also summoned to the Office of the Prosecutor in Evin Prison where she was arrested on September 4, 2010. She was held in solitary confinement for months, and subjected to interrogations. In January 2011, Tehran Revolutionary Court Branch 26, presided over by Judge Pirabbassi, sentenced Ms. Sotoudeh to 11 years in prison, a 20-year ban from practicing law, and a 20-year ban from leaving the country, on the charges of "conspiracy to commit crimes", "membership in the Defenders of Human Rights Center", "propaganda against the regime.," The sentence causeding an international outcry. She was also sentenced to a monetary fine for, "disregarding the Islamic Hejab" in a video message. In September 2012, Tehran Province Court of Appeals reduced Ms. Sotoudeh's sentence to six years in prison, a 10-year ban from leaving the country, and a 10-year ban from practicing law. Sotoudeh went on hunger strikes on several occasions during her time in prison, including for 49 days to protest the travel ban imposed on her 12-year old daughter. On September 18, 2013, in a context of significant international pressure, Iran's judiciary released Nasrin Sotoudeh after three years in prison.
In October 2014, Branch Two of the Disciplinary Court for Lawyers, following a complaint by the Prosecutor of Tehran and under pressures by security bodies, suspended Nasrin Sotoudeh's licence to practice law for three years. It took nine months of peaceful protest outside the building of the Central Bar Association for the court to revise the sentence and reduce her suspension. Nasrin Sotoudeh continued her activism after being released from prison and was arrested a number of times for her civil and human rights activities.
In 2018, following widespread protests across Iran, Nasrin Sotoudeh, accepted the case of several young women, commonly known as "the girls of the Revolution Street," who had removed their head scarves to protest the compulsory veil (hejab). Oon June 13, 2018, the authorities arrested Nasrin Sotoudeh apparently to serve a five-year sentence which had been handed downout in absentia. A few days after her arrest, Nasrin Sotoudeh told her husband that her arrest was in relation to her representation of "the girls of the Revolution Street" whose trial was about to start.
In February 2019, Branch 28 of the Revolutionary Court in Tehran sentenced Nasrin Sotoudeh to seven years and six months in prison for "assembly and colluding with intentd to harm national security", seven years and six months for "membership in the LEGAM campaign ("Step by Step to Stop the Death Ppenalty") campaign , one year and six months for "propaganda against the regime", 12 years for "inciting people to corruption and prostitution", two years for "disturbing the public order", three years and 74 lashes for "spreading lies with intentd to create apprehension in the public's mind", and three years and 74 lashes for "appearing in public without the Islamic veil". In an open letter from prison, Nasrin Sotoudeh criticised the unfair proceedings in her case and stated that the accumulation of the sentences against her amounted to 38 years in prison and 148 lashes and. This included a five-year prison term issued in 2016/2017 in absentia on the charge of "assembly and colluding with intent to harm the national security" imposed for her nine-month sit-in s outside Tehran's Bar Association in protest of at the revocation of her law licence. According to Article 134 of the 2013 Islamic Penal Code, in the case of multiple convictions, the harshest sentence, meaning 12 years in her case, are would be enforceable.
Background:
"Today at dawn, 37-year-old Mohammad Reza Ali Zamani and 19-year-old Arash Rahmanipour were hanged after being convicted of attempting to overthrow the Iranian regime. The two were among over 100 detainees who were put on trial following street protests that erupted in Iran following the disputed reelection of President Mahmud Ahmadinejad… Nasrin Sotoudeh, a prominent Tehran-based human rights lawyer who represented Rahmanipour, tells RFE/RL Rahmanipour's case had nothing to do with the post election unrest. She says he was arrested in April, three months before the presidential vote, and that she was denied the right to defend him adequately.
The speed with which the sentence was issued and executed demonstrates that the goal is to create fear among the people, particularly after the Ashura unrest on the religious holiday at the end of December ...I think the establishment is trying to transfer its own fear to the society while the carrying out of such sentences will only radicalize the society," Sotoudeh adds. Sotoudeh says Rahmanipour was pressured in court to make a false confession about his role in a plot to create disorder during the election."
Radio Free Europe/Radio Liberty, January 28, 2010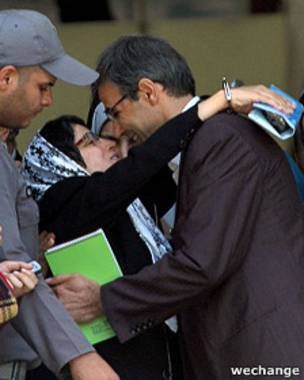 "I do not accept any of these cliche charges. The cliche has been to accuse labour rights and student activists and journalists... of propaganda against the regime. After last year's election, they have also added assembly and colluding against national security. I, as a lawyer, say that these are absolutely false and laughable, not only with regard to me but with regard to all who are jailed on these charges… [A]round five months ago, my husband received a call telling him to warn me to remove myself from Ebadi's case or else there would be consequences. Now they want to say that they are acting on their threats. That is fine, I have been waiting for this and of course if I am arrested, my situation will be similar to that of many of my innocent clients in prison. They have charged human rights lawyers with not paying vast sums in taxes. This is the issue: they want to make life so hard for lawyers that defending political prisoners becomes difficult and impossible… I am sure that the charges against me stem from my defence of my clients. Whenever there were no [proper] judicial proceedings, I raised awareness about it and this has attracted the wrath of the authorities… political charges relate to the political life of the society and when there is no [proper] judicial proceedings, it is public opinion that must judge."
Nasrin Sotoudeh, Interview with Rooz, August 30, 2010
"Speaking in regard to the arrest of Nasrin Sotoudeh, Larijani emphasizing that she is not being prosecuted because of her work as a lawyer and said "We must pay attention that when a lawyer takes on the representation of an accused person, all their comings and goings must be in the corridors of courts. They must not travel from one capital to another and give interviews against the regime. This is called abuse of the law profession… Nasrin Sotoudeh is not being prosecuted because of her work as a lawyer but because of propaganda against Islam and the regime as well as having connections with terrorist groups. Of course her charges must be investigated in court. No lawyer is prosecuted due to their work, we have respect for lawyers."
Mohammad Javad Larijani, Secretary of the Judiciary's High Council for Human Rights, at the Studying Human Rights Conference, ISNA, December 13, 2010
"In the past, political suspects had a limited right to defend themselves and lawyers could take up their cases and carry out their professional duties despite all the dangers they faced, but now even that limited right is being completely eliminated… This action by the judiciary chief [Sadegh Larijani], which is based on Article 48 of the Criminal Procedures Regulations, is intrinsically against Article 35 of the Constitution, which gives suspects the right to select a lawyer… Just imagine that a suspect has been charged by powerful military and security agencies and he goes in front of a judge in a court in Evin Prison under an intense climate of fear and intimidation and … his only hope is to have an independent and honorable lawyer to defend him but now, with the implementation of the Note to Article 48, that path has been closed and we have to say goodbye to the legal profession in Iran."
Nasrin Sotoudeh, Interview with Center for Human Rights in Iran (CHRI), June 5, 2018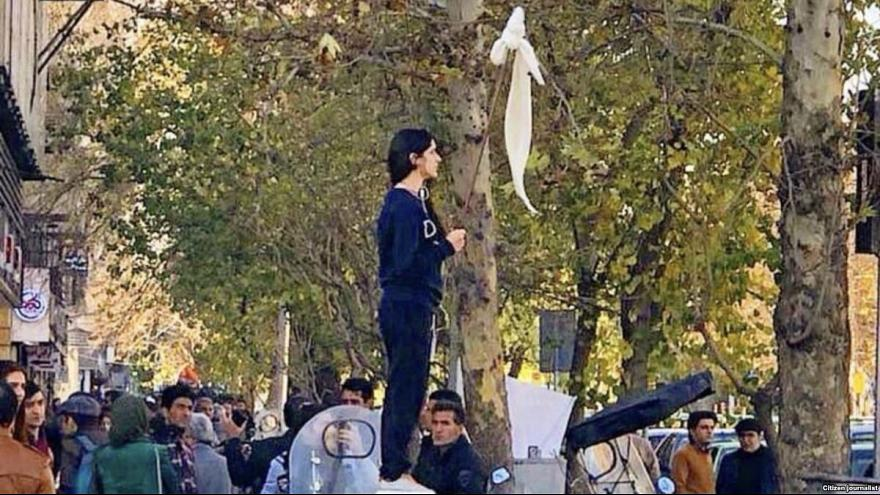 "The imposition of obligatory veiling began 40 years ago, with the degrading slogan 'Either cover your head or be smacked in the head,' which relied on religion, ethics, and ideology. As such, veiling became obligatory before the passage of the law… After the city was entirely occupied by men… they legalised the coercion [of women]. In 1983, the Islamic Penal Code was passed. The Note to its Article 102 was allocated to obligatory veiling… This became the start of a continuous and destructive degradation… Women, in a constant struggle with the Guidance Patrols, conveyed a clear message to the state; through civil disobedience, they would not surrender to the obligatory veiling… This 40-year struggle witnessed a worthy response on December 27, 2017. On that day, a young woman climbed the height of the city and waved her white scarf which was tied to a stick. The act of this young woman was public, brave, and civilised and set in motion the civil disobedience of Iranian women… I know as a woman that many men and women of this land object to obligatory veiling and suffer from it. We, the women, are aware of our power. We are not scared of those who exercise power and know the dangers of the abuse of power. We insist on peaceful resistance, but this does not mean that we avoid responsibility. Undoubtedly, the civil disobedience of the Girls of the Revolution Street will be recorded in history."
Nasrin Sotoudeh's Message to the Iranian Women's Studies Foundation, June 8, 2018