Amnesty International
Raheleh Rahemipour Goes on Trial Amid Intensified Pressure to Withdraw UN Complaint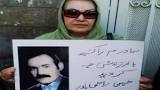 Amnesty International
May 4, 2018
Press Release
The Iranian authorities must stop their ongoing harassment campaign against Raheleh Rahemipour, a 65-year-old human rights defender, who faces trial for a second time in reprisal for a complaint filed with the UN on the enforced disappearance of her brother and his infant daughter, said Amnesty International today.
Raheleh Rahemipour is due to appear before a Revolutionary Court in Tehran tomorrow, 5 May, on the charge of "spreading propaganda against the system". This trial is the latest instalment of an ongoing harassment campaign that began in March 2016 after the UN Working Group on Enforced or Involuntary Disappearances received a complaint concerning the enforced disappearance of Raheleh Rahemipour's brother Hossein and his infant daughter, Golrou, while they were held in Tehran's Evin prison between 1983 and 1984.
"For over three decades, the Iranian authorities have shown a complete disregard for the pain and suffering inflicted upon Raheleh Rahemipour who has been left in the dark with no information about her loved ones. It beggars belief that they are willing to further punish her now, simply for seeking the truth about the fate and whereabouts of her brother and his baby daughter," said Magdalena Mughrabi, Deputy Regional Director for the Middle East and North Africa at Amnesty International.
"Shockingly, Ministry of Intelligence officials have now told Raheleh that they would stop the prosecution if she agrees to withdraw the complaint that stands before the United Nations. This is yet another distressing example of how far the Iranian authorities are willing to go to silence human rights defenders and shut down all communications with international human rights mechanisms."
Tomorrow's trial is the second time that Raheleh Rahemipour faces prosecution for the charge of "spreading propaganda against the system". She was convicted of the same charge in February 2017, and sentenced to a year in prison by a Revolutionary Court in Tehran.
In the last case, the court cited as "criminal activity" her media interviews about the enforced disappearance of her family members and her participation in peaceful gatherings, where she held a placard reading "You killed my brother. What did you do with his child?". The UN has previously called on the Iranian authorities to stop the harassment and intimidation of Raheleh Rahemipour.
Background
Raheleh's brother, Hossein Rahemipour, and his pregnant wife were arrested in August 1983 for their affiliation to an opposition political group. A year later, his family was called to collect his personal effects from the notorious Evin prison in Tehran. The family understood this to mean that he had been executed, though his body was never returned and no death certificate was ever issued.
Raheleh's niece, Golrou Rahemipour, was born in Evin prison in April 1984 and taken away from her mother when she was just 15 days old, apparently to undergo medical tests. The family was later told that she had died. The Iranian authorities have not provided a death certificate or further information on the circumstances of her death or burial.