Amnesty International
Giant Birthday Card to Be Delivered to Iranian Embassy for British Grandfather Jailed in Iran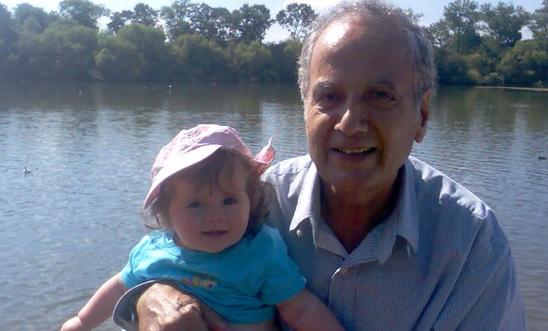 Amnesty International
September 1, 2017
Press Release
Table with a 78-candle birthday cake will be set up outside the embassy
Candles to be blown out by campaigners wishing for businessman's release
Campaigners will take a giant birthday card and birthday cake to the Iranian Embassy in London on Tuesday lunchtime to raise the case of a British grandfather jailed in the country for more than six years.
Kamal Foroughi, a former consultant with the oil and gas company Petronas who will be 78 on Sunday (3 September), is serving a seven-year jail sentence in Tehran's notorious Evin Prison after being convicted of "espionage" following an unfair trial.
Mr Foroughi was originally detained in May 2011, and under Iranian law (Article 58 of the Islamic Penal Code) is eligible for conditional release after serving more than a third of his prison sentence. However, he continues to be held without official explanation and has received no family or humanitarian visitors for almost six years.
Last month, Foroughi's case and that of other jailed UK-Iranian dual-nationals was raised by Foreign Office minister Alistair Burt during a trip to Iran for the inauguration of the president Hassan Rouhani.
Jailed UK-Iranian dual-nationals were also the subject of a special parliamentary debate in July. Amnesty is currently asking people to contact their MP requesting that they urgently raise these cases in Parliament.
Outside the embassy the campaigners, who will include Foroughi's son Kamran, will set up a table with a birthday cake and 78 candles. Campaigners will take turns to blow out the candles and make a wish for Mr Foroughi's release. Activists will also hold placards saying "Free Kamal Foroughi".
Kamran Foroughi, who has led a long campaign for his father's release, said:
"This is the seventh birthday that dad will spend in Evin Prison and we fervently hope it's the last.

"Dad's health has really suffered in prison and we worry that he just doesn't have that many birthdays left.

"Delivering a giant card isn't going to get dad out, but it's a reminder to the Iranian authorities that we won't give up until my father is free."
Kathy Voss, Amnesty International UK's Individuals At Risk Campaigner, said:
"Time is literally running out for Kamal. He's already languished behind bars in Iran for more than six years and we need to see the UK seriously raising its game over securing his release.

"At the very least, the Foreign Secretary Boris Johnson should agree to meet Mr Foroughi's family and the families of all the British nationals jailed in Iran - something he still hasn't done."
What: delivery of a giant 78th birthday card, with cake and candles stunt
Who: Kamran Foroughi, friends and supporters
Where: Iranian Embassy, 16 Princes Gate, London SW7 1PT
When: 12.30-1.30pm, Tuesday 5 September 2017
Health concerns
Mr Foroughi's family and campaigners have long highlighted serious medical concerns in his case. Prior to his arrest in 2011, Foroughi was warned he was at increased risk of developing cancer and was advised by doctors to have regular specialised medical tests. However, in detention he was denied medical tests for several years and has struggled to access proper medical care throughout his detention. Foroughi is presently in need of cataract surgery but his family fear this will be withheld or performed without proper medical care.
Years without lawyers or consular assistance
Foroughi was arrested by plain-clothed security officials on 5 May 2011. He wasn't told the reason for his arrest or shown an arrest warrant. He was held - mostly in solitary confinement - without access to a lawyer until the day before a court hearing nearly two years later (in early 2013).