Amnesty International
Severely-Ill Iranian Kurdish Woman Denied Care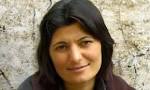 Amnesty International
August 25, 2017
Appeal/Urgent Action
Iranian Kurdish woman Zeynab Jalalian, serving a life sentence, is severely ill and requires specialized medical care outside prison. However, the authorities have persistently refused to transfer her to a hospital, apparently to punish her and extract forced "confessions". In protest, she has been refusing all medications since March 2017. The denial of access to medical care in these circumstances amounts to torture.
Severely-ill Iranian Kurdish prisoner Zeynab Jalalian, 35, who is serving a life sentence in Khoy prison, West Azerbaijan Province after a grossly unfair trial, has been refusing all medications since March 2017 in protest at the authorities' refusal to provide her with adequate medical care; their false claims to the UN that she is in perfect health and receives regular medical care; and their tampering with her medical records making it appear that she undergoes weekly check-ups. Zeynab Jalalian is at risk of losing her eyesight in prison as she is being denied specialized medical care for a worsening eye condition. She suffers from a serious case of pterygium, a wing-shaped growth of tissue that starts on the white of the eye and spreads across the cornea if left untreated. Since 2014, doctors have recommended surgery to remove the pterygium on her eyes, as it is impairing her vision and causing her severe discomfort. However, the authorities have refused to transfer her to a hospital outside prison to receive the surgery, and have only given her eye drops, which do not treat her condition.
Zeynab Jalalian also suffers from heart problems, intestinal and kidney complications, and an oral thrush condition that has caused painful white bumps on her tongue and interferes with her ability to eat and swallow. Since around March 2017, the right side of her body has gone also numb and the reason remains unknown as she has not received any diagnostic tests. According to her lawyer, over the past two years, she has repeatedly asked the prison authorities to take her to a hospital outside prison for specialized testing and treatment for these health problems but the authorities have ignored her requests. Some of her requests have been rejected outright while others have been accepted on condition that she makes videotaped "confessions".
Please write immediately in Persian, English, Arabic or your own language:
n Immediately provide Zeynab Jalalian with the specialized medical care she needs outside prison, including eye surgery, and protect her from further torture and other ill-treatment, including through the denial of adequate medical care;
n Implement the recommendation of the UN Working Group on Arbitrary Detention, which calls for Zeynab Jalalian to be released immediately and accorded an enforceable right to compensation;
n Order a prompt, independent and impartial investigation into her allegations of torture and other ill-treatment, bringing to justice anyone found responsible, including those with superior responsibility, in fair trials and without recourse to the death penalty.

PLEASE SEND APPEALS BEFORE 6 OCTOBER 2016 TO:
Prosecutor General of Iran
Mohammad Jafar Montazeri
Office of the Prosecutor General of Iran
Khayyam Street (opposite Behesht Street), Tehran, Iran
[email protected]
Head of the Judiciary
Ayatollah Sadegh Larijani
Number 4, Deadend of 1 Azizi
Above Pastour Intersection
Vali Asr Street, Tehran, Iran
Salutation: Your Excellency
And copies to:
Permanent Representative to the UN in Geneva
Mohsen Naziri Asl
Chemin du Petit-Saconnex 28
1209 Geneva, SwitzerlandSalutation: Your Excellency

Also send copies to diplomatic representatives accredited to your country. Please insert local diplomatic addresses below:
Name Address 1 Address 2 Address 3 Fax Fax number Email Email address Salutation Salutation
Please check with your section office if sending appeals after the above date. This is the second update of UA 151/14. Further information: https://www.amnesty.org/en/documents/mde13/4931/2016/en/