Amnesty International
Scheduled Execution Of Man Arrested As Teenager Is An All-Out Assault On Children's Rights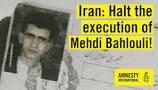 Amnesty International
August 15, 2017
Newsletter
The planned execution on Wednesday morning of Mehdi Bohlouli, who was only a child at the time of the crime, just days after the hanging of another man arrested as a child, is a sickening act of cruelty that must be stopped immediately, said Amnesty International today.
Mehdi Bohlouli was transferred to solitary confinement in Raja'i Shahr Prison in Karaj, near Tehran, on Monday morning. His family have been told to go to the prison for their final visit today. He has spent more than 15 years on death row. It follows the execution last Thursday (10 August) of Alireza Tajiki, who was just 15 at the time of his arrest.
"By scheduling this unlawful execution when the world is still expressing outrage about Alireza Tajiki, the Iranian authorities are effectively declaring to the international community that they have no shame in remaining the world's top executioner of those who were children at the time of the crime. The head of Iran's judiciary must immediately intervene and stop this execution from taking place before Iran's cruel justice system takes yet another life," said Magdalena Mughrabi, Deputy Director for the Middle East and North Africa at Amnesty International.
"The latest round of executions of individuals for crimes committed while under 18 shows that the sickening enthusiasm of Iran's justice system for the death penalty knows no bound. This is nothing short of an all-out assault on the UN Convention on the Rights of the Child."
Mehdi Bohlouli was sentenced to death by a criminal court in Tehran in November 2001 after he was convicted of murder for fatally stabbing a man during a fight. He was 17 when the crime took place and has spent his entire young adult life on death row. This is the fourth time that he has been scheduled for execution and transferred to solitary confinement. The last time was in April 2017, when a postponement was announced the day before the scheduled execution date. In January 2017, his request for a retrial was denied.
Iran is one of the last countries in the world that still uses the death penalty against juvenile offenders. In January 2016, Amnesty International published a report which found that despite piecemeal reforms introduced by the Iranian authorities in 2013 to deflect criticism of their appalling record on executions of juvenile offenders, they have continued to condemn dozens of young people to death for crimes committed when they were below 18 years of age.
Since the beginning of this year, Iran has executed at least four individuals who were under the age of 18 at the time of the crime. As of August 2017, Amnesty International had identified the names of at least 89 individuals on death row who were under the age of 18 when the crime was committed.

Public Document
****************************************
For more information or to arrange an interview please contact:
Sara Hashash, MENA Media Manager in London on [email protected] or call +44 207 413 5511
or contact Amnesty International's press office on +44 20 7413 5566 or +44 (0)77 7847 2126
email: [email protected] twitter: @amnestypress