Amnesty International
Death Penalty: China, Iran And Saudi Arabia World's Top Three Executioners in 2016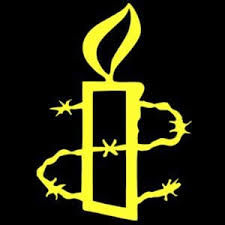 Amnesty International
April 11, 2017
Press Release
1,032 executions worldwide in 2016, down 37% from 2015 (1,634)
· Iran, Saudi Arabia, Iraq and Pakistan join China as world's top five executioners with Egypt in sixth place
· MENA countries account for nearly 83% of total global executions, excluding China
· USA not among top five for first time since 2006

China's horrifying use of the death penalty remains one of the country's deadly secrets with thousands executed each year, Amnesty International said in its 2016 global review of the death penalty published today, highlighting the elaborate secrecy system used by the authorities to obscure the shocking scale of executions in the country.

Excluding China, states around the world executed 1,032 people in 2016. The vast majority of those executions – 856 – were carried out in the Middle East and North Africa (MENA). China executed more than all other countries in the world put together. Meanwhile, the USA reached a historic low in its use of the death penalty in 2016.

"China wants to be a leader on the world stage, but when it comes to the death penalty it is leading in the worst possible way - executing more people annually than any other country in the world," said Salil Shetty.

"The Chinese government has recognized it is a laggard in terms of openness and judicial transparency, but it persists in actively concealing the true scale of executions. It is high time for China to lift the veil on this deadly secret and finally come clean about its death penalty system."

Death sentences and executions in the Middle East and North Africa

At least 856 executions were carried out across the MENA region in 2016, a drop of 28% from 2015 which had seen a sharp increase from previous years. Iran executed at least 567 people alone, accounting for 66% of all the confirmed executions in the region. Amnesty International confirmed the execution of at least two juvenile offenders and received reports that five other juvenile offenders were among those executed. At least 78 juvenile offenders remained on death row in the country.

Saudi Arabia carried out at least 154 executions in 2016 - just four fewer than the record high of 158 executions in 2015, which was the highest recorded figure since 1995. The authorities began the year with the mass execution of 47 people including the Shi'a cleric Sheikh Nimr Baqir al-Nimr and continued with a spree of executions that saw at least 36 foreign nationals put to death. Iraq also saw an increase in executions with at least 88 people put to death.

Together, Iran, Saudi Arabia and Iraq were responsible for the 95% of all the executions recorded in MENA in 2016. Death sentences in Iran, Saudi Arabia and Iraq have regularly been imposed after grossly unfair trials which often relied on "confessions" extracted through torture and other ill-treatment.
In Egypt the number of executions doubled from 22 in 2015 to 44 in 2016––ranking the country sixth place worldwide. Although death sentences were imposed in criminal cases under former President Hosni Mubarak, under Abdel Fattah al Sisi's rule Egypt has witnessed an unprecedented increase in mass death sentences after unfair trials. The country has seen an overall rise in death sentences imposed, many after military trials.

"Four out of the world's top six executioners - Iran, Saudi Arabia and Iraq and Egypt– are from the MENA region and execution rates in these countries remain appallingly high." said James Lynch, Head of the Death Penalty team at Amnesty International.

"When China is excluded, executions in MENA account for almost 83% of the total number of executions across the rest of the world. Countries in the region that continue to execute must recognise their isolation and stop using this flawed and cruel punishment.

"Many MENA states justify their use of the death penalty by claiming that they are acting to counter grave security threats, despite there being no evidence that the death penalty deters violent crime. The reality is that many of those executed across the region are from poor and marginalised communities, in hundreds of cases sentenced to death for non-violent crimes."

Three judicial executions were also carried out by the Hamas authorities in the Gaza Strip in 2016. Amnesty International was not able to confirm the number of judicial executions carried out in Syria in 2016.

Across the region, at least 764 death sentences were imposed in 14 different countries. The true figure is likely to be higher as scores of death sentences are believed to have been imposed in Iran but a lack of transparency in the criminal justice system meant Amnesty International was unable to confirm credible figures for death sentences imposed. The highest number of death sentences were imposed in Egypt where 237 were recorded.

China transparency claims "misleading"
An Amnesty International investigation also published today exposes that hundreds of documented death penalty cases in China are missing from a national online court database that was initially touted as a "crucial step towards openness" and is regularly heralded as evidence that the country's judicial system has nothing to hide.

China's database contains only a tiny fraction of the thousands of death sentences that Amnesty International estimates are handed out every year in China, reflecting the fact that the Chinese government continues to maintain almost total secrecy over the number of people sentenced to death and executed in the country.

China classifies most information related to the death penalty as "state secrets" and in any case virtually any information can be classified as a state secret under China's overbroad secrecy laws.

Amnesty International found public news reports of at least 931 individuals executed between 2014 and 2016 (only a fraction of the total executions), but only 85 of them are in the state database.

The database also omits foreign nationals given death sentences for drug-related crimes -despite media reports of at least 11 executions of foreign nationals. Numerous cases related to "terrorism" and drug-related offences are also absent.

"The Chinese government uses partial disclosures and unverifiable assertions to claim progress in reducing the number of executions yet at the same time maintains near absolute secrecy. This is deliberately misleading." said Salil Shetty.


USA drops off top five for first time since 2006
For the first time since 2006 the USA is not among the world's five biggest executioners.

The number of executions (20) in 2016 reached the lowest level recorded in any year since 1991, half what it was in 1996, and almost five times lower than in 1999. The number of executions has fallen every year since 2009, except 2012 when it stayed the same).

The number of death sentences (32) was the lowest since 1973, a clear sign that judges, prosecutors and juries are turning their back on the death penalty as a means of administering justice. However, 2,832 people are still on death row in the USA.

While the debate is clearly shifting, the fall in executions was due partly to litigation on lethal injection protocols and challenges in sourcing chemicals in several states. However, the possible resolution of some lethal injection challenges could see the level of executions start to take off again in 2017, starting with Arkansas this April.

Only five US states executed people in 2016: Alabama (2), Florida (1), Georgia (9), Missouri (1), Texas (7), with Texas and Georgia, accounting for 80% of the country's executions in 2016. Meanwhile, 12 states, including Arkansas, yet to abolish the death penalty have not executed anyone for at least 10 years.

"Use of the death penalty in the USA is at its lowest since the early 1990s. But we have to fight to keep it that way. Executions could return with a vengeance in 2017. The shocking number of executions scheduled over a ten-day period in Arkansas this April is a clear example of how quickly the picture can change," said Salil Shetty.

"The steady decline in the use of the death penalty in the USA is a sign of hope for activists who have long campaigned for an end to capital punishment. The debate is clearly shifting. Politicians should steer clear of the ugly 'tough on crime' rhetoric that helped drive a spike in executions in the 1980s and 1990s. The death penalty is not going to make anyone any safer.

"The five isolated states that carried out executions last year are behind the times. Not only are they against a national trend, but also a regional one. For eight years now the USA has had the shameful distinction of being the only country in the Americas that carries out executions."

Key trends in 2016
· The fall in executions worldwide is largely driven by drops in Iran (down 42% from at least 977 to at least 567) and Pakistan (73%, from 326 to 87).
· In sub-Saharan Africa fewer executions were recorded but the number of death sentences more than doubled, largely due to a steep rise in Nigeria.
· Two countries abolished the death penalty for all crimes (Benin and Nauru); Guinea abolished the death penalty for ordinary crimes only.