Amnesty International
Shameful 16-Year-Sentence For Narges Mohammadi a Devastating Blow to Human Rights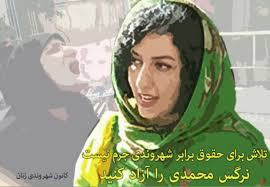 ‍Amnesty International
September 28, 2016
Press Release
In response to the news that the 16-year prison sentence against prominent human rights defender Narges Mohammadi, who is critically ill, has been upheld on appeal, Amnesty International's Research and Advocacy Director, Philip Luther, said:
"This verdict is yet another cruel and devastating blow to human rights in Iran, which demonstrates the authorities' utter contempt for justice. Narges Mohammadi is a prominent advocate of human rights and a prisoner of conscience. She should be lauded for her courage not locked in a prison cell for 16 years.
"By insisting that this harsh and appalling sentence is imposed for her peaceful human rights work, the authorities have laid bare their intent to silence human rights defenders at all costs.
"It is particularly shocking that this sentence comes as Iran's authorities are preparing for renewed bilateral dialogue with the EU, given that Narges Mohammadi was convicted for her work campaigning against the death penalty and meeting with former EU High Representative for Foreign Affairs. This casts serious doubts over Iran's commitment to engage meaningfully with the EU on human rights issues.
"Narges Mohammadi's conviction and sentence must be quashed and the authorities must order her immediate and unconditional release. We urge the EU to make these calls, too, and put the heightened repression of human rights defenders in Iran at the heart of their dialogue."
For more information on Narges Mohammadi's case click here