Amnesty International
Amnesty International Celebrates the Release of Dr. Homa Hoodfar From Prison in Iran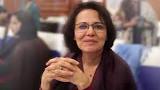 Amnesty International
September 27, 2016
Press Release
Amnesty International welcomes the release of Dr. Homa Hoodfar from Iranian prison after more than three and a half months of arbitrary detention on baseless charges with extremely limited access to her lawyer and family. Amnesty International considered Dr. Hoodfar to have been a prisoner of conscience detained on trumped-up national security-related charges, which solely stemmed from her work on women's rights issues. The organization lobbied Iranian authorities to release her immediately and unconditionally with a petition which garnered over 50,000 signatures. She was imprisoned in solitary confinement in a section of Tehran's Evin Prison which is under the control of the Revolutionary Guards. During this period, grave concerns were raised about her health and lack of access to adequate medical care.
"We are overjoyed by news of Dr. Hoodfar's release from prison in Iran," said Alex Neve, Secretary General of Amnesty International Canada. "While we await further information from Dr. Hoodfar's family, serious concerns remain about the impact that months of arbitrary detention in solitary confinement has had on her health."
A professor of Anthropology at Concordia University, Dr. Homa Hoodfar was arrested June 6, 2016 and was held incommunicado throughout the majority of her detention in Evin Prison. She was denied access to the specialized medical care that she needed for her neurological condition. In a recent report, Amnesty International documented a widespread practice in Iran of deliberate deprivation of prisoners' access to medical care as a method of torture or other ill-treatment. Late last month, Dr. Hoodfar's family reported that she had been hospitalized amid a serious decline in her health while in detention in Evin prison.
Dr. Hoodfar's release comes at a time when Iranian authorities are undertaking a chilling crackdown against those working on women's rights issues. Dr. Hoodfar is a globally renounced academic whose work includes research related to development, family law, refugees, women and electoral politics and human rights. She has also been involved with an international feminist network called Women Living Under Muslim Laws (WLUML) and has worked on various WLUML projects which relate to advancing gender equality, justice and women's rights in Muslim contexts.
The Iranian authorities had said that her work with WLUML to promote feminism and women's equality in Muslim countries and enhance women's bodily autonomy was aimed at "disrupting public order" and "prompting social-cultural changes that can ultimately pave the ground… for a soft overthrow".
"While this is a time for celebration, it is vital to remember that Dr. Hoodfar should never have been imprisoned in the first place and women's rights activists in Iran continue to have the threat of prison hanging over their head for challenging state-sanctioned discrimination," said Alex Neve.
"The long-overdue release of Dr. Hoodfar must be followed by the Iranian authorities putting an end to their relentless harassment of women's rights activists in the country. They must also reform the country's repressive laws, which for too long have been used to criminalize freedom of expression and association," said Philip Luther, Director of Amnesty International's Middle East and North Africa Programme.