Victims and Witnesses
My Interrogator said :"You're a world champion? We'll see what you really are under the whip."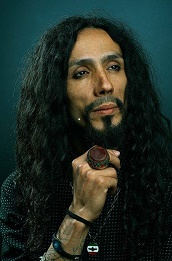 ABF
June 29, 2016
Interview
I'm Ali Ansari (Meraj). I was born on January 3, 1981 in Quchan and raised in Mashhad. I started karate when I was almost seven and continued it professionally until I joined The Youth National Karate Team and Omid Karate Team (Iran's national karate team for youth under 23.) After a while, I was invited to join National Jiu-Jitsu Team and during that time, I won medals at provincial, national, and international competitions. In 2000, I won the bronze medal at the International Karate Competitions for the Youth and Omid Karate teams. In 2001, I won second place in the International Jiu-Jitsu Championships in the adult division in Dublin, Ireland; after 2002, however, I was banned from attending National Team Camps and International Competitions because of my appearance. At the time I had a goatee, mustache, long hair, and tattoos on my body. The Security Director of National Olympic Committee told me, "Your appearance is not Islamic. You don't have an Islamic look. You are not qualified and not good enough to represent the Islamic Republic of Iran."
"Your appearance is not Islamic. You don't have an Islamic look. You are not qualified and not good enough to represent the Islamic Republic of Iran."
I was eight when my father was held captive in the Iran-Iraq War. He was kept captive for about twelve years, and afterwards he was held as a prisoner in Iran. As I remember, my mother and I would always go from one prison to another and from one city to another to visit my father. At the time, I saw things that didn't make any sense, things that a child or a teenager could not understand. Those challenges and predicaments affected my mind and soul nonetheless.
I was a religious teenager and I spent my time saying prayers and worshipping God all the time. When I grew up, I took an interest in heavy metal and thrash metal music. For me, listening to metal music filled the gap left by social problems, the things I'd been deprived of in life, and my inner pain. It represented the agony that I felt inside.
After a while, I met some other people who were into metal music like me. We were a group of three or four guys who always dressed in metal style, wearing tight jeans and safety boots.
Several Arrests during Teenage Years
During Rafsanjani's[1] presidency, when I was under 18, I was arrested several times. At the time, it was forbidden to wear jeans and short-sleeved shirts. Possession of a Walkman and listening to foreign music was also against the law. That day, I was on Ahmadabad Street wearing tight jeans and a short-sleeved shirt. Around 9 p.m., I got arrested by a couple of [Islamic Revolution] Committee agents who had long beards and wore green clothes and kaffiyehs. They took me and several other detainees to Ahmadabad Police Office on Abuzar Ghafari Street in a green police car. It was the first time I had been arrested, so I was afraid of the Police Office. I wondered to myself "In the absence of my father, how should I tell my mother about my arrest?" In the Police Office, I was asked a couple of questions: "Name? Surname? What's the matter with your pants? Why are you wearing these kinds of clothes?" They took my belt and shoelaces and sent me to the detention center in the basement along with thirteen or fourteen other people. The detention center was about 3 or 4 square meters and had a toilet. At dinnertime, an officer opened the door and said, "Whoever wants a meal or wants to notify their family, give me their number." I gave him my cousin's number. He was like an older brother to me. That night, my cousin brought me a sandwich. I didn't sleep until the next morning out of fear. They took me to the prison guard's office at 10 a.m. and gave me a pre-typed paper and said, "Sign here. You're making a commitment. We don't want to see you again!" I signed and fingerprinted the pledge document without reading it and was freed the same day.
Once again, I was arrested on Jannat Street in Mashhad for wearing tight jeans. I was arrested by a short man in plainclothes with a beard. Afterwards, he took me to a green Patrol car with a police logo. Two soldiers were sitting there. He asked "What are these? You think you are a girl? Even girls wouldn't wear these. Why is your ass showing? Your penis can be seen; your genitals can be seen. Take off your pants." The soldiers, who were in the car, mocked and laughed at me and said "Take them off kiddo, sissy boy!" I got scared and took them off. They said "How would you like it if we sent you home naked like this?" I said I was sorry. Anyway, after I took off my pants, they gave me torn baggy pajamas made for prisoners and started threatening me: "Next time we arrest you, we will send you to jail and the Office for Combatting Social Corruption." That day, they released me without returning my pants.
Before I turned 18, I got arrested several times and I always managed to dupe the officers into having mercy on me. I tricked them by saying that I was a champion athlete. I would deceive them by pleading and they would start preaching: "You are a champion, boy; you are young. Why do you look like this?" I would listen to them and act obedient and be released.
I was arrested again when I was 18. The reason was that I threw metal parties with ten to fifteen friends of mine every Thursday in the bottom floor of our house. We played music and head banged[2]. The word spread among the metalheads in Mashhad that I threw metal parties. However, I was attracted to the superficial aspects of metal music rather than knowing what metal music is about, or what it has to say. I had everything in my room. A cat's skull, a human skull made of plaster, pictures of different bands, etc. I had made something like a spider's web in my room, in addition, I had a decorative coffin. Rumors started up that I slept inside it.
In the spring of 1999, I went out for a walk from Kuh-sangi Street to Ahmadabad Street as it was getting dark outside. I was wearing a short-sleeved T-shirt with shiny satin pants and high boots that had metal in the front. I also had tattoos, so I wore a sweatshirt to hide them.
I was suffocating like something was strangling me, and heard them saying: "Don't move, don't move or we will beat you!"
I was walking when suddenly someone put my sweatshirt hood over my head and then covered my head with something like a plastic bag. I was suffocating like something was strangling me, and heard them saying: "Don't move, don't move or we will beat you!" I didn't move. I was shocked and just asked, "Who are you? Where are you taking me to?" They took me into a car. I knew I was sitting in the middle seat because I was uncomfortable. Someone kept holding my head down. I couldn't see anything and they didn't say a word to me.
When the car stopped, they made me get out. We went down a few stairs and passed a door. From the way the door sounded I figured it was a sliding door. We entered a room and went down a few stairs again. They took off my sweatshirt and boots, blindfolded me, tied my hands behind me with something like a wide rubber band, and took me to another room. I was so scared that I didn't think about the details. I just hoped that they wouldn't go to our house.
During the time I was in custody, they left me in that room without interrogating me. All that time, I was thinking to myself that if they broke into our house and saw my stuff, they would kill me. I thought maybe they were enemies of the family, as well. I didn't dare ask anything or call anybody. I thought to myself that there had to be a reason why they had held me here for so long. I wondered why they hadn't taken me to a judicial authority like a police office or a court. I was so scared. I tried not to move and just kept quiet in order to hear what they were saying. I hoped that I would survive this. I didn't know what was around me or what was happening. I felt like I was being controlled by these people. All those days I just kept quiet, thinking. My hands were tied during that time. I didn't know why they didn't take off my blindfold and why they didn't take off the thing that was covering my head. Something was covering my head loosely the whole time. The back of my neck was sweating. I felt sick, but I was afraid that if I asked them to open the door they would come and hit me.
There was another room near the room I was in, and whenever the door opened, I could hear three people talking there. I feared one of them the most. I'll always hear his voice. Every time he entered the room, he would kick me with his boots. He would push me and say, "He is a piece of garbage, beat him. Kill this parasite. I should pee on you. Let's screw this pretty boy, Haj Agha." One of them kept coming and going. They talked to each other and said, "They are harmful to society; we should kill them," in order to frighten me.
They came to the room twice a day to feed me. They put food in my mouth with a plastic or metal spoon. The meals I had during that time included potatoes, soup, eggs, and Mash Polo (a type of Iranian food made with mung beans) with sour yogurt. Whenever I wanted to go to the bathroom, they would carry me to the bathroom which didn't have a door and had a disgusting smell; then, they would untie my hands. During the days I was in custody, I never saw the light; I never knew if it was day or night.
One of those days, they entered the room I was in, covered my head with something like a plastic bag, held me up, and said, "Let's go." They took me to a different place in a car. The car stopped. They threw me out of the car and carried me down from a place that seemed like a levee. I slipped and fell two or three times when we were going down. Finally, I sat down and they loosened my handcuffs slightly. One of the men was the person who insulted me during the detention. That day, he repeatedly told some other guy "Haji, this parasite is useless to society, kill him. What's the use in keeping him alive? Why do we need this garbage? Finish him; kill him." I thought they were going to kill me. I was really scared. They left me blindfolded somewhere for two hours. I didn't move at all because I thought if I moved, they would kill me. Then, suddenly, I heard the sound of sheep, goat bells, and a dog's barking, so I realized that no one was there. I carefully opened my handcuffs and the blindfold. My hands were red and burning. They had tied my hands with a green rope and covered my head with a black knitted hat which had a hole on the front. They had covered my eyes with a blindfold. It was around noon and the weather was hot. I just wanted to escape; I thought they were hiding somewhere ready to shoot me.
When I turned my head around, I saw that I was near Kaftar Chahi Bridge, fifteen kilometers to Shandiz. There was nobody there. My knees were injured. During that time, I was sweating and had not showered, so I felt bad. My hips and the back of my legs were injured from having fallen down several times. My shirt was dirty and stained with soup. I smelled awful. I went up to the curb of the road which led to Mashhad. I waved at the cars. A truck pulled over. I told him that I was lost and asked him to drive me to Falak Park. He didn't ask any questions and told me to sit in the back. On the way, I didn't look around because I was scared that they might be following me. I got home at four or five in the afternoon. My mother came and hugged me and we both started crying. I was dizzy for about three days and slept the entire time. I didn't talk to my family for a long time. My mother came to my room a few times to bring me food. She said "You are not my son, I'm tired of this shit. You put everyone in danger."
For about two months, my mother didn't talk to me very much. When we were talking, she said that my friends saw me getting arrested and tailed the car I was in with a motorcycle. Apparently, the Student Basij had arrested me and transferred me to the Intelligence unit in Kuh-Sangi Street which was close to the Revolutionary Court. According to my friends, one of the men who arrested me was one of the Basij guys. A guy we had seen before on the street. As far as I remember, he had a goatee and short hair. He always wore a white shirt, cargo pants, a green army jacket, and a kaffiyeh. My friends informed my family about my arrest and they immediately painted the walls of my room (which had been black) white, and threw away all my stuff. Two or three days after my arrest, two agents went to our house and showed my mother a warrant without saying where they came from. My mother, who was scared, let them in. She said: "Two men in suits who had stubble came to our house in a Paykan. They said that they had a warrant; they just showed me a paper and didn't let me read it. I just saw the logo on the warrant that was in the shape of a scale. They searched the bottom floor and asked me twice, 'What kind of a guy is he? Where is he? What does he do? Which grade is he in?' I answered the questions and asked, 'What happened? What's wrong?' They replied 'Don't ask anything. He'll come home soon.'"
I changed the way I dressed and even my hair and beard style for six months. I didn't even listen to music. But after that, everything went back to normal again. Later, I figured the men who had arrested me meant to scare me so that I wouldn't dress like that again. I didn't keep up relationships with any of my friends for about two years but, gradually, my life went back to normal.
On October 20, 1999, I went off for my mandatory military service. At that time, the rules of mandatory military service for those who were members of national sports teams or had won international sports championships changed: depending on their rank, the duration of their service would be shortened or they would be exempted from military service. This included me, too, and my military service was reduced from two years to eleven months.


Athletic and Musical Activities
In 2002, I was banned from national team selection for the Asian games in Korea. When I asked the reason, they said, "The Security Director of the National Olympic Committee has said that you have tattoos and are an immoral person." When I went to the security office of the Joint Office for Federations to find out the reason, I got nothing. In 2003 I left Iran, moved to Kuwait, joined the Qadsia Sporting Club Karate Team and taught warm-up exercises as the assistant coach in the club. I stayed in Kuwait for about two years and met a metal band there. I thought it would be fun if I formed a band like this in my own country and worked officially. This actually happened, and I started M.O.P (Master of Persia) in January 2005 in Mashhad. I combined aspects of metal music with traditional music. I rented a basement in Mashhad, bought some musical instruments, started working with some of my friends, and we recorded our first song, named "Allah Hou." We recorded this song on 30 CDs and distributed them among our friends along with our pictures. Gradually, my home became the practice location for heavy metal music in Mashhad and musicians would come to practice. Beside musical activities, I began martial arts training at home and trained male and female students privately. Every morning, I went to Mellat Park in Mashhad to exercise and give free lessons to a large number of people as well. The former head of the Office for Combatting Social Corruption in Mashhad, like other people, kept coming to the park to exercise with me.
At that time, the authorities of Astan Qods Razavi decided to retire the old shrine attendants and hire athletes and martial arts champions from Khorasan in their place. The new hires were to be nimble and based locally so that they could control the situation in case anything happened in the shrine. This position was offered to me several times, directly and indirectly, by the Karate Committee of Khorasan. They said, "Come work with us. Even if you don't want to work with us, you can train the young new servants because you hold the world record in martial arts, especially Jiu-Jitsu, which is self-defense." They even offered for me to train the police, special forces, and Office for Combatting Social Corruption units. I clearly remember that one of the authorities of the shrine who was the head of Martial Arts Committee in Khorasan at the time once said to me, "Cooperate with the police, cooperate with the government and regime so that they'll support you in return, you can commute with no trouble, they will give you handcuffs, a gun and a warrant to bear and fire it." But I didn't accept their offer because I wasn't the kind of person who arrests others and threatens them with a gun.
I refused to cooperate with them and then, one morning, when I was about to enter Melat park, a guy in a green uniform who was clearly with a park security unit came to me and said, "You don't have the right to train here: Park Basij's order." He then added that one of the Basij majors had asked for me. When I went to the Security office of the park, the major repeated the same words "You don't have the right to train here and you should sign this paper, too." It was a pre-typed paper stating that I was banned from entering the park and training martial arts there, etc. It was signed by some other guy and there was a space for me to sign. I signed the paper and didn't go to the park for a few days. However, after a while, I went to the park because my friends insisted, but I didn't train.
Meanwhile, I decided to open a gym because my friends encouraged me to. I got a loan for approximately 20 million Tomans and in October 2009, I opened the Meraj Gym on Esteghlal square in Mashhad in partnership with one of my apprentices. I advertised my gym heavily, and the newspaper Ghods and Khorasan independently wrote about it in October 2009. After the opening of the gym, some people, including one of the high-ranking members of the Basij, tried to challenge me by tracking down my records. They continued to do so until Amaken Administration [a sub-section of the Police Force in charge of policing shops and other semi-public places, which engages in other, often unrelated activities] of Mashhad decided not to give me the permits for my gym. When I went to Major Babayi', the head of Amaken Administration of Mashhad, who had a very bad attitude, he said to me, "Mr. Meraj: You are not qualified to obtain this permission. You have long hair. You are not qualified to train teenagers. You are not qualified to train minors." I asked "Why? What happened?" He replied "Roll up your sleeves. You have tattoos." I said "Well it is a personal matter and I don't see how it is relevant, I would not show them to anyone." He didn't care what I said and continued, "You don't get the permits because you have moral issues. Your appearance is not appropriate and you are not qualified to train teenagers and young people." In fact, I had a tattoo of a symbol of the devil in order to remind me of my inner evil in order to control it and not forget about goodness; however, people always judged me for it. Anyhow, due to lack of permits they closed my gym on Nowruz 2010.
After forming our band, Master of Persia (M.O.P), we used to hold underground performances. For instance, every year we invited metal bands in Mashhad to perform for our band's anniversary. About 150 people came to the party, although everybody was scared. We asked everybody who was going to the party not to dress in metal style, and those with long hair were asked to wear a hat or fasten and hide it under their shirts. Each band had a particular way of buzzing in when they arrived. For example, one of the bands had to buzz four times. We didn't even call each other on the phone. Gradually, everyone arrived in bands of three or four. Since I trained my martial arts apprentices in the same place, the neighbors thought that these guys were my apprentices. Everybody left silently at 2 or 3 a.m.
Arrest and Detention
One day in January 2011 I was going home from Lavizan Street when suddenly a white Paykan with two passengers passed by me and stopped. At the same time, a gray or black Peugeot RD with five passengers turned around and stopped in front of me. Two of them were wearing berets and black clothes and the other three had covered their faces with knit caps, as if they were going to capture a terrorist. The ones who had covered their face got out of the car with Uzis and pointed their guns at me. Another person pointed a gun at my head from behind and said "Put your hands up and don't move. I'll shoot you down if you move." I was shocked, so I stayed there without looking back. Three men in berets[3] came up to me and took me to the car. The other two men in berets came and sat near me. The men who sat in the Paykan were about 40 to 50 years old and had mustaches. They were wearing suits and had Colts. The agent sitting on the front seat was very fit and buff and had short side-parted hair. He was a little bald in the middle of his head and everybody called him Haji. When the car started moving, Haji said "How are you, champion?" I asked "What's the matter, sir? What's the problem?" He said "You made a lot of noise, champion. What do you do? What groups do you work with? What group are you in?" I smiled and calmly answered "What group, sir? I'm a trainer, I was a member of the national team." He said "I know. What group are you in?" The car passed by my home. I looked at my house to see if there were any officers, but there weren't any. On the way, my phone rang frequently so they took it away from me. Haji asked, "Who is calling you?"
The car stopped in front of the Ministry of Intelligence. They took me out of the car and handcuffed me. Haji and the driver took me to a room where two other men were sitting. One of them was called Haj Hussein. He was sitting at the desk. Someone took away my stuff and the two agents handed over their Colts in that room. Haj Hussein started asking questions and writing on a paper. "First and last name?" I answered "You know my first and last name and everything about me." He said "I told you to say your first and last name." He said "Take off your clothes and shoes." They probed me, and then I put on my clothes again. As far as I remember, they took all of my belongings. They gave me slippers, a plastic bowl, and a disposable plastic spoon. Without signing anything I was transferred to the detention room. During this time some people came into the room and said "Is this him? How are you, commando? You finally arrested him? Did he resist?"
I don't remember whether I was in the car or the Ministry of Intelligence when my phone rang so many times that they answered it. I think it was one of my apprentices who was calling. They told him that I had been arrested and not to call again. They called my mother and told her about my arrest before transferring me to the cell.
We went down a few steps in order to get to the detention room. There was a desk and a man on guard sitting at it. We passed a couple of fences to reach a place where there were a few cells. All of the detainees were in one cell, where I was placed as well. The cell was about four square meters and there were seven other people. On some days, there were up to twelve people. The cell was covered with an old worn carpet. There was a filthy old toilet which was a little lower than the floor of the cell. There was a dim white light hanging from the ceiling which was covered with metal bars. There was a square hole inside the toilet and sometimes a light came out of it. That light was my prayer light; that is, I prayed with it and found peace. We had a couple of blankets for sleeping. We put some of them under our head and covered ourselves with the others. They smelled terrible but we had no choice but to use them because it was cold. I was in custody in the Ministry of Intelligence for 13 days. During that time, I left the cell for interrogation three times and they cursed at me and beat me.


Interrogation and Torture
The first interrogation was on the second day of detention at noon, after prayer time. They took me upstairs to the same room where they took my stuff. Haji and two other guys had been waiting for me. There were two hoses with a cable inside on the table. They fastened my hands with metal handcuffs from behind and fastened my legs with plastic handcuffs. They pulled something like a fabric bag over my head and tightened it, and then they started to beat me with the cable. They hit me hard on my legs, and kicked me on my sides and back. I moved around a lot and squatted down and told them, "Untie me if you dare so we can fight."
They fastened my hands with metal handcuffs from behind and fastened my legs with plastic handcuffs. They took something like fabric bag over my head and tighten it, and then they started to beat me and hit me with the cable.
Haji repeated some questions over and over:
"Adulterer, Satanist, tell me: who do you associate with? What group are you in? Who do you work with? Who did you have sex with? Tell me about your relationships. Who's your girlfriend? Who did you have sex with?"
I was just yelling and screaming. I couldn't think because of my extreme pain. I could only hear the sound of the cable in my head. After they finished hitting me, they took off the bag and untied me, then carried me to my cell. In the cell, two other detainees grabbed me and carried me inside to massage me. I told them to not touch me because it hurt. Other detainees told me that they could hear me while I was upstairs.
Three days later, when I got better they came after me for the second time. I remember that day we had potatoes and boiled eggs with a piece of barbari bread for breakfast. We had just finished breakfast when somebody came and called my name. We went upstairs again but entered another room. Haji and two other people were there again. Inside of the room, there were an office desk and some chairs. There were two metal bars welded to the ceiling along with two rings. They fastened my hands and legs with plastic handcuffs. Then, they put a very thick stick between my arms and legs and they hung me from the ceiling's bars. My body was shaped like an arc because they had fastened my hands behind my back. I didn't know what was going to happen this time. When I got back from Kuwait, I had decided not to leave my country ever again, but at that moment I was thinking to myself that if I survived this I would not stay in Iran anymore.
I was very scared, so I begged, "Haji, why are you doing this? What did I do?"
After they hung me, Haji took off his jacket and took a stun gun out of his pocket. I was too scared, so I begged, "Haji why are you doing this? What did I do?" He put the stun gun on my belly button and fired it. He hit my belly three times with the stun gun. The first time was very painful and I got nauseated. My body was shaking. The second time I vomited immediately. After the third time, all three of them started kicking me and hitting me with two cables. They hit my testicles, my belly, and all over my body. One of the cables, which was very thick, hurt less but it left bruises all over my legs and belly. The second cable caused severe pain and left bruises on my legs, my back, and my buttocks. While they were hitting me, I begged and pleaded involuntarily, "Why are you hitting me? I was wrong Haji." After they finished hitting me I went to my cell again.
I couldn't stand on my feet. I was exhausted. I slept beside the bathroom because I couldn't hold my pee. I kept wetting myself. For a few days, I took my underwear off and washed it in the bathroom. Two days later, they took me to the first room again. There was one guy that I had never met before along with the same old guys. I sat on the chair, they tied my hands and my legs to the chair with metal handcuffs, and they started to hit me with cables again. I got tortured three times and each time they repeated the same words and swore viciously at me and when I asked, "What did I do?" they replied:
"Are you a Satanist? What Satanic group are you in? Who are you associated with? What political party are you associated with? What's on your hand? What groups are these signs related to? What is the name of this devil? What is this satanic shape on your arm? What is this skeleton head? What are their meanings?"
He hit my hands with cable and asked "What are these?" I told them "What are you saying? I'm an athlete, I was young and naive when I tattooed my arm." I was transferred to my cell and they didn't come after me for a few days.
During the time that I was a detainee at the Ministry of Intelligence, what caused me to suffer the most was the thought of getting raped by them. This was because when I was 18, someone had once said, "Let's screw this pretty boy, Haj Agha." Because of this, I kept thinking they would rape me. I was only blindfolded for the first interrogation and I think they hit me for about 30 minutes each time. The smell of the cell's bathroom was a terrible torture for us during this time. We could use the bathroom outside of the cell only once each day and we were allowed to take a shower once. But I was in so much pain that I wasn't willing to do so. I only took a shower once and cried there a lot. We didn't have a clock so we figured out the time by the sound of the call to prayer and our meals. They fed us and gave us tea two times a day. Breakfast consisted of 3 slices of barbari bread and they gave each of us a potato and a boiled egg. Some days our meals consisted of chocolate with rice and some other days soy cutlet.
Transfer to the National Security Police
After 13 days of detention, I was transferred to the National Security Police without being charged. When I left the cell, they returned all of my belongings. After I put on my shoes, they took me to the National Security Police in a gray or black van without handcuffing or blindfolding me. Other than me there were Haji, the driver, and two soldiers in the car. When we got to the National Security Police, a soldier opened the electric door and we entered the yard. After we got out of the car, we went up a few stairs. I saw the police logo. There were a lot of cars parked in the yard. Everybody there was wearing a uniform and the women wore chadors. Inside the building, there were some detainees in handcuffs. I was taken to a room where two people in uniforms were sitting. Haji gave my case to the person who was writing something and waited outside the room. Those men, who seemed to have been putting together a trumped-up case against me, put some pre-typed and stamped papers with the scales of justice logo on them in front of me and told me to sign them without reading. After I signed the papers, they called a soldier and told him to take me away without asking any questions of me. The soldier took me to a cell downstairs. About five days later, a soldier transferred me to a room that looked like an archive room for interrogation without handcuffing me.
There were two other guys in the room other than me. One of them was a young man in plainclothes with stubble. He was sitting at the desk. He put a paper in front of me and said, "Write down your first and last name. What is your religion? What groups did you work with? Who are you associated with? What activities do you do?" I asked, "What kind of group do you mean?" He said, "Music groups, political groups, or any other groups. What do you believe in?" I said, "I'm a Twelver Shi'a. I'm not associated with any groups. I'm a member of the national team." He said "How many people have you had relations with? Have you had illegitimate relations? Do you have a girlfriend? Explain to me why you have tattoos on your arm!" He said "Roll up your sleeve." I was wearing a sweatshirt and a shirt under it. I rolled up my sleeve. He said, "Ok. Explain these on the paper." I said "I'm a martial artist, so I got these tattoos because I was influenced by this sport. This is a Japanese sport and I was influenced by samurais and Japanese warriors." Most of the questions were related to religion and group activities. It took me an hour to write down the answers. They took me back to the cell and didn't come back. I was in custody of the National Security Police for 15 days. I wasn't charged during that time and didn't know why I was arrested. But I was sure they would keep me there until my wounds healed.
The cell was a big room with two foul-smelling toilets in it. There were two other men. They both put a blanket under their head and covered themselves with another. We had three meals and drank tea twice every day. They brought us tea in plastic cups and served some meals like breakfast on a big piece of bread and told us to eat. Each piece of bread was for four to five people. The bathroom was outside the cell and we could take a bath whenever we wanted to. I took a cold shower twice. During the detention, I wasn't allowed to meet or call my family. Except for the last day: before they took me to court, I was allowed to call my family. I called my mother and said, "I'm being taken to the court. Bring me appropriate clothes so that I'll look proper in nice men's clothing in front of the judge." She asked, "Which court?" I asked them and they said that it was the General Court on the Kosar Highway. My mother said "Don't worry, tell me anything you want." That day, they couldn't bring me appropriate clothes on time, so I was taken to the court in a green police van after 28 days wearing the same clothes. The van was full and we were handcuffed to each other two by two. There were two soldiers in police suits with us in the van. I was sitting in the second row near the window and as the vehicle was moving I watched outside and thought to myself, "Freedom is so good, I hope I will be released soon."
Court and Jail
They got us out of the vehicle in front of the court, then handcuffed us and took us first to the judge's office manager and then to a detention room in the basement. I was in detention for about two hours before my turn came. I was taken to the judge's room on the third floor. When I entered the room, they took off the handcuffs. The judge was a cleric and there was another man sitting near the judge who kept coming to the room. During the court session, the judge asked me the same questions I was asked in the Security Police. He put a paper in front of me and said, "Write down what your religion is and what groups you work with." I wrote that I wasn't involved in any kind of groups, that I was a member of the National Team and an athlete. He asked, "What are your activities? What is your job? Who are you involved with? What is your education level? What groups are you associated with? What is your address, your name, and your parents' name?" After I wrote down the answers, the person who was sitting near the judge said, "Write down your first and last name, sign, and fingerprint." As far as I remember, there was a black carbon paper and another paper under the paper they gave me and I signed both. The session which was mostly like an interrogation and lasted for about fifteen minutes. I was scared so I asked, "What have I done, Haj Agha? I'm neither a Satanist nor have I had illegitimate relations with anyone. What am I convicted of? What am I guilty of?" He said, "Go to prison until we decide what to do about you." I still thought he wasn't being serious and that they would return me to the Security Police. They handcuffed and returned me to the same detention room downstairs again. When the office hours ended, I was transferred to Mashhad Central Prison along with some other people in the same van.


Mashhad Central Prison
After we got out of the van in the prison, we passed a cage-like hallway in the yard and entered the prison building. We sat in a row in a large hall waiting to be called for fingerprinting and photos. There was a large desk where the man in charge of fingerprinting was standing. Some other people were sitting there, too, doing paperwork. A soldier called the names one by one, then they wrote down the names and information of the detainees. They opened the handcuffs and fingerprinted us. They first stamped all five fingers at the same time, then separately, and in the end they did both of my hands together. There was a curtain where they took photos and I stood behind it. They put a mugshot letter board with a prisoner's code on it around my neck and a man in plainclothes took pictures of my full face and left and right profiles.
They told us to deposit our money in the bank that was located in the hall. They deposited everyone's money in separate accounts and gave us a card number so that we could buy anything we needed from the store which was in the prison. Our families could also send money to those accounts. Each of us was given a bowl, a glass, a plastic spoon, and a pair of slippers which we paid two thousand Tomans for. Then we went to the main hall along with a soldier, stood in a line, and handed over all our stuff. I handed over everything I had except my wallet which contained my National Team membership card and my gym card. Afterwards, everybody took their clothes off and went towards two bathrooms with four or five showers inside them. Two or three soldiers guarded the bathrooms and hit everybody with their baton as they entered the bathroom. Any prisoner with long hair, a beard, or a mustache had to cut it short before taking a shower. We showered quickly so that we wouldn't transmit any diseases or lice to other prisoners in the cell. They probed us before we put our clothes on.
When it was my turn, the soldiers insulted me because I had long hair and a short beard. They said, "Well, pretty boy. Look at this pretty kid. Go over there to have your hair cut." I took out my membership card and said "I'm a national champion, man. Do you know how many people like you are my apprentices out there?" He said, "Your apprentice? You must be joking. What apprentice? What job, you worthless pretty boy? You are a trainer? You don't look like one." I said "I'm only here for a few days, man. I'll be freed on bail." Suddenly an officer came in and asked "What's the matter? Why are you arguing? Why is your hair long? Cut it!" I called him over and mentioned the name of one of my relatives who was the guard of one of the cells. He said, "Don't mention anybody's name. Don't take advantage of them." I said "He is one of my relatives. I'm a member of the National Team and I hold the world record. I was brought here by mistake. I will be freed on bail one of these days." He said "Then fasten your hair and hide it somehow so that no one sees it. It's out of our control. If you go in your cell and a prisoner complains, then we have to cut your hair." I took a quick shower, tightly fastened my hair with a hair tie, put on my clothes, and just wished for it to be over. After the shower, we went in groups towards a hallway where someone was sitting at a desk. There was a notebook in front of him and he decided who should be sent to which sections. I was sent to Temporary Ward Four of Vakilabad Prison.
In the ward, I was sent to the third room, which was in front of the yard. I'm pretty sure there were more than 100 beds in the room and on some of them the prisoners were sleeping two by two. When I entered the section, it was time to get some fresh air so I went to the yard. The yard was the size of a volleyball court, maybe even larger, and there was a small watchtower. The walls were very high and had barbed wire on top. The yard was full of prisoners: some were walking and some were playing volleyball.
Inside the ward, there were five or six rooms and each contained three- or four-story bunk beds, all of which were occupied. Each room could normally contain up to eighty people; however, they were filled with two hundred prisoners. One night, when I woke up to go to the bathroom, I saw that a bunch of prisoners had laid large boards on the toilet and were sleeping on them because there wasn't enough space for them.
I was in Temporary Ward Four for a month without any visitors, and was only able to call my family three times. Each detainee was allowed to have a phone call once a week or every ten days for three minutes. We wrote down our names and waited in a line. I was always thinking about what I was going to say during these three minutes and writing it down.
We went to the yard to get fresh air every day. Since everybody figured out that I held the world record, I would show them some techniques in the yard and train self-defense. We had three meals, but the quality of the meals was not good. Breakfast consisted of boiled eggs or a piece of cheese and barbari bread. Lunch and dinner consisted of mashed potatoes, soup, beans, or cutlet with rice. There were three toilets in the ward but there wasn't any bathroom. Every five days we were given a big red bucket of hot water, Maragheh soap, and a bowl to take a shower in the toilet. The shower was public and I didn't want to expose my hair so I only took a shower once a week. I cleaned myself with wet wipes to avoid lice. There was only one store in the temporary ward and we could buy a few items like tuna, eggs, biscuits, and tea bags.


Trial and Freedom on Bail
A month later, on Charshanbe Suri (the Iranian "Festival of Fire,") they ordered me and four other people to present ourselves. They handcuffed all of us and transferred us to the court by bus or minibus without notifying us beforehand. We went to Kosar Court again. It was about 1 p.m. when they took me to the judge. My heart was beating wildly and I said to myself, "I hope the judge is a good man and he will hand down a light sentence so that I'll be free and not go to jail."
This time I went to the third floor. The same judge was there as the time before. When I entered the room, there was a young man other than the judge. Someone brought my case forward. The judge opened it and charged me with "promotion of Satanism, illegitimate relations, deception of teenagers and young people," and then read the sentence: "180 lashes, one year mandatory prison term, 50 million Rials fine." When I heard the word "Satanism" I freaked out and after hearing about the lashes, I drifted off to another world. I told myself I would not survive one year in jail. If I'm not mistaken, the judge said something about complaints from the families of teenagers and young people. Finally he said, "If you are arrested for the same crime again, your charge will be on par with homicide." Then they gave me a paper to sign.
Before signing the paper I said, "What is this sentence?! What did I do? Who did I deceive? Which families? What illegitimate relations? Who has accused me? What is this sentence you gave me?" He said, "If you have an objection, make one" and I asked, "How?" He said "Write that you don't agree with this sentence and send the letter to be revised - though you'll have to stay in prison until you receive a sentence." In that court session, I didn't have a lawyer and wasn't looking for one. The judge said what to write and I did. In the end I added: "I object to this sentence. Please revise it if possible." Then I signed the papers. In the meantime, we talked about posting bail and the judge said "You can post bail of five billion Rials before office hours end. You can call anyone you want." I called my father and my business partner. Afterwards, they handcuffed me to a chair in the hallway and I waited to be released on bail. At 3 p.m., my business partner came with a property deed and I was released that day.
"The judge said what to write and I did"
Although I was happy, I was afraid I would be charged again and go to prison. After I was released, my parents said the owner of a cabinet store in the neighborhood saw my arrest and notified my apprentices, who notified my parents. Then my parents went to my home and got rid of my gym and studio equipment. They also changed the wall's color (it had been black) and notified my friends not to go there. During the time I was a detainee, they went to the court and spoke to many people but everybody told them, "Don't follow up with this case, it is too serious." They talked to some lawyers too, but they couldn't follow up with my case either. They said, "Nobody is answering, nobody knows what his sentence is." The only thing my family could do was to ask one of my relatives who was also in prison about me and transfer money to my prison account. After a while, I searched for a good lawyer and finally got one.


Issuance of Ruling and Flogging
In late September 2011, I received a typewritten order to present myself within 10 days to the Chahar Tabaqe Court. I talked to my lawyer and he assured me that he had bought off the prison time and flogging, so I quickly presented myself. I went to the court at 8 a.m. along with my mother, my brother, and my business partner. They didn't let them inside. I went to the investigation room inside the court and turned myself in. They told me the judge had said that he would issue a ruling at 10:30 a.m., so they took me to detention room in the court until then. It was around 10 that they took me to the judge's room. The judge was in a suit and there was also a woman in chador who was in charge of the paperwork. The judge repeated my sentences and told me that because I didn't have a previous record of conviction, my ruling would be "a suspended three-month prison term, 100 lashes, and a one million Toman fine." He said, "Your prison term is suspended, which means you are not going to jail, but if you get arrested again you will go to jail for three months before receiving your new sentence." I signed the sentence order and fingerprinted it. Then they handcuffed and returned me to my detention room in order to send me to prison later to receive lashes.
After office hours, they gathered together all the detainees who were supposed to go to the prison like me, handcuffed us, and sent us to Mashhad Central Prison in an old green bus which had bars on all its windows. When we passed through the prison's electric door, they opened our handcuffs and took us to the reception area. Then they took the ones who were supposed to receive lashes to a room in the prison yard and kept everyone in line to wait for their turn. They called names from the list and took us in the room in order to receive lashes. While I was waiting, some of us fainted before our turns came from hearing others getting lashed. For example, there was a boy among us who was sentenced to receive 30 lashes: he fainted every time that they took someone to receive lashes and when his turn came, he fainted after receiving two lashes. They took him outside and when he woke up, they took him inside after 15 minutes to receive lashes. This happened over and over again. Another guy who received lashes that day was a 25-year-old boy who had been a wrestler for six years and was heavier and bulkier than me. He told me they sentenced him to receive 80 lashes because he was drinking an alcoholic beverage in his home. When his sentence was carried out they took him outside and put his clothes up around his neck, his back was wounded badly.
Soldiers kept coming to me and mocking me. "They will kick your ass, champion. Let's see if you are a champion here too." My turn came. The room was huge. There were five guys there other than me in the room. A special supervisor came to the room; he was a short old man who wore a green hat with a Mohr mark on his forehead (a Mohr is a clay stone on which Muslims place their foreheads during prayer. This mark implies that the person prays constantly.) He took off his hat and said "Well, young boy, so you are the champion?" There was a two-meter section at the end of the room separated by bars and a man was lying there who wore a shirt and baggy pajamas made for prisoners. He had put his hand on his face. When I was taking off my clothes, one of the soldiers said, "That guy is a political prisoner, you'll be the last guy to get whipped in front of him since morning." I was so afraid that I promised myself I would not stay in Iran anymore. "Today 110 persons' flogging sentences were carried out and you are the last one" the soldiers said.
A bulky guy was responsible for carrying out my sentence. When he got tired, two other assistant soldiers carried out the sentence. A prison supervisor was there too. At first, they wanted to tie my arms and legs to the bars but I said it wasn't necessary and that I would grab the bars myself. The guy who was responsible for carrying out my sentence said, "So hang on to them tightly. If you move, we will handcuff you to the bars." The soldiers who were there kept mocking me: "You're a world champion? We'll see what you really are under the whip. Champion or not, we'll beat you to the ground." The guy who was responsible for carrying out my sentence hit me harder. He thought I was the devil and that I should die there. They counted every lash. He got tired after the thirtieth lash, and after that another soldier took over his place and started to whip. I neither cried nor pleaded. After I received 67 lashes I said, "Give me a break. " Three people whipped me that day. After I received one hundred lashes I said, "Is it over?" They said, "No: some of the lashes missed you, for each one that missed you we'll lash you ten times." Although I was sentenced to receive one hundred lashes they whipped me one hundred and thirty times. They whipped me on my shoulders and my legs. The first five lashes caused severe pain, but after that I got numb. My family paid the fine, so after the flogging I put on my clothes and they freed me immediately. Somebody accompanied me to the electric door of the prison. My family followed the bus which had taken me to the prison and waited for me outside the prison.
Although I got numb when they were lashing me, I could still feel the pain. They whipped me so hard that my buttocks was wounded and bleeding. I was so strong physically that I didn't make any noise when I was receiving the lashes and I controlled myself by contracting my muscles and using a technique which I had used in martial arts competitions. In fact, by breathing properly, you can keep your muscles contracted. When you are exhaling your muscles contract. Then you can control your pain while getting hit. This means your muscles are protecting your spine and internal organs such as heart, kidneys, and stomach. I slept on my stomach for over a month and I was confused for two or three months, thinking to myself: "Why? For what crime did I receive lashes?"
I remember that on the day our bus reached the prison, there were a couple of ambulances and a large number of people outside the prison. Some of them were crying and some of them were hitting themselves. There was something like a scaffold for execution. When we got there, they were taking away a portable stair unit and some chairs. Prisoners said that over one hundred people were executed that day.
I felt terrible after what happened to me and told myself, "That's enough: just focus on sports, do your job." But after a while, my band mates and I decided to record our new album, "Persia Older than History." The night we finished recording, after we exited the studio, some agents from The Ministry of Intelligence came and arrested everyone and took away everything including the hard drive that contained our recorded album.
During that time one of my private apprentices, who was one of the high-ranking members of the Mashhad Police, was in a meeting in the Bolvar Sajad Mosque along with the Friday Imam Ayatollah Alam Alhoda. They were discussing corruption and prostitution when suddenly someone said, "There are some people in Khorasan who promote Satanism. They have created Satanic groups. I know one of them, his name is Meraj and he plays and sings metal music with a bald lady (Anahid.) Their band's name is Master of Persia." Then Alam Alhoda clearly stated, "These kinds of people are dangerous to society. They are apostates and unbelievers. They exist in society because of your negligence and inefficiency." After this incident, my apprentice called me and said, "Your life is in danger Meraj: Leave the country as soon as you can." I sold my car the next day, changed my money to dollars, and went to Tehran at night along with Anahid. From there we left Iran for Armenia in a bus.
----------------------------------------------------------
[1] The two presidential terms of Ali Akbar Hashemi Rafsanjani were the fifth and sixth presidencies of the Islamic Republic of Iran. They started on August 2, 1989 and ended on August 3, 1997.
[2] A sort of dance common among rockers and metalheads that is performed by violently shaking one's head in synchrony with the beat of music.
[3] A special force that supports the government (NOPO), one of whose duties is to suppress internal uprisings.