Death Penalty
Death Penalty: A Short History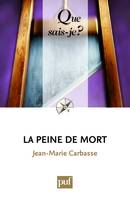 Presses Universitaires de France
March 30, 2016
Book
On October 10th, 2016, in honor of the International Day Against the Death Penalty, the Abdorrahman Boroumand Foundation (ABF) is proud to make available its exclusive Persian translation of "La Peine de Mort" (The Death Penalty) by the French law professor Jean-Marie Carbasse, originally published by Presses Universitaires de France.
The instrumentalization of the death penalty in the Islamic Republic of Iran, where systemic violation of due process and recurrent denial of defendants' rights has made a mockery of justice, has resulted in an unprecedented execution crisis: more than 1,050 executions were recorded in 2015. Such alarming developments have prompted many civil rights activists to demand either an immediate moratorium on the death penalty or its outright abolition. To address the Iran execution crisis, civil society organizations need the support of public opinion, which in turn needs to be educated on such a sensitive and complex political, social, and moral issue.
To support Iranian civil society, ABF has decided to provide the Iranian public Persian translations of literature on the death penalty, now available in the form of ABF's library sub-collection dedicated to the topic.
We are grateful to Professor Jean-Marie Carbasse and the Presses Universitaires de France who graciously authorized us to translate this valuable short history of the death penalty.