Human Rights Watch
Imprisoned Physicist's Cancer Care in Jeopardy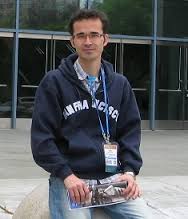 Human Rights Watch
April 21, 2016
Press Release

Lack of Adequate Treatment Increases Political Prisoners' Suffering
(Beirut) – Iranian authorities should immediately ensure that Omid Kokabee, an Iranian physicist imprisoned on national security charges, has access to adequate medical care for his life-threatening cancer. Kokabee was sentenced to 10 years in prison in 2012, and the sentence was confirmed even after the Supreme Court ruled that the charges were "mistaken."
On April 16, 2016, Saeed Khalili, Kokabee's lawyer, told Ilna news agency that Kokabee's medical test results indicated that his client suffers from Renal Cell Carcinoma, a form of kidney cancer. On April 20, BBC Persian reported that Kokabee had surgery and that doctors removed his right kidney, which was affected by cancer. While Kokabee is receiving treatment in a hospital, whether he will be able to continue his treatment in hospital is far from certain, based on his and other imprisoned patients' experience. With his new diagnosis, any delay in receiving medical care could cause "irreparable damage" to Kokabee's health, Khalili told Ilna.
"Denying a prisoner necessary medical care is both cruel and unlawful," said Sarah Leah Whitson, Middle East director. "Iranian authorities should ensure that Kokabee will have access to adequate medical care, which in his case is likely to be outside prison."
The International Campaign for Human Rights has reported that authorities unduly delayed Kokabee's access to medical treatment in the past. In 2012, after an initial examination found that he had a tumor, Kokabee experienced a long delay in getting permission to be transferred from a prison health clinic to a hospital for a critical medical examinations. Khalili has asked the authorities to allow him to continue his treatment outside prison, but it is not clear if he has received any response.
Authorities arrested Kokabee on January 30, 2011 at Imam Khomeini International Airport as he prepared to board a flight to the United States after a visit to his family. He was traveling back to the US to continue his post-doctoral studies in physics at the University of Texas at Austin. On May 14, 2012, a revolutionary court in Tehran sentenced him to 10 years in prison on charges of "connection with a hostile government [the United States]." In October 2014, Branch 36 of Iran's Supreme Court rejected the legal basis for Omid Kokabee's imprisonment and ordered a review of his case. Despite that ruling, in the re-review of the case, Branch 54 of Tehran's revolutionary appeals court upheld Kokabee's sentence on the same grounds. Authorities have not made public any evidence that led to Kokabee's charges and conviction.
International human rights law and the Iranian legal code require prison authorities to provide detainees with adequate medical care. Iran's State Prison Organization regulations state that, if necessary, detainees must be transferred to a hospital outside the prison facility. The United Nations Standard Minimum Rules for the Treatment of Prisoners requires the authorities to transfer prisoners needing specialist treatment to specialized institutions, including hospitals.
Kokabee is one of a number of prisoners charged with national security crimes who have been deprived of adequate medical care. On April 5, Kalemeh website reported that Nazak Afshar, a former employee of the French Embassy in Tehran, who has been detained in Evin prison since March 12, has repeatedly lost consciousness in prison and is believed to be seriously ill but apparently is not getting adequate care.
Authorities in Iran frequently have ordered political prisoners returned from a hospital to prison before their care was completed. On March 26, Hossein Ronaghi, a human rights defender and blogger serving 13 years in prison, went on a hunger strike to protest his lack of access to medical care. Authorities had released Ronaghi – who suffers from serious kidney complications – in June 2015 on a medical furlough but summoned him back to prison on January 20, before his medical treatment was completed.
"Iran has a dismal record of providing prisoners, especially those convicted of politically motivated charges, access to necessary medical treatment," Whitson said. "Judicial and intelligence authorities should immediately stop mistreating prisoners by denying them adequate access to medical care."