Amnesty International
21-Year Old Torture Survivor Saman Naseem Must be Given a Fair Trial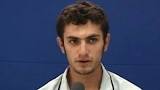 ‍Amnesty International
July 21, 2015
Appeal/Urgent Action
When thousands of us took action in February to save Saman Naseem's life, the Iranian authorities heard us and quashed his death sentence. Now let's use our power to ensure he gets a fair retrial – this time free from torture and the death penalty.
Saman Naseem was only 17 when he was arrested and he has described how he was tortured following arrest. His forced "confession" was used to sentence him to death but news of his scheduled execution sparked an international outcry. Instead of being executed, Saman Naseem was transferred to an undisclosed location. After nearly five months of not knowing what happened to Saman, his family was able to be have a prison visit with him on 13 July 2015. The Iranian authorities have also granted him judicial review, thus quashing his death sentence imposed on him for "enmity against God" and "corruption on earth."
Saman now faces a full retrial. Join us in keeping the pressure on the authorities to ensure his retrial is up to international standards, without resort to the death penalty, and in line with the principles of justice for juvenile offenders. Any "confessions" obtained under torture or other ill-treatment must not be used in his retrial.
Urge Iran's Head of Judiciary, Ayatollah Sadegh Larijani, to ensure that the authorities grant Saman Naseem a full and fair retrial according to international standards and without recourse to the death penalty.
Your Excellency,
I am writing to you about Saman Naseem, a Kurdish juvenile offender, who was scheduled to be executed on 19 February 2015. I am pleased that Saman Naseem's conviction and death sentence have been quashed. I now urge you to ensure that he has a fair and full retrial according to international standards and without recourse to the death penalty.
I respectfully remind you that imposing the death penalty on anyone for crimes they may have committed while they were under 18 is strictly prohibited by the International Covenant on Civil and Political Rights and the Convention on the Rights of the Child, both of which Iran has ratified.
I am also appalled that from 18 February to mid-July 2015 the Iranian authorities denied Saman Naseem's family any concrete information about his fate and whereabouts, and placed him at risk of secret execution, as well as torture and other ill-treatment.
I therefore ask you to ensure that the authorities:
Apply the principles of international fair trial standards for Saman Naseem's retrial and do so without recourse to the death penalty;
Ensure that any "confessions" obtained under torture are not used in court against Saman Naseem; and
Investigate Saman Naseem's enforced disappearance and the allegations that he was tortured or otherwise ill-treated and bring those responsible to justice.
Yours sincerely
-------------------------------------------------------
East Gulf Team
Middle East and North Africa Programme
Amnesty International
International Secretariat
1 Easton Street
London WC1X 0DW
United Kingdom