Amnesty International
Police Must Exercise Restraint Amid Kurdish Protests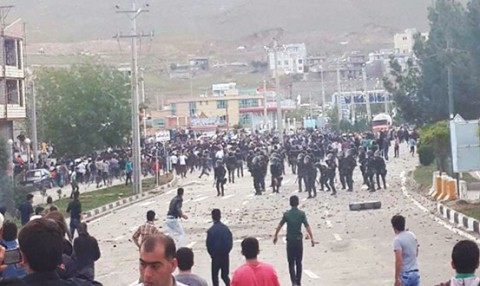 ‍Amnesty International
May 8, 2015
Press Release
Iranian security forces must refrain from using excessive and unnecessary force in the policing of protests, Amnesty International urged after police in riot gear dispersed a demonstration in the Kurdish-populated city of Mahabad, West Azerbaijan province, on 7 May.

Officials have today confirmed that at least 25 people, including seven police officers, were injured in the ensuing clashes last night.

There are fears of a renewed police crackdown amid reports of arrests and after further demonstrations were called.

"After last night's violence, tensions are running high in Mahabad and other Kurdish-majority towns and cities. Law enforcement officials have the right to defend themselves and a duty to protect the safety of the public, but they must comply with international standards governing the use of force in their policing of any further protests," said Said Boumedouha, Amnesty International's Deputy Director for Middle East and North Africa.

"Moreover, a heavy-handed police response to quell acts of violence by a minority when the majority of protesters are non-violent would only fuel tensions that are already on a knife-edge. The authorities must respect the right to protest and peaceful assembly, and prioritize non-violent means when confronting those responsible for committing internationally recognizable offences."

A large group of protesters gathered outside Mahabad's Tara Hotel yesterday evening to express their anger after a 25-year-old Kurdish woman, Farinaz Khosravani, fell to her death from the hotel's fourth storey several days earlier.

The circumstances surrounding her death are unexplained, but the incident sparked anguish among some residents in Mahabad who alleged that a member of Iran's intelligence and security forces had threatened to rape her in the run-up to this incident. A provincial official has publicly disputed that allegation.

At some point yesterday evening, the demonstration outside the hotel erupted into violence. In videos circulated on social media, some protesters are seen hurling rocks and looting the hotel while a portion of the building is in flames.

According to Kurdish rights activists outside Iran, the violence started after riot police resorted to batons, tear gas and possibly live ammunition to disperse the crowd, injuring multiple people. The activists told Amnesty International that Ministry of Intelligence officials have since arrested at least 20 people, and some wounded protesters have avoided going to hospital due to fears of being arrested.

Amnesty International has not yet been able to verify the precise number of arrests and casualties.

"We have long documented how Iran's security forces have a history of using excessive force to quell protests – in direct violation of international law," said Said Boumedouha.

"Instead of resorting to intimidation and excessive force, the authorities must launch a prompt, impartial and independent investigation into the circumstances that led to the death of the young woman in Mahabad as well as the allegations about the use of excessive force in the policing of protests that her death sparked."

According to international human rights law and standards, police may use force only when strictly necessary and proportionate to a legitimate purpose. Firearms may only be used as a last resort in defence against an imminent threat of death or serious injury, and intentional lethal use of firearms may only be made when strictly unavoidable in order to protect life.

Public Document
****************************************
For more information please call Amnesty International's press office in London, UK, on
+44 20 7413 5566 or +44 (0) 777 847 2126
email: [email protected]
twitter: @amnestypress
International Secretariat, Amnesty International, 1 Easton St., London WC1X 0DW, UK

-------------------------------------------------------
East Gulf Team
Middle East and North Africa Programme
Amnesty International
International Secretariat
1 Easton Street
London WC1X 0DW
United Kingdom

http://www.amnesty.org