Flogging
Public Flogging in Bandar-e Abbas: A Man Received 74 Lashes for Allegedly Publishing Lies in Facebook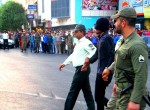 IRNA [Islamic Republic News Agency] / ABF translation
September 25, 2014
Report
"Bandar-e Abbas – IRNA [Islamic Republic News Agency]: The head of the courthouse in Hormozgan announced that a perpetrator of spreading lies about the existence of a nocturnal bat in Bandar-e Abbas received lashes. The rumor caused fear and intimidation among the public in this province.
The IRNA reporter, Hojatoleslam Mohammadsadeq Akbari, told the reporters on Thursday [September 25, 2014]: Following the spread of news and rumors in social media regarding the existence of a nocturnal bat in Bandar-e Abbas who had murdered women and children, the judicial and security systems in Hormozgan reacted immediately.
He stated that this rumor began in May of this year. By a judicial order and efforts of FATA Police, the perpetrator spreading this lie that caused panic and anxiety among the public was identified and arrested.
Hojatoleslam Akbari stated: After the case was sent to the court, the defendant confessed clearly to spreading lies during the trial. Based on Article 698 of the Islamic Penal Code, he was condemned to receive 74 lashes in public.
According to this official, the defendant appealed the ruling; however, it was confirmed at the appeals court and was carried out."
ABF note: On May 19, 2014, IRNA reporting the arrest of the defendant, quoted the head of police in Hormozgan: "An individual named as 'S. Sh.,' son of Shahin, 20, a student who worked at a taxi service, was identified and arrested."