Victims and Witnesses
Sattar Beheshti's Murderer Gets Three Years in Prison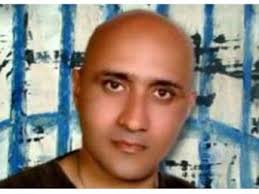 International Campaign For Human Rights in Iran
August 9, 2014
Press Release
Cyber police interrogator Akbar Taghizadeh has been sentenced to three years in prison, two years in exile, and 74 lashes for the murder of dissident blogger Sattar Beheshti, who died under torture while in police detention in November 2012.
Giti Pourfazel, the Beheshti family lawyer, told Iranian Students News Agency that the verdict against Sattar's killer was not appropriate. "In a country where journalists are sentenced to six years in prison, a three-year prison sentence against a murderer is strange," she noted.
Sattar Beheshti, 35, a laborer and blogger, was arrested on October 30, 2012, by Iran's Cyber Police and died under torture by his interrogator on November 3, 2012. His body was buried at Robat Karim Cemetery near where he lived.
Beheshti's mother, Gohar Eshghi, has objected to the relatively light sentence. "On Wednesday afternoon, August 6, news of the sentence was delivered to us by mail. But we do not accept it. It is dastardly and unfair," she told the International Campaign for Human Rights in Iran.
"My son's murderer Akbar Taghizadeh himself asked for my forgiveness during a judicial meeting. He himself said during that meeting, in front of the prosecutor and others, that he beat Sattar mercilessly because Sattar laughed under the blows and made fun of him. He said he beat Sattar so many times that he died," Eshghi said. "There's even a report from the official Coroner's Office in the file that says Sattar died because of internal bleeding and lack of oxygen to the brain. Why did Sattar suffer a hemorrhage? They beat him so much that he hemorrhaged and then didn't treat him until he died."
The case may be closed as far as the authorities are concerned, but not for the Beheshti family. "The case is open until it is dealt with fairly. I do not accept this verdict. We and our lawyer did not attend the so-called trial sessions and we left judgment [in this case] to future generations and history," Sattar's mother said.
Beheshti's killer, Akbar Taghizadeh, went on trial in April 2014 at Branch 1075 of Civil Courts on charges of "involuntary manslaughter." But the family and their lawyer objected to the charge and boycotted the trial, which lasted only a day. The case was then sent to the court of appeal for final judgment. Even though all evidence, such as testimonies by Behesti's cellmates and the coroner's report, indicate the interrogator's beatings and lack of medical care led to Beheshti's death, the prosecutor brought the charge of manslaughter.
"I got a text message about the court's final verdict. I haven't received any official document,"Pourfazel said.
While sifting through case documents in Beheshti's extensive investigation file, Pourfazel had discovered a report which had previously gone unnoticed. The report indicated that the blogger died from internal bleeding, hemorrhaging in his lungs, liver, kidneys, and brain. Medical specialists who have reviewed the report concluded unequivocally that Beheshti's death was caused by internal bleeding and brain hemorrhage.
After Beheshti's death, 41 political prisoners in Evin Prison signed a letter stating that signs of torture were "clearly visible" on his body on November 1st and 2nd while he was held at Evin's Section 350.