Human Rights Watch
Stop Hanging of Child Offender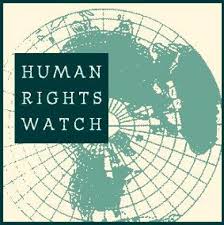 Human Rights Watch
June 18, 2014
Newsletter
(Beirut) – Iran's judiciary should halt the execution of a woman convicted of murdering her husband when she was 17. The woman, who has admitted to shooting her husband while he was asleep, was married at 14 and is the mother of a 6 year old. Authorities have announced that she is at imminent risk of execution. International law strictly prohibits the execution of child offenders.

Authorities arrested Razieh Ebrahimi – also referred to as "Maryam" in the local press – four years ago after she shot her husband in the head as he was sleeping and buried his body in the backyard, a source familiar with her case told Human Rights Watch. Ebrahimi, who is in prison in the southwestern city of Ahvaz, admitted guilt but expressed remorse. She said she snapped after several years of physical and verbal abuse by her husband.

"Every time an Iranian judge issues a death sentence for a child offender like Ebrahimi, he should remember he is flagrantly violating his legal responsibilities to administer justice fairly and equitably," said Joe Stork, deputy Middle East and North Africa director. "Iran's judiciary should reverse its execution order of a child bride who says she was battered."

A criminal court convicted Ebrahimi of murder and sentenced her to death. Iran's judiciary rejected Ebrahimi's request for a retrial despite the fact that she was under 18 when she committed the murder.

In early 2013, new amendments to the penal code went into effect, strictly prohibiting the execution of child offenders for certain categories of crimes, including drug-related offenses. No such prohibition exists, however, for children convicted of murder and a host of other crimes for which the punishments are fixed under Sharia law, including adultery and sodomy.

Under article 91 of the amended code, a judge may sentence a boy who is 15 or older or a girl who is 9 or older to death for these crimes if he determines that the child understood the nature and consequences of the crime. The article allows the court to rely on "the opinion of a forensic doctor or other means it deems appropriate" to establish whether a defendant understood the consequences of their actions.

Under Iranian law, in murder cases, the victim's survivors retain the right to claim retribution in kind, to pardon the killer, or to accept compensation in exchange for giving up the right to claim retribution. The husband's family has refused to pardon Ebrahimi.

A source familiar with Ebrahimi's case told Human Rights Watch that prison authorities attempted earlier to carry out her execution, but when she informed them that she was 17 when she killed her husband they returned her to her cell. The source said that following recent changes to Iran's penal code the lawyer requested a retrial from the Supreme Court on the basis that she had been under 18 and did not understand the consequences of her actions, but the court refused.

In an interview with an Iranian online magazine, Ebrahimi's lawyer, Hassan Aghakhani, said that various branches of the Supreme Court have applied article 91 differently, and he hoped the judiciary could at the very least suspend his client's execution until all branches of the court applied the article uniformly.

Since 2009, Iran has executed at least 10 child offenders, making it the country with the world's highest number of child executions. In 2014 alone there have been at least three unofficial reports of authorities executing child offenders for murder and rape charges, despite increasing international and domestic pressure on Iran to end the practice. Human Rights Watch is investigating these cases to determine whether those executed were, in fact, child offenders.

Iran is one of only four countries known to have executed juvenile offenders in the past five years; the others areYemen, Saudi Arabia, and Sudan, as well as Hamas authorities in Gaza. Iran is a state party to the Convention on the Rights of the Child, which bans execution of child offenders. Since 2010, numerous UN rights experts and bodies, including UN experts, the Human Rights Council, and the Human Rights Committee have strongly condemned Iran's execution of child offenders.

In 2012 Human Rights Watch called on the Iranian government to amend its penal code to impose an absolute prohibition on the death penalty for child offenders. Human Rights Watch has also called on Iran's judiciary to impose a moratorium on all executions in the country due to serious concerns regarding substantive and due process violations leading to the implementation of the death penalty. Human Rights Watch opposes the death penalty in all circumstances because it is an inherently irreversible, inhumane punishment.

Under the Iranian Civil Code girls can marry at 13 and boys at 15. They can marry younger with the consent of their legal guardians and a competent court. International human rights standards recommend 18 as the minimum age for marriage. Child marriages violate many human rights, including education, freedom from violence, reproductive rights, access to reproductive and sexual health care, employment, freedom of movement, and consensual marriage. The statements of the children and women Human Rights Watch has interviewed in several countries illustrate the profoundly detrimental impact on their physical and mental well-being, and their ability to live free of violence.

"Iran's judiciary should prove its commitment to protecting children – the most vulnerable members of its population – by calling a halt to death sentences for child offenders," Stork said.