Amnesty International
Campaign for Equality - Iran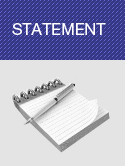 October 29, 2008
Statement
MDE 13/133/2008
PLEASE HELP THE CAMPAIGN FOR EQUALITY
The Campaign for Equality, an Iranian women's rights initiative launched in 2006, is committed to ending discrimination against women in Iranian law. Several activists have been arrested or tried for activities which are entirely legal, such as organizing peaceful gatherings, educational workshops, or petitioning for legislative change.
The authorities have blocked access to the Campaign's main website from inside Iran at least 12 times. Frequently denied official permission to hold public meetings, activists usually hold their workshops in the homes of sympathizers, some of whom have then been summoned by security officials for interrogation.
Campaign for Equality activists have also been prevented from travelling abroad. In March 2008, Parvin Ardalan's passport was confiscated for 72 hours. She was banned from travelling to collect the Olof Palme Human Rights Prize for her work on behalf of women in Iran.
Dozens of women's rights defenders are known to have been arrested, summoned for trial or tried since 2006. Most of them have been charged with vaguely worded security offences. Such charges are used by the authorities to limit the activists' internationally recognized rights to freedom of expression and association as they seek to protect and promote women's rights in Iran. Two members of the Campaign for Equality – Ronak Safarzadeh and Hana Abdi – are currently detained as prisoners of conscience, solely because of their work for women's rights and the rights of Iran's Kurdish minority.
Women in Iran face widespread discrimination under the law. They are excluded from key areas of the state: they cannot, for example, be judges or stand for the presidency. Criminal harm suffered by a woman is less severely punished than the same harm suffered by a man. Evidence given by women in court is worth half that given by a man. Men are allowed to practise polygamy, and have an incontestable right in law to divorce their spouse. Women do not.
ACT NOW
1. WRITE TO THE AUTHORITIES IN PERSIAN, ARABIC, ENGLISH OR FRENCH
Call for all charges to be dropped against Campaign for Equality activists that are connected to their peaceful campaigning for equal rights for women in Iran.
Call for an end to the arrests and harassment of supporters of the Campaign for Equality.
Call for a review of Iranian legislation with a view to ending all legalized discrimination against women.
Ayatollah Mahmoud Hashemi Shahroudi 
Head of the Judiciary 
Howzeh Riyasat-e Qoveh Qazaiyeh / Office of 
the Head of the Judiciary 
Pasteur St, Vali Asr Ave, 
south of Serah-e Jomhouri 
Tehran 1316814737 
Islamic Republic of Iran 
[email protected] (In the subject 
line write: FAO Ayatollah Shahroudi) 
Salutation: Your Excellency 
2. WRITE A MESSAGE OF SUPPORT TO TWO OF THE DETAINED MEMBERS OF THE CAMPAIGN FOR EQUALITY, IN KURDISH, PERSIAN OR ENGLISH
"We stand by your courageous efforts to bring about positive changes for Iranian women."
for Equality. 
ما در کوشش های شجاعانه شما برای ایجاد تغییرهای مثبت در وضع زنان ایرانی در کنار شما هستیم 
Hana Abdi and Ronak Safarzadeh 
Zendan-e Zanan (=women's prison) 
Khiaban-e Ershad 
Sanandaj 
Kordestan Province 
Islamic Republic of Iran